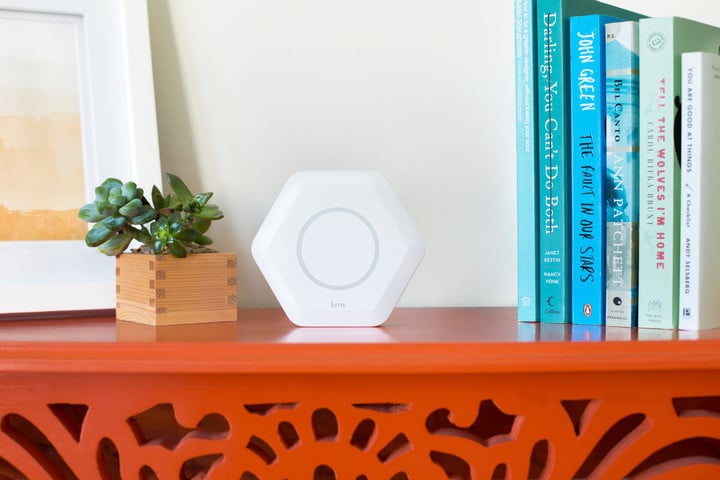 Luma
WiFi
System
Review:
Is
This
the
Mesh-Networking
Kit
for
You?
Accessories
May 5, 2017
Here's our review of the Luma WiFi System.
If you're in the market for a new router for your home, you've probably run into the term mesh network. This type of networking kit uses multiple nodes to spread around your house. In doing so, it removes Wi-Fi dead zones that you might have experienced with traditional routers.
The Luma WiFi System is one in a series of mesh networking products to launch in recent years. Competitors include Netgear's Orbi, Google WiFi, Eero, and others.
In this review, you'll learn more about the Luma WiFi System and see what it can do in your home to benefit your family.
What is a Mesh Network?
Luma
Luma
Available in multiple colors, including white, gray, black, and orange
Includes kid-friendly features
A suitable alternative to a traditional Wi-Fi system for your home
$399.99
available
on Amazon
* price at time of publishing was $399.99
With the growing popularity of smart home devices and streaming media services such as Netflix, Hulu, and YouTube, it's essential to have Wi-Fi coverage throughout your home. In smaller homes, having just one router is fine. However, once you're dealing with larger homes and multiple floors, you can run into problems.
Until recently, your only solutions in these situations was to employ range extenders or access points. As the name suggests, range extenders expand your router's connection to remote areas in your home. Unfortunately, range extenders typically provide only about half the bandwidth that you get from the central router. Access points offer better bandwidth than range extenders. Unfortunately, they require a wired connection to your router.
Another drawback when using either of these situations is that you must create a separate network SSID. In others words, you may have to log in again, depending on where you are in your home.
Mesh technology features one router that connects to your modem, plus satellite modules, or nodes, you can place throughout your home. Each of these nodes uses the same SSID and password. Better still, each node can talk to the other, and to the router. In doing so, the system can determine which node to use to give you the best connection, depending on where you are in the home.
The Luma WiFi System
Setup
The Luma WiFi System comes in packs of one, two, or three units. White is the only color available for the one- and three-packs, while with the two-pack you'll get a choice of white, gray, black, and orange.
On the company's website, it says the 2-pack is best for homes between 1,000 and 2,000 square feet, while you'll need the larger pack for a home between 2,000 and 3,500 square feet.
One Luma, it doesn't matter which one, serves as your router, which you'll need to connect to your modem physically. You'll use the free Luma app to complete the setup.
I found the Luma setup process worked very smoothly with the app providing a nice mix of text and graphics to explain each step. My biggest advice: Before getting started, be sure to turn off your existing system so that your mobile devices are ready to connect to the new network.
Once you perform the Luma setup process, you'll connect your devices like you would with any other Wi-Fi network.
The App
If you do a search for Luma online, it doesn't take you long to find a review or two with complaints about the functionality of the Luma app. During my tests, I didn't experience any significant issues, although I do have some suggestions for the app moving forward.
With the app, you can perform general tasks such as pausing the internet (universally or by a user), setting internet usage time limits and content filtering, and establishing bedtime controls. The app also shows you when over the air updates occur.
These tasks perform as expected. Moreover, changes take place immediately.
Luma also includes a unique malware blocking and scanning feature.  "Detect & Block" is the default setting, which is the option I would also recommend.
I was surprised by the large number of intruder files Luma found during the first few days of use. Most of these were from websites I had visited on my Mac. The number of flagged files and websites quickly dropped, however, after a few days.
For your reference, the app lists the blocked malware. Unfortunately, this information is confusing, at best. I hope that a future app update will provide more details on the blocking of files or websites. Better still, Luma should rate this files by severity.
I found the Luma setup process worked very smoothly with the app providing a nice mix of text and graphics to explain each step.
More detail would also prove useful with Luma's content filtering tool.
With Luma, you can set content filters by a user or across the system using a familiar rating system: R, PG-13, PG, and G. Though users can request to unblock content, there's no way to identify the sites or files blocked in the first place. Having an active list of blocked content according to the content filter rating could be beneficial.
Free
Luma - Surround Wifi
Luma Home, Inc
Speed
Luma is the first mesh Wi-Fi networking product that I've used. Therefore, I haven't tested how its speed compares to others. What I can tell you is that my home network is much faster now.
With my internet service package, I should receive network speeds of up to 100mbps. Before switching to Luma, my Apple AirPort Time Capsule/Apple Airport Express combination saw speeds averaging 45mbps. That number has nearly doubled, no matter my location in the home. This difference looks like a win, no?
Final Thoughts
Based on my limited experience, I can't say whether the Luma WiFi System is the best mesh networking product out there. What I can tell you, however, is that Luma vastly improved my home network. Better still, I have greatly benefited from many of Luma's tools that aren't found on other systems, such as content filtering and malware scanning.
When you're in the market for a mesh Wi-Fi networking product, I suggest looking at two details before all others. First, compare prices. Prices vary a little bit between products, although you can find sales often.
Second, look at the features they each provide and make sure they match your expectations. Content filtering, for example, is an important feature for me as a father. However, you might find the feature unnecessary. The same might go for Amazon Alexa integration, which Luma has, but other products do not.
You can purchase the Luma WiFi System through the product website, at Amazon.com, and at other retailers.