The
SimToo
Moment
Drone:
Designed
for
Everyone
Accessories
October 18, 2017
Personal drones continue to get better with each passing year. They're also getting less expensive, which has opened up droning to more people. We recently had the opportunity to test the SimToo Moment Drone, which is available through Indiegogo and at a few online retailers. Here's what we found.
4K Aerial Camera That's Foldable
4K Aerial Camera That's Foldable
Some crowdfunding products have burned me in recent years. Because of this, I rarely promote products from Kickstarter or Indiegogo anymore. When I do, it's because I've received a final version of a product and I like it. It also helps when the product is already available in retail channels.
Because you're reading this review, it shouldn't come as much of a surprise that I mostly enjoyed using the SimToo Moment Drone.
Advertised as the "best foldable 4K aerial camera," this drone features a robust design, stable hover, and impressive hardware specifications, all in a body weighing just 415 grams.
The first thing I noticed about the SimToo Moment Drone is its simple setup process. After charging the craft's 2900mAh capacity battery for the first time and pairing it with my iPhone via Wi-Fi, I was ready to go. Before actually flying the drone, however, I spent some time learning how to use the free Moment Drone app, as should you.
Free
Moment Drone
Qingqi Zhang
Though there are a lot of controls to learn (see below), the most important ones are the left and right pilot wheels, and takeoff/landing and return home buttons. Know how to use these, and you'll experience hours of fun. Otherwise, you might find yourself with a drone in a tree.
From a flying standpoint, the SimToo Moment Drone works well.
It can fly indoors and outside with fantastic hover stability. During tests, I was successful at reaching the drone's maximum flight height of 20m and maximum flight range of 100m. I was also impressed with the "Return to Home" feature, which, not surprisingly, is essential. Whenever I was worried the drone went too far up, I hit this button. In doing so, it came down to the ground with ease.
I was also impressed with the drone's 15-minute maximum flight time, which sounds about right at this price point.
About the Camera 
I was also mostly happy with the onboard camera that takes 4K UHD 25fps video and 12-megapixel images. Be sure to purchase a SIM card to store your video and photos.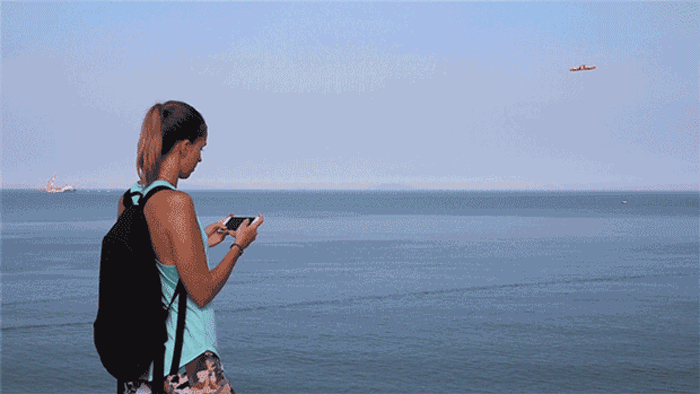 I didn't find everything about the Moment Drone enjoyable, however.
First, the battery connector could use some improvement. The connector is supposed to snap into the drone, which it does. Unfortunately, it seems like you need to grip the battery a little bit too much to perform the task. In doing so, I was always worried I would break the drone in half.
Additionally, the drone's camera clarity could be improved. It's good, but not great, which is a shame. This could be a case where a firmware update could improve things.
Finally, there's the issue of Wi-Fi. In many instances, I found that the connection between the drone and my iPhone would go offline. These were quick, seconds-long occurrences at higher altitudes. Until SimToo decides to issue a firmware update, I would strongly suggest not flying the drone at the maximum height range. Otherwise, there's a chance it could fly off course and either break or get lost.