SoloLearn:
Learn
to
Code
Offers
a
Fun,
Easy
Way
to
Learn
Programming
Enjoy
the
chance
to
learn
several
programming
or
scripting
languages
at
once,
from
the
same
app
October 30, 2017
Learning the fundamentals of coding can be quite rewarding, and there are plenty of apps available to help you along the way. Most of them focus on just one programming language, like C++, Swift, Ruby, and so on. Rarely can you find one that allows the wannabe coder (or expert coder looking to expand his or her repertoire) to focus on two or more programming or scripting languages at the same time. SoloLearn, which has for years provided individual apps for various languages, is now offering a way to learn the fundamentals of multiple languages all within the same app.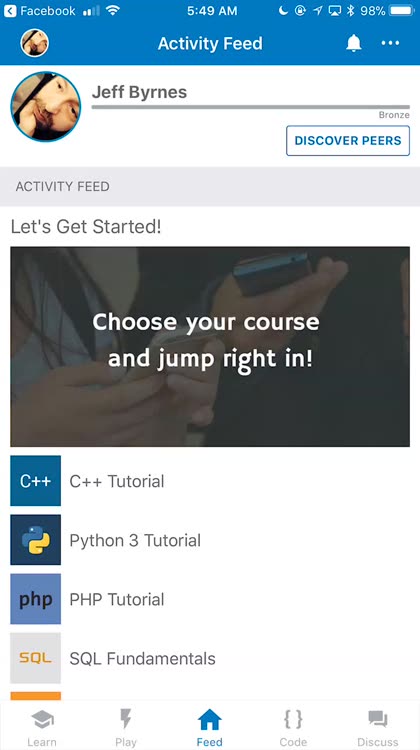 Once you sign up with SoloLearn: Learn to Code, you'll be able to choose which programming language you want to learn. There are several to choose from, including HTML, Swift, C++, JavaScript, and more.
Once you choose your first course and begin it, you can take a break whenever you want. Find the course or courses you're working through in the Learn tab. Your progress is saved for each course, so you don't have to worry about starting all over again when you decide it's time for a breather.
The Code and Discuss tab are social by nature, allowing you to share and read what others have submitted. You can find some good ideas for programming, as well as get help with the app or with the courses you're working through.
SoloLearn also features a Play tab, which allows you to match your coding knowledge against an opponent. The winner of each match gets a set amount of experience points (XP), which can be used to get hints and bypass parts of the courses.
Learn to code on the go for free
The courses are very well structured, offering you short segments introducing particular concepts of the programming or markup language. After each segment, there's a one-question quiz to make sure you grasp the concept. At the end of each module, you'll take a final quiz to ensure you fully comprehend and can execute the contents of that module.
If you already have some background in a language, you can test out of some modules. To do so, you'll take a short quiz that gauges how much knowledge you already have. Once you successfully complete one of the tests, you'll be able to move on to the next module. Otherwise, you have to work through each one sequentially.
The app does a great job of "gamifying" the experience, too. You earn badges as you learn, and can take advantage of the challenges not only to test your knowledge, but also to earn XP and more badges.
If you want to learn coding, and are striving to be "multilingual" in your programming, SoloLearn is an excellent means to that end. You'll find most of the popular programming and scripting languages covered, and you can learn the basic fundamentals (and even some more advanced topics) of any of them. Best of all, it's 100 percent free, and not even ad-supported.
Short concepts and quizzes
Each lesson is made up of short concepts, followed by one-question quizzes to ensure you're paying attention. Modules also have ending quizzes to solidify your learning.
Play in challenges to test your mettle
SoloLearn offers quiz-style challenges against other "players," where you match your coding knowledge with an opponent for experience points.
Multiple courses at once
You can take multiple courses at once, if you want/need to learn more than just one.
FREE
Sololearn: Learn to Code
Sololearn Inc