Tetris
Just
met
its
Match
in
Neon
Poly,
a
Great
New
Puzzle
Game
June 23, 2017
Puzzle games are a serious rage on the App Store, but how do you find one that's fresh and unique? You could try out every single one and see which is best, and that might be fun. Then again, you could let me tell you about a new Tetris-like game that's tons of fun and has a unique spin. Let's take a look at Neon Poly.
$1.99
TETRIS®
Electronic Arts Inc.
Free
Bejeweled Classic
PopCap
Free
Tetris® Blitz
Electronic Arts Inc.
Neon Poly is a Tetris-like game with an incredible twist. You don't have to race against the clock, for one thing, but the game also includes different types of game boards to choose from. You can play on a square, hexagon, or triangle board.
You start out with just the square boards, but there are various sizes of them to pick from. If you're really burning to try out a hexagon or triangle board, you can unlock it early with an in-app purchase. Otherwise, your high scores will unlock them in time.
You can also check your high scores for each type of board, buy XP to use for power-ups, and tweak the music and sound effects just to your liking.
Tetris just met its match
The Good
Neon Poly is a terrifically fun game to play. It offers you various types of boards to solve, with unique and special shapes for each. Play through the square boards enough, and you can get the experience points you need to unlock the hexagon, and then the triangle board.
The music is very soothing, well suited to a game of this niche. You can place pieces wherever you want, so a good strategy is to place them so you can wipe out several lines at a time.
You can fill lines both horizontally and vertically, which really increases your chances at a high score. When you start running low of things to do, take advantage of the power-ups to get you going again. There are bombs, lightning strikes, and atomic blasts. You can also drop a hint, remove a piece, or add a piece.
The Bad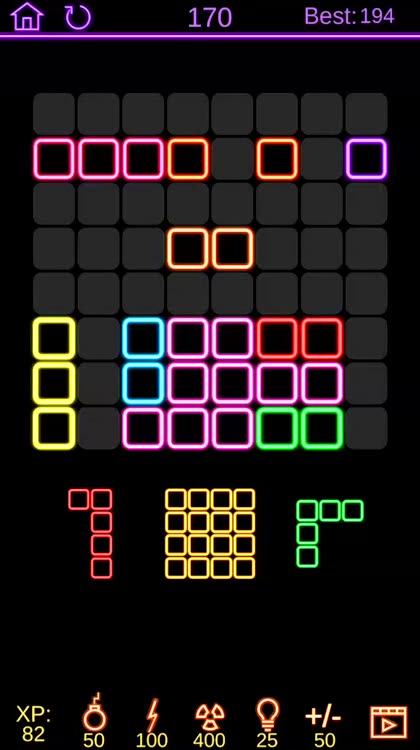 There isn't a lot not to like about this game. It's very fun and enjoyable, with plenty of replay capability. The only thing I wasn't happy with was the frequency of the ads.
After you complete a game, you have to view an add, either a video or a game trailer. Luckily, a game could take you long enough that the ads won't get so annoying. However, if you really want to get rid of the ads altogether, Neon Poly does offer an in-app purchase for that.
All in all, this game is very close to being perfect. Almost all free games have ads these days, so my one nitpick isn't really much of one.
The verdict
Neon Poly is very fun to play, and the fun only grows as you go. Unlocking new types of boards is a terrific feature, and the power-ups make things even more enjoyable. If you're looking for a great puzzle game, Neon Poly is a sure bet.
FREE
Neon Poly - Hexa Puzzle Game
Lobster Claw Software LLC