Unique
Scallop
Shell
Case
From
Carved
Protects
Your
iPhone
in
Style
This
gorgeous
case
is
made
from
real
shells,
not
printed
plastic
Accessories
June 22, 2016
Carved is a company that makes excellent quality tech accessories using wood and other natural products. Last year, I reviewed one of their incredible Slim Wood iPhone cases. Today, I'm reviewing one of their more protective iPhone case styles, the Traveler, in the Seaside Series, called Scallop Shell.
The Facts
Product
Traveler Wood Case
Color
Scallop Shell (others available)
Compatibility
iPhone 6s (others available)
What I Liked
The Traveler has a black rubber bumper that goes all the way around. The case strikes a good balance between bulkiness and protection. It's not heavy or overly bulky, and it has precision cut-outs for all of the switches, ports, speakers, and the camera. The buttons are covered but fully functional. The bumper has a grippy texture to minimize drops. I feel confident in my iPhone's security within this case.
The Scallop Shell case comes from actual shells. Nature doesn't just inspire the iridescent color and pattern; it's from nature. I've gotten many compliments on this case because it doesn't look like everyone else's. The shell is smooth to the touch with just a bit of texture to it. It's quite charming.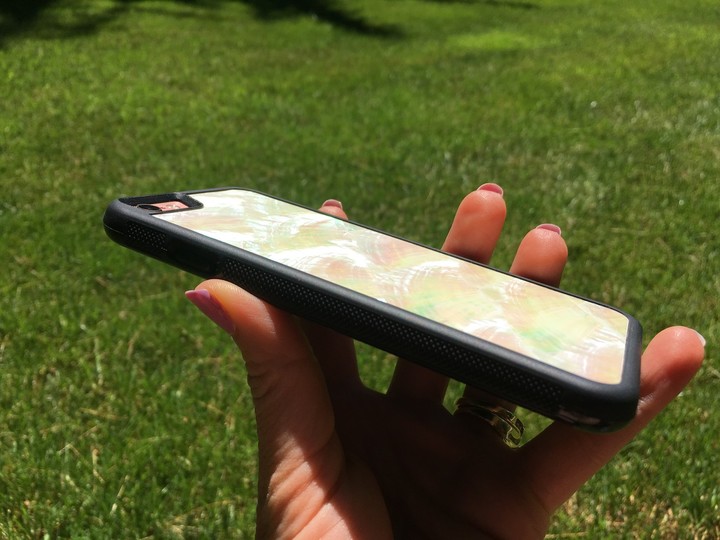 What I Didn't Like
The black bumper that makes the case so protective isn't exactly pretty, and it detracts from the natural beauty of the scallop shell. I know that aesthetics have to be sacrificed for protection sometimes, but I'd have preferred if the rubber bumper were at least a softer, more subtle color.
More worryingly, I'm not sure how long the scallop shell will hold up. After using the case without incident for a couple of weeks, I accidentally scratched off some of the coating or shell surfaces of the case with just my fingernail. For the price, I would want a case that I know will look good long term.
Bottom Line
This is a sharp-looking case that offers excellent protection for your iPhone. Unfortunately, the Scallop Shell design might be too delicate to look good for the long haul.
I'd still recommend checking out the Carved site if you're looking for an iPhone case that doesn't look like everyone else's rubber and plastic numbers. They make an array of elegant cases and other accessories, most of which are made from strong natural wood. Unlike shell, wood only gets better with age. You can see some of their other cases, many of which are under $30, in the photo gallery below.