Plunge
and
spin
to
the
goal
in
Drop
Flip,
a
physics
puzzler
March 31, 2016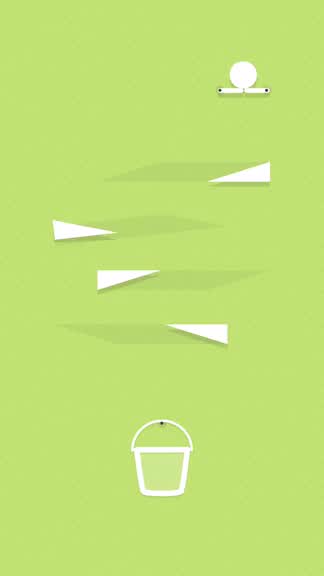 Drop Flip ($2.99) by BorderLeap, LLC is a physics-based puzzle game that is simple yet full of charm. If you enjoyed other games of this nature, such as Trick Shot, then you will love what Drop Flip has to bring to the table.
Even though I love console and computer games, I have to admit that most of my gaming these days is done on my iPhone 6s Plus. I mean yes, I bought a 3DS for on-the-go gaming, but it is also another handheld that I have to carry around with me, and lately, I just don't feel like carrying more than I have to. That's why I prefer enjoying mobile gaming on my iPhone — it's always with me and I don't have to think about it. However, the iPhone is not my preferred platform of choice when it comes to lengthier games, so that's why I get a kick out of small puzzle games and other bite-size titles. As a fan of physics-based puzzle games, I was excited when news of Drop Flip hit my inbox, since I'm a fan of BorderLeap's other games, which includes Alpha Omega, the har•mo•ny series, and more. Needless to say, BorderLeap does not disappoint yet again.
The graphics in Drop Flip are incredibly simple and clean, which will appeal to any fans of minimalistic art styles out there. The game features bright, solid colors in the background, which is also sports a subtle texture to it, like a canvas of sorts. The puzzles themselves consist of white objects that are essentially just basic geometric shapes like circles, triangles, squares, lines, and more. Due to the white objects being on top of a vividly colored backdrop, the contrast is nice and makes it easy to tell everything apart. The added shadow effect is a nice hint that lets you know how far an object can be moved around. Animations in Drop Flip are smooth and fluid, with no lag on my iPhone 6s Plus. And to top things off, the soundtrack is rather soothing, and the sound effects are whimsical.
At the moment, Drop Flip has 100 levels that you will have to go through in a linear fashion. The game does not split them up into chapters or worlds or any of that nonsense, so it's just one long chapter, so to speak. There are also no stars to earn or points to rack up — it's just about solving the puzzle and moving on to the next one. The main goal is as simple as they come: get the ball into the bucket. Of course, since the game is physics-based, it's not as easy as it sounds, but everything can be solved through experimentation and trial-and-error. As you get further along, though, the puzzles do get more complex and tricky, so you'll need to muster up all the power in your thinking cap to solve them.
The controls in Drop Flip are straightforward and intuitive. In each stage, the ball is sitting on top of a small gate. The bucket is somewhere on the screen, and there will be obstacles that stand between your ball and the bucket. To open the gate, just quickly tap on the ball and watch it fall. However, you can do some things with the obstacle objects as well, such as move them out of the way (or in a better position to help you out) and flip them. To flip an object, just firmly press it and it will magically flip around for you. To move objects (indicated by the shadowed area around it), just drag it with your finger in the allotted space. As I mentioned, the controls in the game are simple enough for everyone, but the puzzles themselves are still rather challenging.
While the game does not have stars or points, there is still Game Center support (if you can get it to work) for leaderboards and achievements. I think the replay value is a bit lacking, though, as there is not much reason to go back and replay levels, unless you want to try out crazier solutions. Still, it's a challenging puzzle game that is great for everyone, and there is full iCloud support so your progress goes wherever you go.
As a big fan of physics-based puzzle games, I'm loving Drop Flip so far. I'm still in the early stages of the game, but I'm enjoying every second of it. The simplistic visuals are gorgeous to look at on crisp Retina screens, and the tranquil and whimsical sounds are fun to listen to (best experienced with headphones). Controls are simple enough for everyone to understand, so there is no learning curve, and the puzzles themselves are fun and challenging at a gradual pace that is not frustrating. I think adding something like stars would increase the replay value in the future, but it's not a big deal.
I highly recommend checking out Drop Flip if you're a fan of minimalistic physics-based puzzle games. You can find Drop Flip on the App Store as a universal download for the iPhone and iPad for just $2.99. There are no in-app purchases.
Mentioned apps
$2.99
Drop Flip
BorderLeap, LLC
$1.99
Trick Shot
Jonathan Topf
$0.99
Alpha Omega
BorderLeap, LLC
$0.99
har•mo•ny
BorderLeap, LLC
$3.99
har•mo•ny 2
BorderLeap, LLC
$2.99
har•mo•ny 3
BorderLeap, LLC
Related articles