Track
your
mileage
and
drive
more
efficiently
with
Jerrycan
December 14, 2015
Jerrycan – Fuel, MPG and Mileage Tracker. Reduce Fuel Expenses, Improve Eco-driving Skills. ($2.99) by Pavlo Grozian is a beautiful app for keeping track of your car's fuel, MPG, and mileage, right from your iPhone. If you've been wanting to keep track of all of that data, as well as seeing how much of an impact you have on the ecology, well, then this is the app you'll want to check out.
Even though I'm not that big of a car person, I do like to keep track of my car's mileage and fuel economy, because I consider myself a data fiend. I even have an Automatic adapter for my car, because I like to see how I drive and it's a fun game to see how you rank among other users by the end of the week. For years, though, I've been using Road Trip as my go-to app for tracking my mileage, but when the news of Jerrycan hit my inbox, I was intrigued. This is not the type of app that oversaturates the market, and there are only several options to choose from, so I knew I had to check this one out to see if it would replace Road Trip for me. And since I recently had to get a new car anyway, I figured it would be a good time to put this to the test.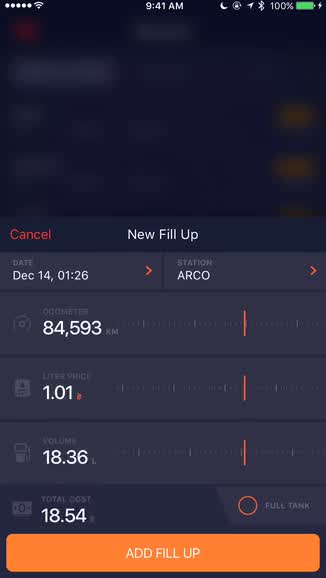 Visually, Jerrycan is gorgeous. The app uses a dark, steel gray background color that makes the bright and vivid hues in the graphs pop. Since the app is data heavy, the typography used is fairly legible, and the icons are easily recognizable from a glance. Each section of Jerrycan is separated and organized into different pages for easy navigation, and there are buttery smooth transition animations that are pleasing on the eyes. Overall, the developer did a great job with the aesthetics of Jerrycan.
Now, if you are like me and have been using another app for tracking this data, there is an option to import your existing data from your previous app. To do this, all you have to do is export your old data as a CSV file, and then open it in Jerrycan from the Share extension. I did this with my Road Trip data for my new Toyota Prius C4 and the data got into Jerrycan without any issues.
If you're starting brand new (or even if you import), adding a new car is easy. The process involves choosing your car's year, body type, make, model, engine, and the approximate odometer. Then you can add a photo to the car if you want, and choose the settings for fuel tank capacity, city and highway consumption, and currency and unit preferences. By default, the settings for the factory specs section are set to the default settings for the car you chose, but there is the ability to customize if needed.
Once you have your car set up, you can see different stats for your vehicle, which you can page through like iPhone home screens. The first section is the Overview, which reveals your average consumption for mpg, how much you've spent on gas, how far you've traveled, how many gallons you've burned through, and how much pollution your car makes. As you scroll through the different sections, you'll find Efficiency (city and highway), Distance, Fuel, Spendings, Savings (in terms of pollution), Overconsumption, and Networks. I do wish that the app provided labels for each section at the bottom where the page dots are, since it would make it easier to jump to a section you want to see now instead of going through them all.
While most of those sections are straightforward, some are more interesting and something you don't see in all mileage trackers. For example, Savings shows how many trees you've protected, pollution prevented, and how many liters of gas you've economized. While it may not be important for everyone, it's still interesting to see and definitely a bonus for those who are environmentally friendly. Overconsumption reveals bits of data like how much extra pollution you've caused, liters of gas wasted, and overpaid for gas. The Networks section allows you to see the stations that you've filled up at and see if what you paid was above average or not so you can try saving money on gas.
When you do go to the gas station to fill up, just tap on the plus button in the bottom left corner. Jerrycan brings up the "New Fill Up" view, and you can select a nearby gas station using data provided by Foursquare. Instead of going with the option of text fields where you input your own values, Jerrycan has opted to go with sliders for the odometer, liter price, and volume. While the sliders do work, I found that sometimes it can be a bit imprecise when calculating the total cost. This is due to the fact that the sliders only support up to two spaces after the decimal, and usually when I fill up I enter the exact amount, which is includes three decimal spaces. Because of this, I had to round up in Jerrycan, which resulted in some inaccurate numbers. I'm also not a fan of the fact that it uses "liter price" for fill ups, because I always go by gallons, and even have the setting for gallons. I'm a bit confused as to why it shows liter price, because I even have the units set to gallons. Hopefully the developer can fix this in the future.
Once you accumulate fill up records, you can view a timeline of them by tapping the hamburger button in the bottom right corner. You'll see all of your fill up records, as well as whether you paid the average price or not. There are also "Coach Tips" that the app provides, which can help you with your fuel efficiency and driving habits. While I'm sure most of us know these things already, they can still be helpful for newbies. The app also supports push notifications, which let it remind you whenever you're near a gas station that you can fill up, though I found these to be rather annoying after a while.
At the moment, I'm loving the visual style of Jerrycan, but I'm not too happy with how the fill up screen is handled. Personally, I am not a fan of the sliders and would still rather input my own data for accuracy, so I would like to see an option for this in the future — this will keep everyone happy. I also prefer having the "Liter Price" changed to gallon as well, because it was a bit confusing since we don't measure the cost of gas by the liter where I live. If these were implemented, the app would be much more accurate for me. Hopefully the developer can consider making these changes in the future for a better experience. On another note, according to the App Store description, maintenance logs will be coming in the next major update.
If you're looking for a slick fuel and mileage tracker, then I recommend checking out Jerrycan if you don't mind the few quirks I've mentioned. You can get Jerrycan on the App Store for your iPhone for just $2.99.
Mentioned apps
$2.99
Jerrycan – Fuel, MPG and Mileage Tracker. Reduce Fuel Expenses, Improve Eco-driving Skills.
Pavlo Grozian
$6.99
Road Trip • MPG, Mileage and Fuel Economy
Darren Stone
Free
Road Trip Lite • MPG and Mileage Tracking
Darren Stone
Related articles