Navigate
Through
a
Digital
and
Futuristic
World
in
Nightgate
August 26, 2016
Nightgate ($2.99) by Semidome Inc. is a challenging reflex arcade game where a network of intelligent computers is the last remaining life form on Earth. If you're a fan of the amazing abstract-style games from Semidome, which include Kotoro and Last Voyage, and have been craving more, then Nightgate will sate your hunger.
As a gamer, I love a challenging game that puts my skills to the test. While the experience can be a bit frustrating, I love to watch myself get better over time with practice and persistence. It ends up being a rewarding experience, and I always feel rather accomplished once I get past a level that I've been stuck on for a while. Lately, though, I haven't found any good reflex arcade games, so when news of Nightgate hit my inbox, I was intrigued. I've been a fan of Semidome's previous work, so I was eager to get my hands on Nightgate. Needless to say, like their other games, Nightgate does not disappoint.
The visuals in Nightgate are beautiful and minimalistic. The game features a ton of intricate geometric shapes and lines that move around seamlessly and flow right into each other in a pseudo 3-D setting. The colors of the shapes and lines are bright and vibrant, which contrast nicely with the pitch-black background. As you get further in the game, there will be some fantastic particle effects as things get more intricate and complex. Animations are buttery smooth and fluid in the game, and there is a great techno soundtrack (over 40 minutes of tunes) that goes along with the overall game theme.
The plot of Nightgate is simple, and adds a bit of a story to the surface. The year is 2398, and a network of intelligent computers are the only remaining life form left on Earth. You'll be taken to a digital world that is dark and futuristic, and it won't be easy to explore what lies beyond the digital landscape. Nightgate features a total of 50 handcrafted levels that you will have to get through one-by-one. The goal of each stage is to guide the white flicker of light to the colored dots, and eventually follow another sentient dot to the gate that leads to the next level. While that sounds easy, you'll eventually come across red bullets and bars that will kill you if you run into them, so avoid them at all costs.
Controls in Nightgate are simple and intuitive. Just move your finger anywhere on the screen to access the floating virtual joystick. The white dot will go in the direction that your finger is pointing towards without any friction. I found that the controls are super responsive as well, so the dot would turn on a dime when instructed. It's important that the controls are sensitive and fast, since you need to use your reflexes to dodge obstacles and bullets.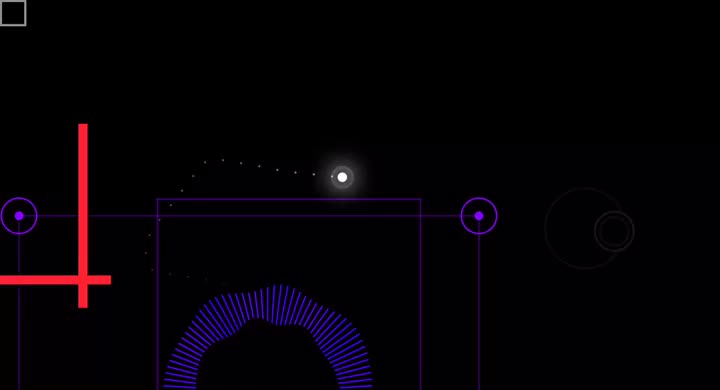 Since there is no time limit in Nightgate, the game can be played at your own pace, and you can take your time reaching the next area. You also can float to pretty much anywhere on the screen, even if it appears to be out-of-bounds, without dying, because the only way to die is to hit the red. Even then, the level just restarts so you don't have to worry about anything. There are achievements that you can acquire as you play, so it keeps you coming back.
As you play, you may encounter some beautiful designs due to the complex geometries on the stage. If you want to save the image as a screenshot on your device, just pause the game by tapping the square in the corner and then choose the "Snapshot" option. You can then pan the viewfinder around until you're satisfied and take a picture and use it as your wallpaper.
I'm fairly early on in Nightgate, but the experience has been enjoyable so far. The minimal design is a treat for the eyes (especially as the levels get more difficult), the musical score is immersive and captivating, and the controls are incredibly responsive and intuitive. The game starts out easy enough, but I like how it gradually picks up, and the levels themselves become lengthier and trickier. You will die a lot in this game, but you only learn from your mistakes, since there are noticeable movement patterns for all of the obstacles. If you like to test your reflexes, this game will be right up your alley.
I recommend giving Nightgate a try if you enjoy reflex arcade games, or are just fans of Semidome. You can find Nightgate on the App Store as a universal download for your iPhone, iPad, and Apple TV for just $2.99. There are no in-app purchases.
Mentioned apps
$2.99
Nightgate
Semidome Inc.
$1.99
Kotoro
Semidome Inc.
$1.99
Last Voyage
Semidome Inc.
Related articles