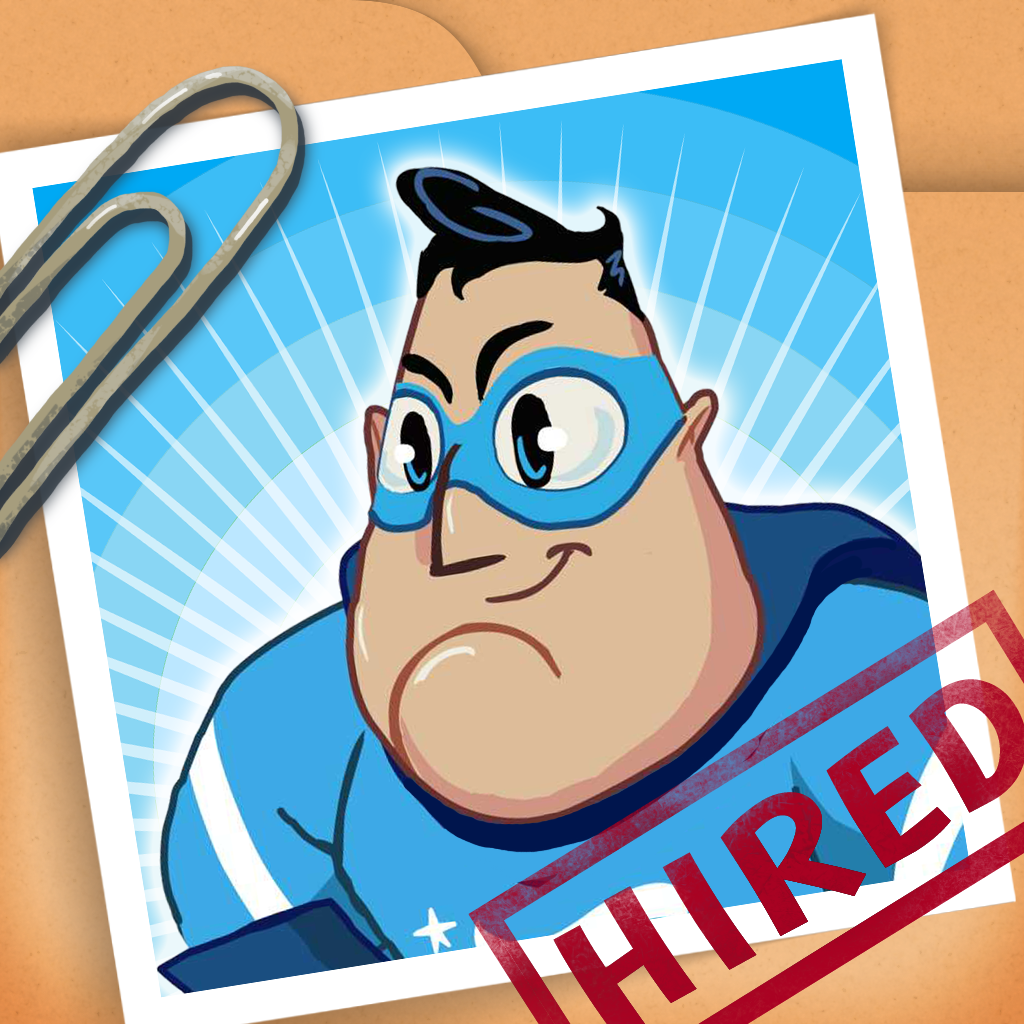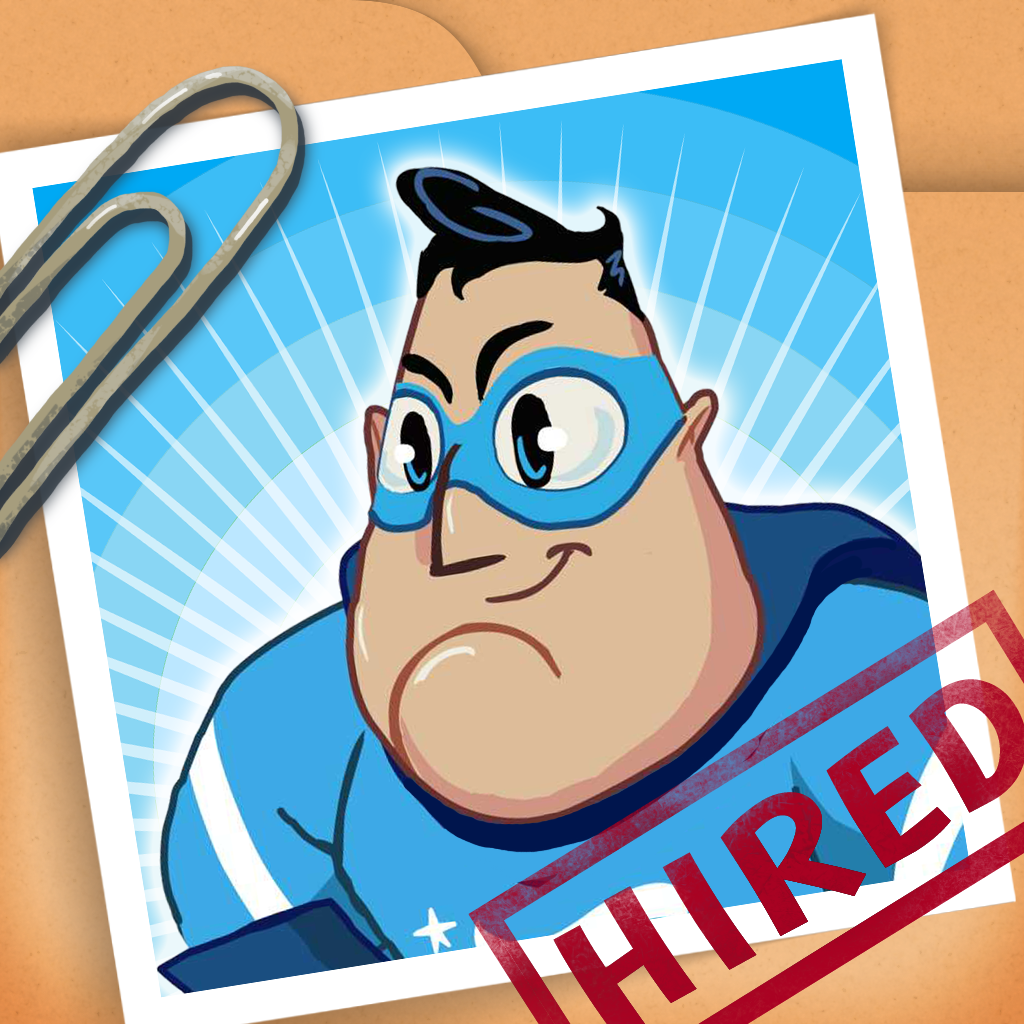 Can
You
Save
The
City
As
The
Middle
Manager
Of
Justice?
December 17, 2012
Middle Manager of Justice (Free) by Double Fine Productions, Inc. will place you in the middle of managing underdog superheroes to deliver justice to evil doers! If you're a fan of crime fighting and simulation games, then this is the perfect mix for you.
So what happens when you have a resume with adequate experience for management and you need a job? Search the classifieds, of course, but then the offer of a lifetime comes up — Justice Corp. needs a new manager to whip the rundown place into shape and deliver the justice. And luckily, you're that guy.
Middle Manager of Justice features beautiful hand drawn cutscenes that really give off that comic book feel. The game graphics also have a cartoonish look to them, which is perfect, considering the premise. All of the animations for the character models are fluid as well, and I had no problems with choppiness or anything like that on my iPhone 5.
When you start out, you get a pretty raggedy Justice Corp office. You'll have no heroes, but the game will supply you with a handful of Superium, the game's "premium" currency. With this, you can purchase an "Econopack" of super heroes, and choose from one of the three available. There are two more levels of heroes that you can get: Adequate Hero and Deluxe Hero. The higher level of hero you want, the more Superium you'll have to pay. Fortunately, it's quite easy to get Superium and gold the more you play.
Once you get a hero, you can give them tasks to do, such as training. Each hero has three statistics: power, max HP, and intelligence. Training can increase their stats in one area at a time, and they only get a limited amount of workout sessions for each level. To get more, you'll have to level them up, and they can only do this by going out in the city to fight thugs and rescue civilians.
To get into battles, you'll have to view the map and select an event. You can see the type of event (thugs, bus rescues, etc.) and the difficulty level. Each event is only there for a limited amount of time, so you had better act fast if you want to take action.
You can select up to four heroes for fights, and you can see your odds of winning, as well as the stats for the enemies. You can choose to watch the battles, which is "manual" mode, allowing players to use their special abilities and team boosts. There is also a "delegate" mode, which is like auto-pilot. The heroes will fight on their own, without your supervision, but you will have no control over the battle. You will have to rely on the percentage of winning to be in your favor, but this does allow you to do more things at once.
After each battle, both the heroes and manager will earn experience. The higher the level, the stronger and more intelligent everyone will be. The manager is also important, and will have different tasks, such as desk work to get more income for the company, or researching more abilities, motivating employees, and promoting heroes. Make sure to use these to your advantage to train your superheroes.
With each district, there is a villain that you'll have to face once your investigation gauge fills up. The boss battles are just like the normal battles, except you'll have a much stronger foe awaiting you. But once they are defeated, the district will be freed and it's just your job to keep it happy by clearing out the trash.
There are also to-dos that you will want to accomplish, as they will get you prizes like Superium, gold, and even snacks. You can view your current goals by tapping on the clipboard icon in the top right corner.
Gold can be used in the shop to purchase snack items that give your heroes boosts in battle, and you can also use it to upgrade and add more rooms to your Justice Corp. base. There are also costumes that you can buy, which will give you bonus stats like more blocking, health, and the like.
As you get more rooms in the base, your heroes will get more things that they can do in their spare time, like research, practice, desk work, and even get some time off. However, this will take time, as you need to get gold.
For the competitive players, there is Game Center integration for leaderboards (crimes fought and branch rating) and there are 30 achievements to obtain.
I've been playing Middle Manager of Justice all morning because it's quite fun and addictive, which is not a surprise from Double Fine. I love the combination of superheroes and simulation, and the humor is pretty witty as well.
The only negative? If you're not a fan of games where you need to grind a lot to improve your units and abilities, then this is not the type of game for you. There are also quite a bit of in-app purchases if you are impatient, but they are not necessary by any means.
Middle Manager of Justice is still a fun game to check out for any superhero fan and casual simulation gamer. You can get it for your iPhone and iPad for free in the App Store.
Mentioned apps
Free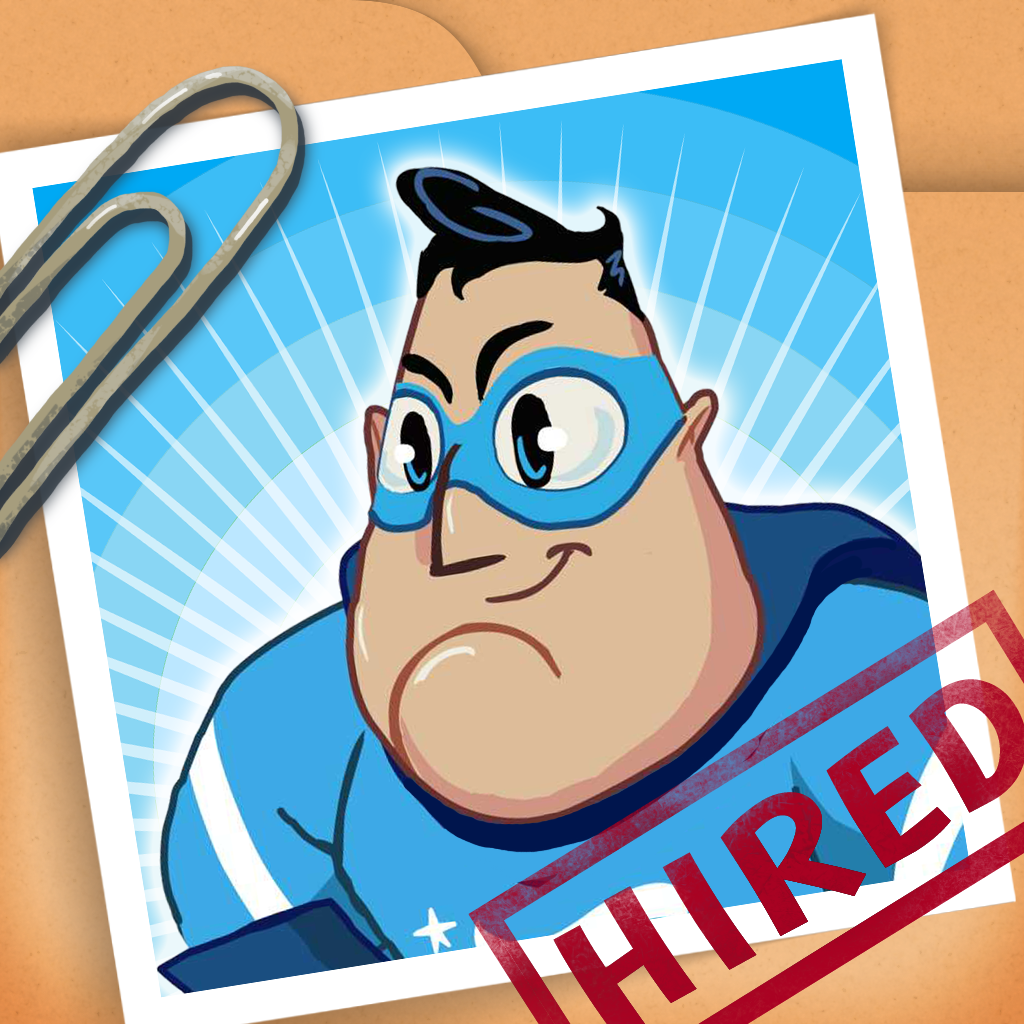 Middle Manager of Justice
Double Fine Productions, Inc.
Related articles