Can
You
Run,
Jump
And
Float
Your
Way
To
Saving
The
Space
Chicks?
November 21, 2013
Space Chicks ($0.99) by Crescent Moon Games is an endless runner platformer that is the next big thing for iPhone gaming. If you loved games like Jetpack Joyride and Astronut, then this is the perfect hybrid of the two.
I'm a big fan of Crescent Moon Games, especially with their recent hits like Mimpi, Neon Shadow, and Strike Wing: Raptor Rising. So when I first heard of Space Chicks, I became ecstatic. That's because just from looking at early peeks of the game, I was instantly reminded of Astronut from Icon Factory (because of the planet jumping) and Jetpack Joyride (the endless runner factor). It also looked quite hilarious, and I am glad to say that it definitely does not disappoint.
Space Chicks features beautiful graphics that are colorful, lush, smooth, and detailed. Even though it is a side-scrolling game, I could make out the slight 3-D modeling for the characters, planets, and ships that you'll be encountering. It's subtle 3-D, but it looks amazing on Retina screens. The animations in the game are also fluid, and I experienced no lag whatsoever on my iPhone 5s, although the transition from jumping into your ship and then flying it into the next planet is a bit jarring since it starts the next stage. The game also comes with a quirky, disco-style soundtrack that is sure to delight everyone, along with charming sound effects.
The game only has one game mode, but there are options for one or two players. If you choose to do the two player mode, then you will work together with another person and share the screen, with player one tapping on the left side of the screen to jump, and the right side for player two. You'll work together to save the chicks in space while also competing for your own coins and hearts. The single player option will, of course, just be you, and your goal is to save as many damsels in distress in space as you can.
The controls in the game are fairly simple and intuitive. Your character will be running around on a planet automatically, and your job is to help him jump from planet to planet, avoiding hostile life forms and baddies who are out to get you. When you jump, you'll be pulled in by the gravitational field of the nearest planet, so you will never be "lost in space." You can even jump onto asteroids and other space objects, though these will move around as you walk on them, since they are not heavy like planets.
Along the way, you will find space chicks scattered around each area, and you need to run to them to "collect" them and then deliver them to a nearby spaceship so they can escape to safety. Sometimes these ships will be straight ahead, but other times you'll have to do a bit of backtracking.
Once you saved them all, it's time to make it to your own ship and steer your way to the next area. During this time, there are plenty of coins to collect as well as some rare hearts, so make sure to snatch those up. The hearts you have will be shown in the top left corner and dictate how many hits you can take from enemies before it's game over for you. So it's recommended to grab as many as you can and maneuver your way carefully when jumping from planet to planet. And watch out for those bad guy pirates that may be on your tail after you escape — they won't do damage to you, but will bump into you and throw you off course whenever they can.
Every now and then, you will also come across boxes that you can touch to reveal power-up items to help you on your journey. You can also use the coins you collect in the Lab to buy more airdrop supplies, upgrades, ships, and costumes. And of course, if you are low on coins, you can buy more via in-app purchases. There are missions to complete that can earn you more coins and rewards, so complete those and rank up for better prizes.
If you're the competitive type, there is full Game Center integration in Space Chicks, so you have leaderboards and achievements to obtain.
I've been loving Space Chicks, as it's the perfect hybrid of endless runner and gravity-defying platformer action. Plus, the difficulty level can get quite challenging, making it all the better. And if you're always looking for the next visual treat in games, then Space Chicks fits the bill quite nicely.
I've had the game for a while and I find it incredibly fun and addictive. If you're a fan of endless runners and distinctive platforming action, then I highly recommend you grab Space Chicks now. It's one of the most fun games you can pick up this week.
Space Chicks is in the App Store as a universal download for $0.99.
Mentioned apps
$0.99
Space Chicks
Crescent Moon Games
Free
Jetpack Joyride
Halfbrick Studios
Free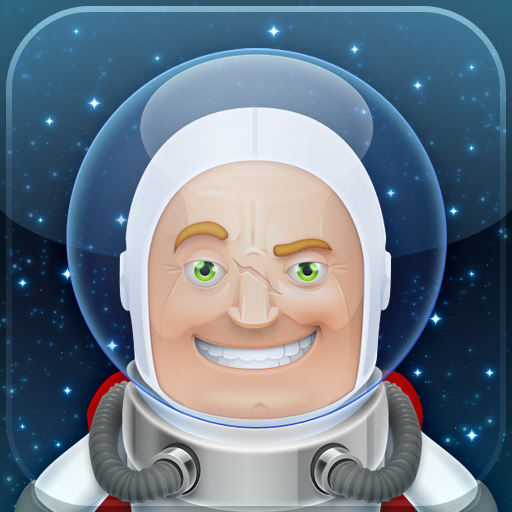 Astronut
The Iconfactory
$1.99
Astronut for iPad
The Iconfactory
Related articles