You'll
Have
To
Be
Fast
To
Dodge
And
Shoot
For
Survival
In
Super
Pixelander
June 26, 2014
Super Pixelander (Free) by Sunny Tam is a fast-paced arcade shooter game that will keep you entertained for hours. If you enjoyed other arcade games like Super Crate Box, then you are going to love Super Pixelander. I'm not kidding — even I had a hard time putting this one down just to write this review.
Over two years ago, Super Crate Box hit the App Store, and it was the start of the wave of games that required fast reflexes and skill. I remember those days — I first discovered SCB and loved it, even though it made me want to throw my device across the room quite a bit. Still, these types of games are addictive because you keep playing, hoping to beat your previous high score. In fact, you may lose hours of your day (perhaps even multiple days) just playing these games, but I'm totally okay with that. As frustrating as they may be, I can't help it — they're incredibly difficult to put down once you get going. So when I saw Super Pixelander in the App Store, I was all over it like white on rice. It is like a beautiful mix of SCB and Luftrausers, at least in my eyes.
Super Pixelander features retro, 16-bit style artwork that is sure to appease players from the golden age of gaming. I absolutely love pixelated art in games, so I really enjoyed this one. The visuals are may not have too much detail, but everything on the screen is colorful, vibrant, and quite flashy. The animations are smooth and fluid, which is quite important for a hectic game such as this one. The music is also amazing, featuring a adrenaline-pumping soundtrack, as well as crazy and explosive sound effects.
There is only one game mode in Super Pixelander, and that is to collect and survive. Unfortunately, unlike SCB, Super Pixelander only features one area basically, so you don't get too much variation with the setting for each round. However, every game will be different with the randomly generated obstacles that you have to dodge, of course, so it will never feel like the same game twice. In fact, sometimes you may get a great run, while others will leave you cursing at your iPhone.
The controls in the game are incredibly simple, but you may look weird in public playing this game. To move your lander, just tilt your device around and he will float in that direction. To propel yourself, just tap on the screen, and you will shoot bullets from underneath you, which helps you get around while also destroying hazards near you. I found the controls to be very easy to use, and had no issues with sensitivity. However, when it comes to more frenetic times, the tilt controls may require a bit more skill to precisely maneuver around dangerous objects.
So how do you score in Super Pixelander? Just like in SCB, you earn a point for each gem you collect. These gems will also give you a different weapon, so it's a surprise with each one you manage to collect — sometimes you'll get something great and effective, and other times, well, you get the short end of the stick, to say the least. However, since that's the only way to get points in the game, you're going to have to take your chances, while also dodging as much as you can to survive. The game will let you know when an object is coming in from the sides of the screen, as well as when the magma rises from the bottom, reducing your available space.
At first, you will be limited in the number of weapons that are available to you through the gems. But the more you play, the more weapons you'll unlock, since you unlock a new weapon after a certain amount of gems. The game informs you of how many more gems you need until the next weapon after each round. There will also be different hats for your lander to collect.
Of course, a game like this does have Game Center support for leaderboards only. Unfortunately, there aren't any achievements to obtain.
Since Super Pixelander is free, you will have to deal with an ad after several games or so. I found this to be a little annoying, but at least it doesn't show up while you're playing. There is no way to remove the ad.
I loved Super Crate Box back in the day, so of course I fell in love with Super Pixelander from the first round. The retro visuals are awesome, the music is quirky, and the gameplay is challenging, yet insanely addictive. If you're a fan of fast-paced arcade shooters, then you will get a kick out of this one.
You can find Super Pixelander on the App Store as a universal download for free.
Mentioned apps
Free
Super Pixelander
Sunny Tam
$1.99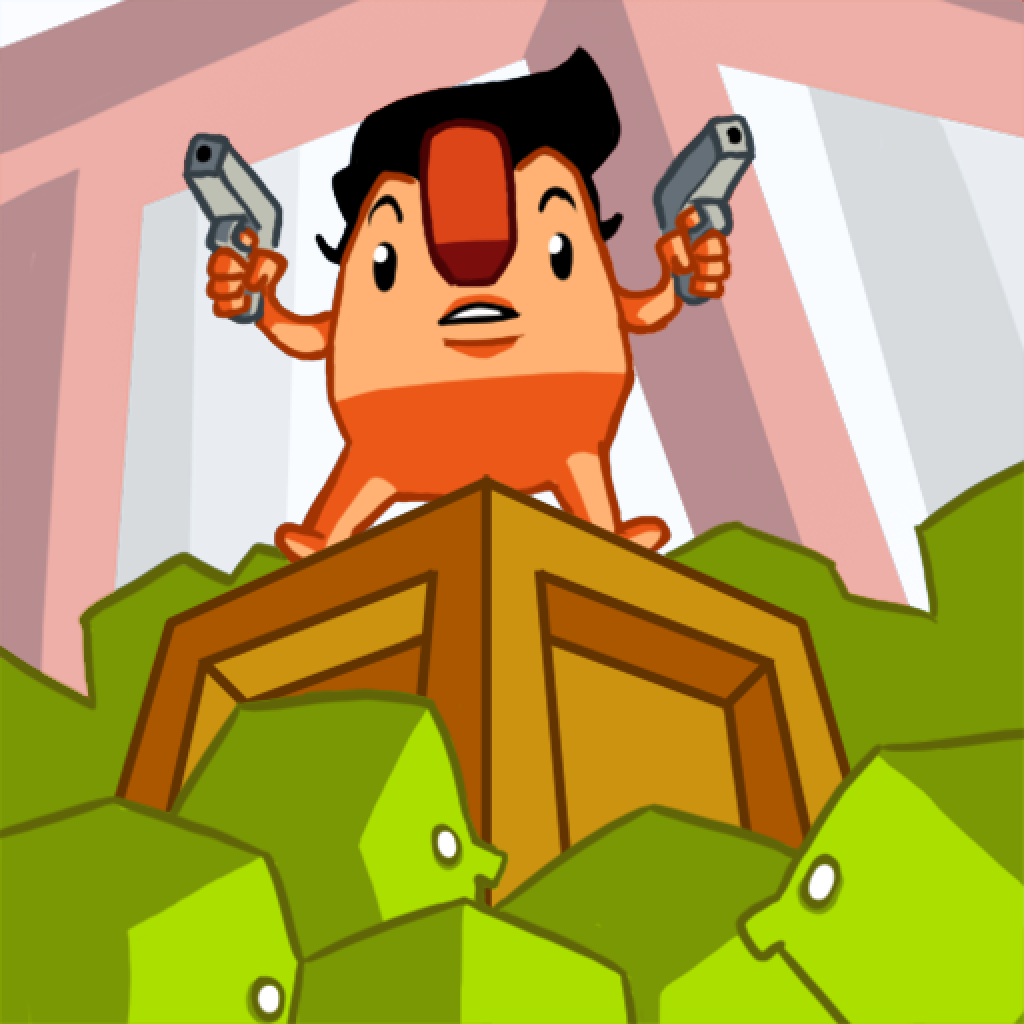 Super Crate Box
Vlambeer