Unravel
tiles
to
create
paths
in
Twofold
Inc.,
a
charming
puzzler
January 28, 2016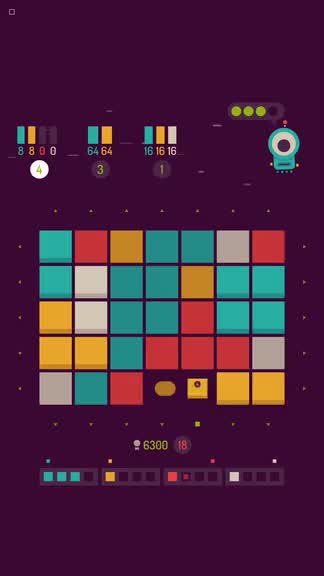 Twofold Inc. ($3.99) by webbfarbror AB is the latest puzzle game from the same developers of rymdkapsel. If you like matching puzzle games but want something more challenging, then twofold inc. is just what you need.
If you've been following my work here at AppAdvice over the past several years, then you should know by now that I'm a real sucker for puzzle games, especially when it involves matching. However, as the years went by, the market became oversaturated with tons of match-three games like Candy Crush Saga, and that got tiresome. So when developers create fresh new games for the market, I'm always intrigued, such as with Swapperoo. And since nearly everyone, including myself, was a fan of rymdkapsel when it came out a few years ago, it's not a surprise that a new game from those guys would pique my interest. Fortunately, twofold inc. is a challenging new puzzle game that does not disappoint.
Like their previous game, twofold inc. carries a somewhat flat and minimalistic visual design that is rather pleasing to the eyes. The dark plum background color provides excellent contrast for the bright and vibrant tiles on the grid. The little alien creature that guides you is rather cute and charming, and all animations are smooth and fluid with no lag on my iPhone 6s Plus. The atmospheric soundtrack is a joy to listen to, and the quirky sound effects add a fun, bubbly touch to the overall game.
On the first launch of twofold inc., you'll be shown a tutorial that explains the basics and lets you pick up on the simple but challenging game concept. Essentially, you must fulfill the requests that are shown at the top of the game board, which are certain values for each colored tile. In order to do this, though, you have to scroll the lines to shift the tiles around, and then make a path that will clear them away. As you match like-colored tiles in groups of two or more, the number doubles with each additional tile. This means a match of two tiles gets you "4," but three is "8," four is "16," and so on. The longer your chain, the higher the value becomes since it is always doubled. It's a bit confusing at first, but once you play a few games of it, the mechanic becomes clearer. After the tutorial, there will be two game modes available: Standard and Master, in case you want a real test of skill.
As I mentioned, there will be three requests that must be fulfilled at the top, and each one has a different combination of colored tiles and values. Even though there is a specific number tied to the request, you don't have to match it exactly in one go, as you can go for smaller values or even larger ones to fulfill multiple requests at once. However, each request has a number underneath it, which is the number of moves you have left to fulfill it. Once a request is fulfilled, you get extra moves, so it's important to complete as many as possible before your moves run out. To scroll the lines on the board, just tap on the arrows that are surrounding the grid so the lines scroll horizontally or vertically — end tiles will appear on the other side of the line. When tiles are able to be cleared out in a path, they will appear depressed and highlighted on the board, so you just trace your finger along it to create the line and fill a request. When tiles appear pushed down and dim, you'll have to scroll the lines to create a match, which can be tricky, since it also uses a move. If you run out of moves and try to do something, you'll get a hit on one of your four remaining lives. Run out of lives and it's game over — your score is determined by how many requests you managed to complete.
Like I said, the game is a bit hard to explain, but once you see it in action it is easier to pick up. The mechanic is rather simple, but don't be fooled — the game gets tricky and complex once you get bigger requests. Due to the two levels of difficulty, the game has high replay value, and there is Game Center support for leaderboards and achievements.
Since I'm such a fan of puzzle games, twofold inc. is another winner this week. I love the simple and clean visual style, the music and sound effects are fun and bursting with personality, and the gameplay makes you think, because it is definitely harder than it looks. It looks like webbfarbror AB have another hit on their hands.
I recommend giving twofold inc. a try if you love a challenging puzzle game and are tired of the same old matching games out there. Twofold Inc. is available on the App Store as a universal download for $3.99. There are no in-app purchases.
Mentioned apps
$3.99
twofold inc.
webbfarbror AB
$3.99
rymdkapsel
webbfarbror AB
$0.99
Swapperoo
Fallen Tree Games Ltd
Related articles