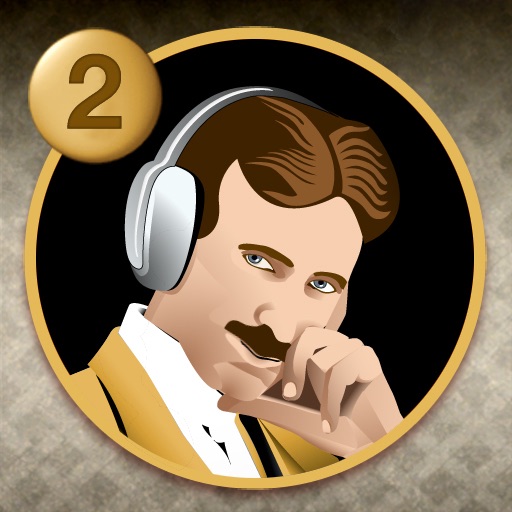 --- WOW
3-IN-1 Bundle Pack #2! | AmbiScience™ • Binaural & Isochronic Ambient Mind Utility
by Tesla Audio Sciences
What is it about?
--- WOW! 3 Apps in 1 just 1.99! ---
Select your favourite track and effect.
App Store Description
--- WOW! 3 Apps in 1 just 1.99! ---
*** The Best Selling Line of Brainwave Apps on the Store - Since 2008. ***

"...worthwhile set of apps for both Android and Apple" - NY Times

GET OUR BUNDLE #1 WITH 4-LAYER PRESETS!!! COMING SOON TO BUNDLE #2.

PRAISED BY APPLE, MACWORLD.com, TUAW.com, iPHONE LIFE, INFORMATION WEEK AND 148APPS.com SEEN IN PUBLICATIONS AROUND THE GLOBE. OVER 600,000 USERS WORLDWIDE.
** Type 'Tesla Audio' in search today **

Let AmbiScience™ take you on a sonic journey with a combination of ambient electronica and a variety several effective programs that attune your brain to desired states of mind using the BEST entrainment frequencies. Tune your mind to help you sleep, relax, focus or meditate.

HOW DOES IT WORK?
Once you choose a particular frequency, such as the 'sleep' frequency, this state is then more quickly achieved than normal. This is done by a mixing of tones sent to each ear - the difference between the two tones, that your brain creates, is called binaural entrainment. We also include isochronic entrainment, which is a different form, using a single pulsating tone in each ear - people who don't respond to binaurals, often respond to isochronics.

THE ONLY APP
AmbiScience is the only app, which includes binaurals and isochronics in ONE.

PROGRESSIVE ENTRAINMENT
This app also offers Progressive entrainment, which is a gradual inducement to your chosen entrainment, and this is done by starting at the waking state frequency and gradually moving the user down to his/her chosen frequency.

THIS APP INCLUDES the Best Selling apps: Pure Meditation, Galactic Chill and Pure Yoga in ONE.


FEATURES:

- 35 LONG Professional Ambient Tracks
• 3 Noise Tracks
• 20 Entrainment Tracks:
-- 10 Isochronic Entrainment Tracks
-- 10 Binaural Entrainment Tracks
• Create your own custom programs
• MULTITASKING background audio available!
• PERFECT Seamless Loops
• Full-Featured presets / Multi-Track Save
• Countdown timer with fader
• Countdown end chime
• Alarm with Snooze option
• Auto Quit/Exit feature
• Adjustable independent volumes
• The smallest available files
• Highest quality audio
• Easy Instructions & Free updates

BRAINWAVE/ENTRAINMENT PROGRAMS
(headphones/earbuds or 2.1 speakers are RECOMMENDED - the iPhone/iPod speaker is not able to produce some of the frequencies below)
- 20 Entrainment Programs:
• Shamanic Meditation (Isochronic & Binaural)
• Shamanic Meditation Low Pitch (Isochronic & Binaural)
• Medium Meditation/Active Relax (Isochronic & Binaural)
• Deep Meditation/Relax (Isochronic & Binaural)
• Light Meditation (Isochronic & Binaural)
• Schumann Resonance (Isochronic & Binaural)
• Schumann Resonance Low Pitch (Isochronic & Binaural)
• Sleep (Isochronic & Binaural)
• Power Nap (Isochronic & Binaural)
• Deep Sleep (Isochronic & Binaural)
• Isochronic - headphones not required.
• Binaural - requires headphones.
-- Full instructions in app.

AMBIENT MUSIC TRACKS:

• Obsidian
• Alabaster
• Pearl
• Amber
• Lapis Lazuli
• Fire Opal
• Blue Topaz
• Orange Topaz
• Moonstone
• Evening Rain
• A Calming Stream
• The Android's Dream
• Surf to City
• Leaving Terra
• A Visit to Olympus Mons
• Through the Wormhole
• Suspended Animation
• Passing Orion
• The Horsehead Nebula
• The Island Universe
• The Journey Onward
• Angel Acension
• Tesla at Twilight
• Night Calm
• Himalaya
• The Northern Chimes
• Saturday Morning
• A Gentle Tunderstorm
• A Moonlight Melody
• The Zen Garden
• Desert Sunrise
• Buddhist Rain

Plus, as a BONUS, 3 NOISE TRACKS:
• Brown, White and Pink Noise

AUTO-LOCK must be set to 'Never' for alarm to function, and be sure to enable
AIRPLANE MODE to avoid interruptions.

NOTE: If you experience performance issues (missing tracks, no sound etc) email us.

Go to teslasoftware.com for a VIDEO tutorial.Follow us at http://twitter.com/TeslaSoft
Disclaimer:
AppAdvice does not own this application and only provides images and links contained in the iTunes Search API, to help our users find the best apps to download. If you are the developer of this app and would like your information removed, please send a request to
[email protected]
and your information will be removed.