Count your coins.
5coins - Spend Everyday
by Yuzhou Zhu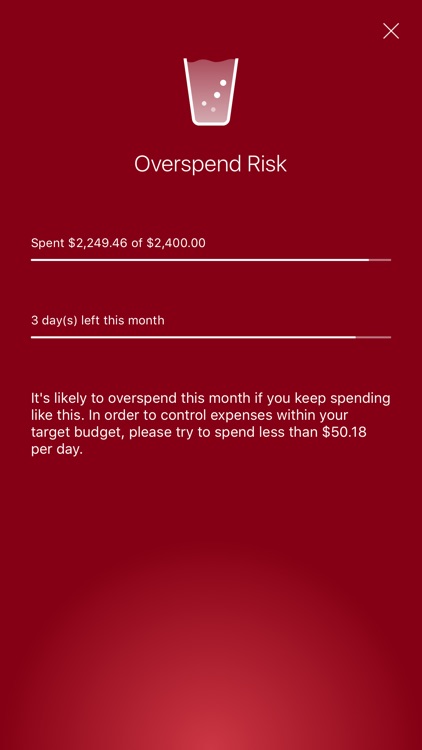 Keep track of your daily expenses. Just swipe down on the screen to enter a value and attach a note. The app will keep a running total of everything you've spent, and you can view your expense history with an upward swipe.
Find out where all of your money is going. The app is able to alert you when you're spending too much and have a chance of going over-budget.
What is it about?
You don't need to be an accountant in order to track expenses.
For those who...
It's designed for anyone that wants to keep track of their daily expenses.
Not for those who...
If you want to do more than track your daily expenses, you're going to have to look elsewhere for a finance app. 5coins is solely focused on tracking daily expenses and doesn't offer any overweight features like budgets, multiple account support, or charts.
Why we love it
If you just want to track what you're spending, 5coins is perfect for you. It features iCloud support, so no matter what iDevice you enter your expenses on, you'll be able to see your total on every one.
App Store Description
You don't need to be an accountant in order to track expenses.

5coins is a simple, beautiful and smart app for tracking your daily expenses. It lets you know how much you are spending, when and where your money goes. That's it!


Highlights:

1. Super Easy User Interface
No hassle to switch between different views. 5coins lets you do most things on a single user interface. Adding expenses can be as easy as entering a number.

2. Overspend Alert
Just set your monthly budget. 5coins will let you know beforehand when you are spending too much.

3. Regular Expenses
5coins remembers your regular expenses and makes them available in today's widget as well as application shortcuts (iPhone 6s & iPhone 6s plus only). So adding expenses is just a few taps away.

4. iCloud Support
Data is always available to all your iOS devices. Anytime, Anywhere.

5. Spotlight Search Support (iOS 9 and above)
You can search expenses in Spotlight without opening the app.

6. Privacy
Protect your information with pin code and Touch ID.