Set all of the alarms you need
Alarm Clock - Digital, Music Alarms & Flashlight
by Impala Studios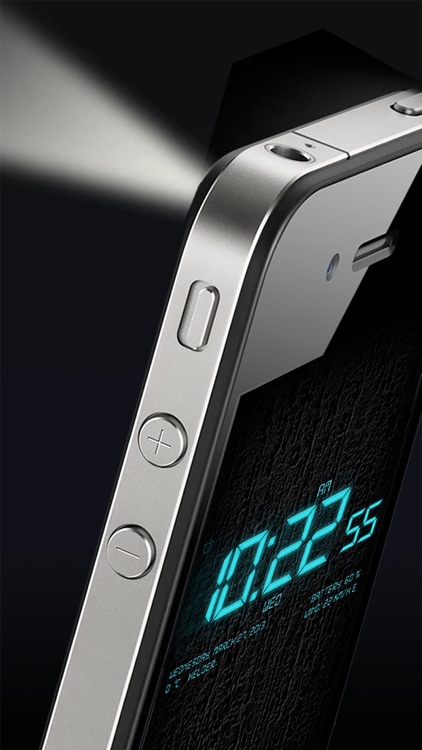 What is it about?
Alarm Clock 4 Free contains a powerful array of options that will let you set the terms on how you wake up. Whether you want a tone or your music to start your day, you're in complete control. You can even make your wake-up noise of choice fade in to ease you into the land of the living.
Why we love it
We've always had trouble getting up and going in the morning because we love our beds and the endless comfort we provide. But our friends, family, and employers would prefer us to get our lazy selves up and out of the house. We like the wealth of options Alarm Clock 4 Free has to make sure that we can play around and find just the right combination of settings that will get us out of our lovely, non-judgmental bed.
Alarm Clock is FREE but there are more add-ons
$1.99

Upgrade to full version
App Store Description
Clock, weather info, sleep timer, music, notification alarms, beautiful themes, battery level – all that in one great app: Alarm Clock!

= Sleep and wake up your way, every day! =

UNLIMITED ALARMS AND SETTINGS:
Set multiple alarms and repeat them daily or weekly. You can let the alarm sound or music fade in gently and set the duration of the fade in.

iTunes MUSIC:
Wake up to your favorite iTunes Music. Add one song, two songs or your whole playlist to your alarms.

SLEEP TIMER:
Play your iTunes music for a given time period and let the music gently fade out while you fall asleep. The sleep timer will fade out the music so you won't wake up from sudden sound level changes.

LOCAL NOTIFICATION ALARMS:
Receive alarms even when the application is closed, by using the iOS local notifications.

WEATHER INFORMATION:
Alarm Clock automatically retrieves and displays local weather information. You will see the local temperature, weather description and wind details. You won't need to select your location manually!

FLASHLIGHT:
Easy turn your iPhone into a flashlight by shaking it. It switches off by tapping twice or shaking it again.

UNIQUE BRIGHTNESS SLIDERS:
Slide the clock screen up and down to control the background brightness. Slide the clock screen from left to right to control the foreground brightness.

BEAUTIFUL THEMES:
This is the best designed alarm clock in the App Store. Choose between thirteen themes and decide on the color of the digits to personalize your alarm clock to the max!

MORE INFORMATION:
The clock optionally displays battery level information and date information.

BIG SNOOZE BUTTONS:
Fully adjust the snooze function and length.

AUTOMATIC INTEGRATION:
Automatic integration of your all iPhone or iPad's clock settings, like AM/PM settings and 12/24-hour clock format.

FULLY ADJUSTABLE:
All functions of this alarm clock are fully adjustable.

Alarm Clock sets a new standard for alarm applications and combines all functions you would expect in a modern alarm app!