How bizarre.
Bizarre Holidays Calendar
by Matthew King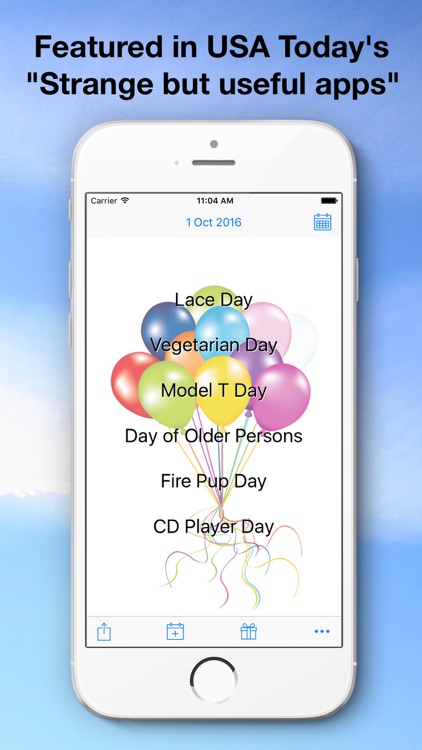 Bizarre holidays each day.
Add your favourite holidays to your calendar.
Share with your family and friends.
What is it about?
Featured in USA Today's "Strange but useful iPhone apps."
For those who...
It's for anyone who needs a reason to celebrate.
Not for those who...
The app doesn't offer descriptions for the holidays or outside links. It simply lists them.
Why we love it
If life has you down, download Bizarre Holidays. You'll find something new every single day to put a smile on your face.
App Store Description
Featured in USA Today's "Strange but useful iPhone apps."

This app has been and will continue to be updated every year (since 2009). Each update is free, so you will have endless bizarre holidays. You can also quickly read and access this from the Today Notifications as a widget in iOS 8 or later.

"Bizarre Holidays presents you with wacky holidays each day. You'll find silly holidays like Blame Someone Else Day and Dance Like a Chicken Day. Use it to have a little fun or plan fun parties for friends and family. It is updated yearly." - USA Today

Have a party every day of the year! This list of random holidays gives you a reason to celebrate 365 days in a row. Celebrate food, famous folks, or your own bad attitude with fun favorites like Fried Chicken Day, Amelia Earnhart Day, and Blame Someone Else Day. Or get really bizarre with Dance Like a Chicken Day or Sneak Some Zucchini onto Your Neighbor's Porch Night! See just one zany holiday per day or look ahead with the calendar feature to plan your upcoming celebrations. Many days of the year even have more than one random holiday for you to enjoy! You also get to enjoy one unique background image for each day of the week, so check daily to see the new background image.

If you have any questions, comments, or suggestions please email us at [email protected]

Check out our other apps:
Debt Snowball Pro
Loan Calculator - What if?
Random Fun Facts
Scripture of the Day - (NASB Version)
Today in American History
Random Crazy Illusions
Travel Bingo & Blackout
Grocery Bingo
Whack a Friend's Mole