Make it big in Miami.
Build It! Miami Beach Resort HD (Full)
by G5 Entertainment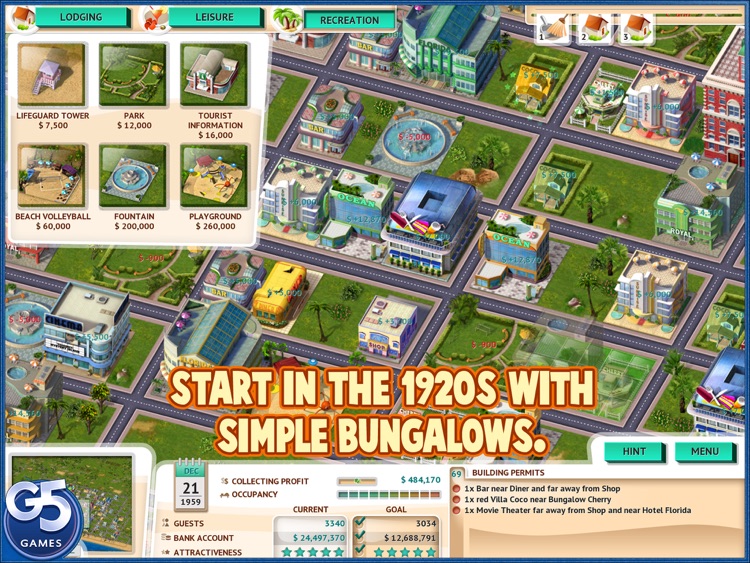 What is it about?
Ready to build your own coastal resort city? Start small in the early 1920s with simple bungalows and develop it over time into a cosmopolitan boomtown! During the course of sixty years, you will get to construct glittering hotels, fabulous restaurants and chic boutiques, but you'll also need to manage repairs, deliveries, remodeling and much more. Design everything you can imagine on a big scrollable map and ensure that your vibrant city offers diversity, arts, culture, fashion and gastronomy!
For those who...
It's ideal for gamers who enjoy Sim City.
Not for those who...
If you prefer laying roads and designing cities from scratch, skip this one.
Why we love it
If you enjoy building up and managing cities, this game will scratch that itch. It's more structured in design than Sim City, but it still has many of the same ideas in place.
App Store Description
Ready to build your own coastal resort city? Start small in the early 1920s with simple bungalows and develop it over time into a cosmopolitan boomtown! During the course of sixty years, you will get to construct glittering hotels, fabulous restaurants and chic boutiques, but you'll also need to manage repairs, deliveries, remodeling and much more. Design everything you can imagine on a big scrollable map and ensure that your vibrant city offers diversity, arts, culture, fashion and gastronomy!

● 60 challenging levels across six decades
● 32 amazing achievements to earn
● 18 incredible buildings to construct
● Design on a big, scrollable game field
● Game Center Support
● New iPad Retina Display Support
____________________________

Game available in: English, French, Italian, German, Spanish, Portuguese, Brazilian Portuguese, Russian, Korean, Chinese, Japanese, Dutch, Swedish
____________________________

Sign up now for a weekly round-up of the best from G5 Games! www.g5e.com/e-mail
____________________________

G5 Games - New game apps every week !

Collect them all! Search for "g5" in iTunes!

Strategy:

▶ Games Navigator – By G5 Games
▶ Virtual City Playground® HD
▶ Stand O' Food® Empire
▶ Supermarket Management 2
▶ Supermarket Mania® 2 HD

Adventure:

▶ The Secret Society® - Hidden Mystery
▶ Nightmares from the Deep: The Siren's Call
▶ Silent Valley: Mystery Mansion
▶ Mystery of the Opera
▶ Twin Moons HD
____________________________

VISIT US: www.g5e.com
WATCH US: www.youtube.com/g5enter
FIND US: www.facebook.com/g5games
FOLLOW US: www.twitter.com/g5games