Slots meets match-three.
Cascade
by Big Fish Games, Inc
watch trailer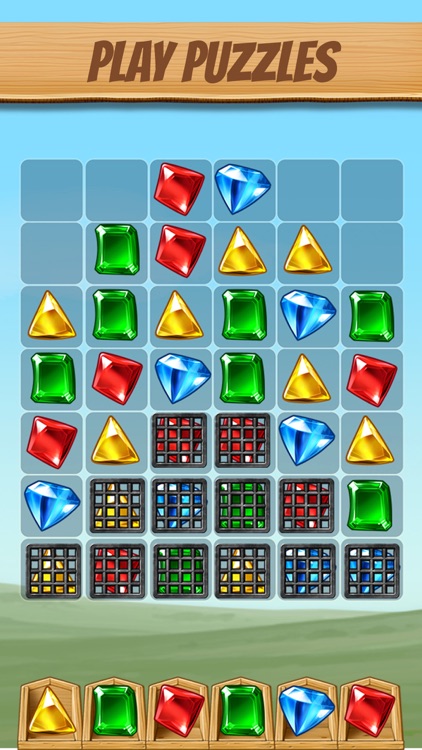 FREE

in the App Store
Cascade is unlike any other match-three puzzle game you've played before. This is because you spin for gems and send them cascading when they match up in groups of three or more. So it's a combination of luck and skill here to rack up those precious points. It's an innovative new match-three that is a delight to play and friendly enough for the entire family.
Spin and line them up. Spin the slots and then line up the gems to make matches.
Variety of levels and objectives. There are tons of levels to keep you busy, and each one features a challenging objective that will make you think before every move.
Unique gameplay. Casecade provides an interesting twist to a tried-and-true genre.
What is it about?
Cascase is a unique match-three game because it makes use of a spinning slot system rather than just going and making swaps on the board. Spin for your gems, line them up and match them to clear them out of the board and rack up the points. It's a fun and interesting new take on the genre and it is sure to delight everyone.
For those who...
Like match-three games but want something different
Want a challenge
Like taking chances
Not for those who...
Want a traditional match-three game
Why we love it
Rather than go with the traditional swapping gameplay, Cascade makes use of a spinning slot system for matches. It is different, and breathes new life into a tried-and-true genre.
Cascade is FREE but there are more add-ons
$0.99

Pack of Gold

$4.99

Pack of Gold

$9.99

Pack of Gold

$0.99

Pack of Extra Spins

$24.99

Pack of Gold

$0.99

Life Refill

$0.99

Cascade Offer Pack

$1.99

The Hammer

$0.99

Cascade Offer Pack

$1.99

Shifter
App Store Description
MILLIONS ARE PLAYING THIS WORLD-WIDE GEM MATCHING HIT! THE BEST SPIN ON MATCHING PUZZLE GAMES!

You'll have a blast in this critically acclaimed gem-matching adventure! Build powerful combos on each level by spinning and tapping to make your matches. Sparkling gems, rare diamonds and beautiful jewels drop like candy on each turn. Plus, get a FREE Gold Starter Pack when you install this free-to-play matching puzzle game!

Journey through dozens of delightful hand-painted Lands to solve more than 550 clever puzzles! Connect with others, collect great prizes and crush tricky obstacles by playing in quests, bonus levels and NEW tournaments.

Want to hear more from current players? Get strategy tips, Cascade game updates and follow event posts on our Facebook page: https://www.facebook.com/playcascadegame/

CURRENT FEATURES

• Dig into exciting events to farm more resources by competing in Top Score Tournaments, or playing Quick Quests & Bonus Levels – it all helps you build up more powerful tricks & boosts!

• Jam through cascading jackpots on your gem-matching adventure with Cascade's groovy music!

• Cuteness Alert! Get help from a host of sweet animal friends along the way -- puppies, pandas, bunnies, otters, foxes & more! You'll love Jasper, the gem digging Mole, and all his furry friends.

• Win big by being Social! Keep score with your friends through recurring events, invite them to play, share your moments in the game & gift extra lives to your friends on Facebook!

• Skill and strategy matter! Yes, Cascade is entertaining, relaxing and delightful - but it's also training your brain with each addicting puzzle!

• Where will you go next: a Casino, English Garden, Cascade Resort or a tropical Space Observatory? Yes, with more hand-painted Lands with charm and heart in each frequent update!

• Build powerful boosts! Burst Gems, Super Wilds, Spin Savers, Hammers, Shifters and more will help you match through the most puzzling levels.

Exploding color, clever gameplay and delightful wins have inspired players to rate Cascade as "uniquely strategic", "fast-paced" and "brilliant fun"! It's been featured for its unique play style: spin a wheel for gems on each turn, tap to match them with same-color gems on the board, and celebrate cascading wins with every match of three or more. The larger the match, the higher your score! Here's your chance to swap out that match-3 puzzle game for a breath of fresh air with Cascade.

*** Discover more from Big Fish! ***

Check out our entire game library with our Game Finder app here: http://bigfi.sh/bfggamefinder
Sign up for our newsletter and never miss a new release or promotion again: http://bigfi.sh/isplash