● Featured in App Store's Healthy Habits category
Cute Food - Creative Fun with Fruits and Vegetables, Healthy and Funny Meals for Kids
by Software Smoothie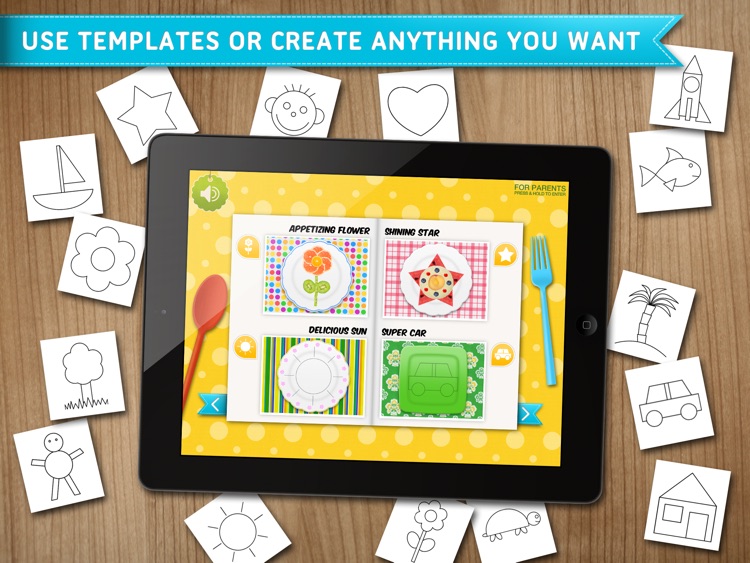 $2.99

in the App Store
Your child can play with their food and construct their own meals with this entertainment app.
What is it about?
● Featured in App Store's Healthy Habits category !
For those who...
It's for parents who are trying to get their children interested in healthy foods.
Not for those who...
Since the app lacks direction and structure, young children may have a difficult time utilizing the app on their own.
Why we love it
Even if you don't have a child that's a fussy eater, they're going to have a lot of fun playing around in Cute Food. It'll bring out their creative side and show off their artistic talents.
App Store Description
● Featured in App Store's Healthy Habits category !
● One of the "Fave Five: Kids Cooking Apps" according to Nick Jr.Parents !
● Do you wish there was a way that you could get your child interested in healthy foods, especially fruits and veggies? If so, you should try out Cute Food - the iPhone Mom
● cool app that can be very useful with fussy eaters when it ocmes to fruit and veg! - Fun Educational Apps
● must have app for the parent of any child who is a fussy eater - AppAbled
● Cute Food is an absolutely wonderful app! - Jo Booth, AppyMall

_______________________________

Who said you can't play with your food? "Cute Food" was created to develop children's creativity and encourage them to eat healthy fruits and vegetables. Create a healthy, colorful and appetizing dishes using the various pieces of fruit and vegetables. You can use our ideas or more better - unleash your imagination and create anything you want. Place the fruit or vegetable meals on various plates and tablecloths to make them look more nicely.
Food that looks good, tastes better... so start making your own cute food at home. Bon Appetit!

FEATURES

- 200+ pieces of fruit and vegetables, to create cute food dishes
- 20 different ideas for funny meals
- 16 different plates to prepare your dish
- 16 different tablecloths for your table
- Meals you create can be saved
- You can change dishes' names
- Save your fun dish as an image to the device
- Application for kids of all ages
- Simple interface makes the application easy to use for children
________________________________

KNOW WHAT'S INSIDE
As a MOMs with Apps member, we follow the
"Know what's inside" best practices for kids' apps
________________________________

PRIVACY DISCLOSURE

● this app does not collect or share any user's personal information.
● this app does not contain ads.
● this app does not contain any In-App Purchases.
● this app does not contain social networks integration.
● this app contains "More Apps" and "Rate This App" external links on a separate pages. The links are protected by a simple math task to prevent kids from going to App Store.

For our privacy policy please visit www.jumpapp.eu
________________________________

● VISIT US: www.jumpapp.eu
● LIKE US: www.facebook.com/JumpApp
● FOLLOW US: www.twitter.com/JumpApp
● FOLLOW US: www.pinterest.com/JumpApp
● FOLLOW US: http://www.youtube.com/JumpAppHQ