Take Great Notes
eHighlighter
by Research Habits Digital, LLC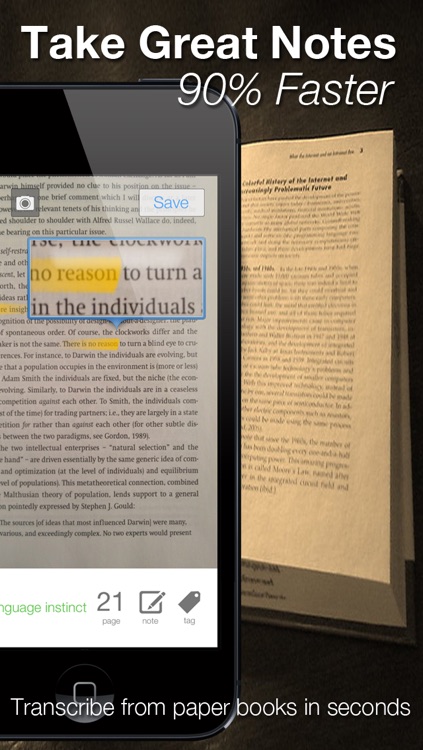 What is it about?
Take Great Notes. 90% Faster.
For those who...
It's for students, teachers, or just general book lovers.
Not for those who...
The app is intended for the physical world. If you've gone digital, you have no use for this one.
Why we love it
If you deal with physical content, this is your app. It has superior OCR, so you won't have to go back and edit everything you record.
App Store Description
Take Great Notes. 90% Faster.
Transcribe from paper books in seconds.

***Evernote Trunk Featured App***

Meet your personal research assistant. Use your camera to bring eBook benefits to paper sources. That means you can prepare organized, searchable, copy-and-pastable excerpts and notes from hardcopy books, journals, and magazines. Review in-app or online.

+ Transcribe Highlights:
eHighLighter's OCR technology uses your iPhone camera to quickly record digital notes and highlights. Easily access these notes on your phone or any web-enabled device.

+ Manages Citations:
Create, manage, and export MLA, Chicago, or APA styled bibliographies. Instantly add citation information by scanning a book's barcode or searching by title/author.

+ Searchable Annotations:
Keep information organized with notes and tags. Sort and search highlights by tag or keyword.

+ Share:
Instantly share notes with other eHighLighter users or export to email, Evernote and Dropbox.

Writing out an entire quote can take minutes. Typing quotes in to your computer is a good way to organize, but adds even more time. With eHighlighter, you can transcribe quotes in just seconds. You can then review your highlights and notes in one organized, searchable place.

eHighLighter Functionality
• Transcribe specific book excerpts in seconds
• Add annotations
• Manage citations in proper MLA, APA, or Chicago format
• Review organized, searchable notes in app or online
• Export to Evernote, Dropbox and email

eHighlighter.com
Youtube.com/eHighlighter
Twitter.com/eHighlighter