"I love, love it
Eric's FreeCell Solitaire Pack
by Eric Snider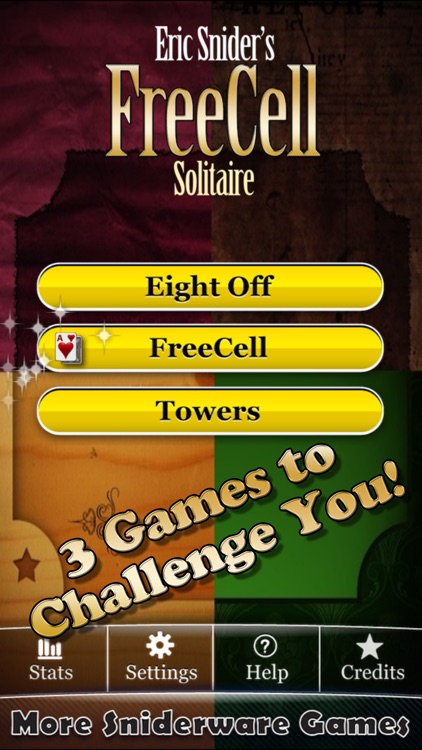 What is it about?
"I love, love it! It is so professionally done."
For those who...
It's for anyone who enjoys playing cards.
Not for those who...
If you only have an iPad, you're out of luck. FreeCell Solitaire Pack isn't universal. There is a separate iPad version in the App Store you can purchase for $1.99.
Why we love it
If you enjoy the challenge of FreeCell, you won't find a better version in the App Store. FreeCell Solitaire Pack was designed by Eric Snider, the same Eric Snider from Eric's Ultimate Solitaire for Mac.
App Store Description
"I love, love it! It is so professionally done."
"Well worth the 99 cents. Makes you smile :)"
You will not be disappointed. Period."
"By Far the Best Freecell – Great graphics, soothing music, wiggling cards, option to replay and multiple undos. The best by far."

Play the most fun FreeCell solitaire game in the App Store – try Eric Snider's FreeCell Solitaire on your iPhone or iPod. Features a fantastic user interface, beautiful graphics and subtle sound effects. BONUS: Includes two extra solitaire games – Eight Off and Towers!

Drag, tap, or for the most fun, give cards a shove to send them on their way!

If you love solitaire try my other games. And if you're looking for FreeCell for your iPad check out the HD version.

DESCRIPTION

Written by the same Eric that developed the Eric's Solitaire Sample that came on every Mac in the U.S. and Eric's Ultimate Solitaire for Mac OS. You can drag and drop or tap cards to move them. You can even throw the cards with a shove! Supports portrait and landscape orientations and has a fun user interface.

FreeCell is one of the most popular variations of solitaire. It offers lots of room for skill so players don't have to rely on luck as much as in other solitaire variations.

Your game is saved when you quit or get a call and is quickly restored when you return.

FEATURES

* Includes FreeCell, Eight Off and Towers (aka Seahaven Towers)
* Beautiful art, cool particle effects and a fun user-interface
* Subtle sound effects so you can enjoy your music
* Drag and drop cards or throw them!
* Playable cards wiggle or glow -- turn off for a bigger challenge. The more the cards wiggle the better the move.
* Unlimited Undo
* Portrait and Landscape support, including an orientation lock
* Game state saved when interrupted
* Detailed Statistics
* Left/right hand setting

Like Sniderware on Facebook :) http://facebook.com/sniderware