※This is an important notice for players of SQUARE ENIX games on the iOS platform
FINAL FANTASY TACTICS: THE WAR OF THE LIONS for iPad
by SQUARE ENIX INC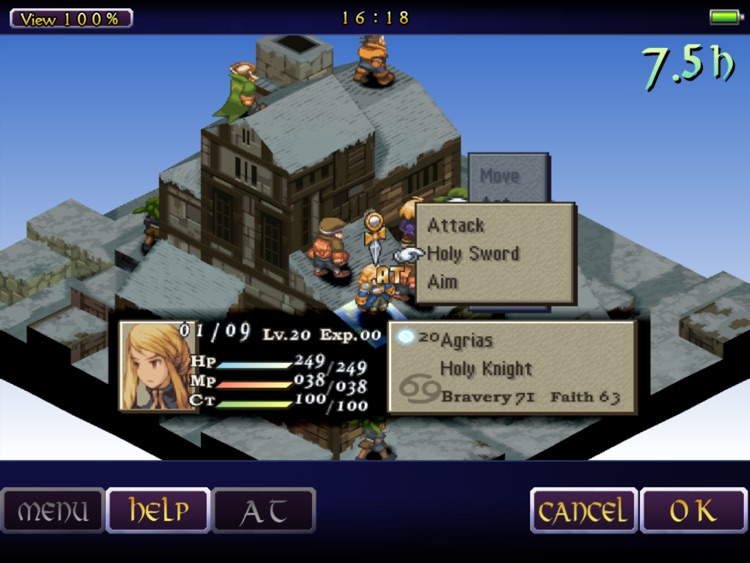 What is it about?
※This is an important notice for players of SQUARE ENIX games on the iOS platform. 
App Details
Last updated
June 5, 2013
Release date
February 18, 2012
App Store Description
※This is an important notice for players of SQUARE ENIX games on the iOS platform. 
Apple has officially announced the release of its iOS 9 Beta.  
However, since our apps are not compatible with the iOS 9 Beta at this time, we regret we are unable to provide customer support for any trouble arising from installation of this OS (including, but not limited to, data recovery or undelivered in-game currencies).
http://www.jp.square-enix.com/info/1507_ios9en.html


[Version 1.2.0]

■Refined Graphics
All of the game's unit graphics have been redrawn in high-resolution. Don't miss this chance to play the sharpest, most beautiful FINAL FANTASY TACTICS yet!

■Improved Draw Speeds 
The graphic drawing processes have been optimized for mobile devices. Say goodbye to choppy motion and crash bugs, and play with the quickest, smoothest abilities effects and animations to date!

■iCloud Support
A save slot which allows game data to be saved to iCloud has been added. It is now possible to migrate game data across multiple devices.


------------------------------------------------

On the heels of its iPhone and iPod touch releases, Final Fantasy Tactics: The War of the Lions comes to the iPad!

Final Fantasy Tactics was the first tactical RPG in the Final Fantasy series. Originally released on the PlayStation in 1997, the game has since gone on to sell over 1.3 million units in total. The PSP remake, "Final Fantasy Tactics: War of the Lions" was released to critical acclaim in 2007 featuring added cutscenes, expanded storylines, and new jobs.

Now, in 2012, the battle continues on the iPad! Delve into deep strategic battle mechanics that feature tactical role-playing at its best and savor the story that put Ivalice on the map, all in their full glory on the iPad's screen.