The story of Final Fantasy XV has been redone for mobile devices.
FINALFANTASY XV POCKET EDITION
by SQUARE ENIX INC
watch trailer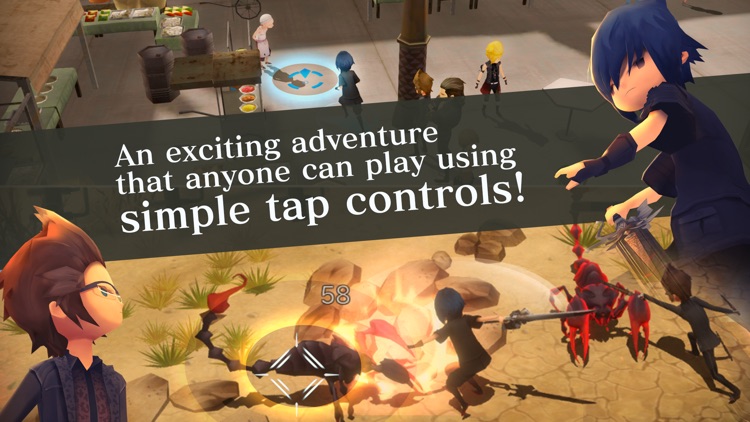 Streamlined combat. The combat system in FFXV Pocket Edition is much more streamlined and takes out all of the frustrations from the console version. Just tap to attack, perform Warp Strikes, break foes defenses, cast spells, and more.
Seamless transition. FFXV Pocket Edition takes out the fluff and only shows you the important cutscenes from the original game that advance the story. Plus, it's much more linear, so you can focus on making progress and not get distracted.
Action-packed battles. There will be a variety of action buttons that show up in battle. Tap on them to perform those actions, such as parrying or blocking, even countering. You'll want to be ahead of the game against your foes.
What is it about?
Final Fantasy XV: Pocket Edition delivers the entire single player campaign storyline from the console version, and that alone is quite an achievement. To pull this off, Square Enix redesigned the graphics engine from ornate 3D realism to more rudimentary 3D graphics, and sliced away the open world tendencies of the console counterpart. The gameplay structure has also been change in favor of a one touch control scheme. The entire game lets you tap to auto attack, and then you can pull off more complex moves with the right timing. Through all of the changes, you still get the entire storyline complete with detailed voice work for hours of a deluxe experience. Not everyone will enjoy the limitations, and yet the changes fit really well on iOS. You can get lost in the extraneous activities of the console version, and it's much better to have a one touch control scheme than a virtual control pad cluttering the touch screen. Even the graphics style has its own endearing quality, and at the same time a freshness to the franchise.
Why we love it
The main takeaway of Final Fantasy XV is that it's free to download for everyone to take a chance on the franchise, maybe even for the first time. The game has a single $19.99 in-app purchase to unlock the full experience, or you can buy individual chapters. This is the way all iOS games should be. Allowing the player to try the game for free, and then a single in-app purchase to continue the experience if they like what they see. Combining it with a reengineering of a current console game to fit mobile devices is a perfect pairing. Square Enix is performing the best iOS experiment to date, and hopefully it succeeds. It's such a brilliant design idea that is executed very well, and so much better than a generic port with a premium price from the outset.
App Store Description
"Explore the world of FINAL FANTASY XV
with a cast of cute and cool characters! "

Now you can enjoy the FINAL FANTASY XV story across 10 exciting chapters

Tap to move, tap to talk, and tap to fight
Easy for anyone to pick up and play!

- Story -
The Tale of the Chosen King, Savior to the Star.

After years of fighting, the nations of Lucis and Niflheim at last agree to an armistice.

As a symbol of this promised peace, Noctis, crown prince of Lucis, is to wed the Lady Lunafreya of Tenebrae.

The prince sets forth for his wedding on the eve of the signing ceremony, sent off by his father, King Regis.
Unbeknownst to Noctis, however, the journey ahead is fraught with perils...

- Supported Devices -
iOS device with iOS 11.1 or later installed
iPhone6s (9th gen iphone) or later
iPad Pro
iPad (5th gen ipad) or later
iPad Air2 (2nd gen ipad air) or later
iPad mini4 (4th generation ipad mini) or later
Memory required: 5GB or greater (the high resolution version requires 8GB or greater)