Loved by TUAW, AppAdvice, and more than 950,000 users
Fliptastic Pro
by Ting Tze Chuen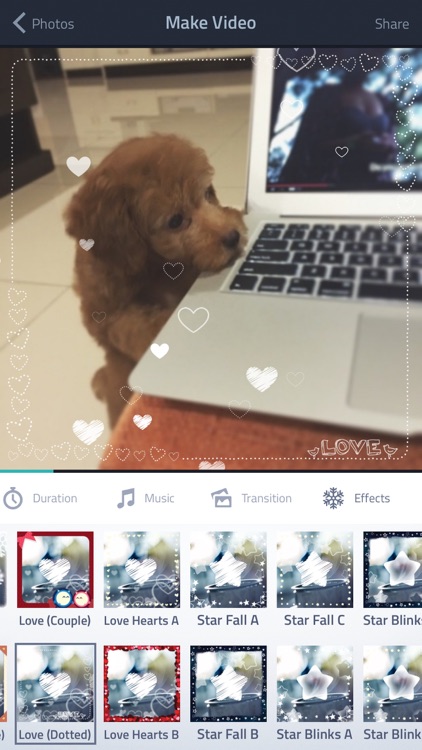 What is it about?
Loved by TUAW, AppAdvice, and more than 950,000 users! Create awesome slideshows that you can share on Instagram, Facebook, YouTube or via email.
For those who...
It's great for anyone that wants to impress their Instagram followers.
Not for those who...
If you despise in-app purchases within photography apps, you'll want to skip Fliptastic Pro. It basically teases you with new content on every screen.
Why we love it
If you want to share a lot, Fliptastic Pro will help you do it the right way. The best part is, you won't need to jump in and out of apps in order to create your slideshow since Fliptastic Pro has all of the editing features, effects, and transitions you'll ever need.
Fliptastic Pro is $1.99 but there are more add-ons
$2.99

Love Pack

$1.99

Galaxy Pack

$1.99

Starry Pack

$0.99

Lunar Pack

$5.99

Unlock Everything
App Store Description
Loved by TUAW, AppAdvice, and more than 950,000 users! Create awesome slideshows that you can share on Instagram, Facebook, YouTube or via email.

Turn your amazing photos into engaging flips with photo filters, transitions, and music, all in ONE app-- Fliptastic!

"It has a lot of features that most competing apps don't have in one place." - Mel Martin, TUAW

"Fliptastic is a really fun way to take a bunch of photos and make them into a digestible postable viewing experience." - Robin Rhys, AppAdvice

"My seven-year-old taught me how to use this app (no joke)." - Valerie Rice

Features
• SELECT: Choose up to 100 photos from Instagram, photo albums or take a new picture using the camera
• PHOTO EDITOR: Crop, Add Caption or apply unique Filters to your photos!
• MUSIC: Add background music to your videos with Fliptastic soundtrack (over a dozen songs included), or use songs from your music library
• SPECIAL EFFECTS: Add Snow, Heart and Starry effects, only on Fliptastic!
• TRANSITIONS: Apply cool animated transitions including Crossfade, Slide, Light Saber and more
• SHARE: Upload to Instagram, Facebook, YouTube or save to your Camera Roll and share using other apps!
• INSTAGRAM: Simply tap on the Instagram logo to automagically optimize for Instagram video!

Remember to hashtag #fliptastic for a chance to be featured on our Instagram account!

****************************************

Follow us on
Instagram: @FliptasticApp
Twitter: @FliptasticApp
Facebook: http://fb.com/fliptastic.me