I recommend FRAMED 2 if you were a fan of the original game or just love a unique puzzle game with a storyline that follows the "show, don't tell" technique.
FRAMED 2
by Loveshack
watch trailer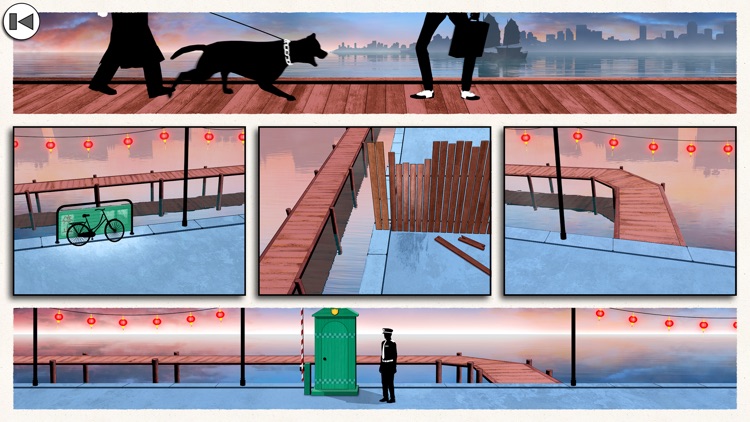 Rearrange panels. Use your puzzle solving skills to rearrange and rotate panels, interact with the environment, and get our mysterious characters from the starting point to the end point safely. Watch as the story unfolds seamlessly right before your very eyes.
Find collectibles. There are hidden Polaroids to collect throughout the stages. Just run across them to acquire them. This adds replay value to the game, especially if you're a completionist.
Show, don't tell. FRAMED 2 is a standalone adventure with a story that takes place before the original game, making this follow-up a prequel. Watch the cutscenes unfold and reveal the story, all without saying a word.
What is it about?
Visually, FRAMED 2 hasn't changed too much from it's predecessor. The game still features noir style graphic novel artwork that looks fantastic. Since it's like a comic book, everything is rendered in 2-D, but at times it feels like 3-D because of how the panels are angled and then transition into each other. FRAMED 2 has plenty of different environments that you'll come across, and all of the settings are incredibly detailed and even realistically textured, so it really comes to life and provides excellent contrast with the black silhouettes of the characters. Animations are buttery smooth and fluid, so watching the panels flow seamlessly into each other is never an issue and makes it feel like you're watching a movie. To top things off, FRAMED 2 has a rather atmospheric jazz soundtrack that is fairly immersive. Unfortunately, if you aren't a big fan of the jazzy soundtrack, there is no way to turn it off at the moment (even if your device is set to silent), so you'll have to tolerate it for now. Once again though, Loveshack has done an excellent job in terms of the visual aesthetic of the game, as well as the music.
App Store Description
Years ago, a mysterious ship smuggled precious cargo into an exotic land. 
A standalone entry in the FRAMED series.
Change the order, change the outcome.

FRAMED 2 is a noir puzzle game where you re-arrange panels of an animated comic book to change the outcome of the story.

Taking place before the events of the original game, FRAMED 2 is the follow up to Hideo Kojima's 2014 Game Of The Year, FRAMED.

FRAMED 2 is designed for iPhone, iPad and iPod Touch iOS 9.0 and above.

Optimised for iPhone 5 and above & iPad Air and above.

LoveShack Entertainment is an independent game developer based in Australia.
www.loveshackentertainment.com Follow us @LoveShackers for news of updates & new games.