A fast-paced racing bike game
Impulse GP - Super Bike Racing
by EcoTorque Games
watch trailer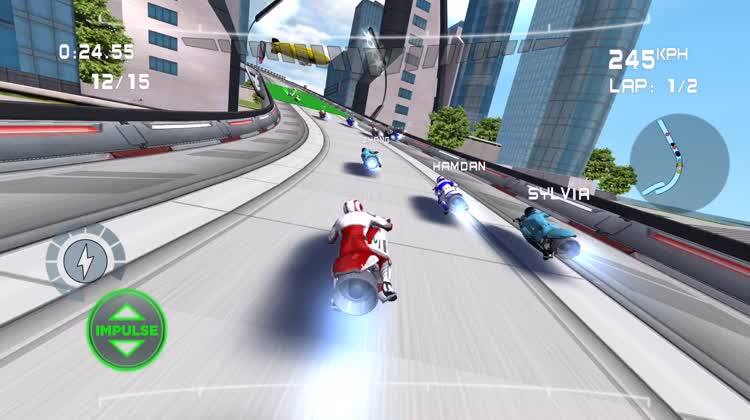 FREE

in the App Store
Impulse GP is a super smooth and fast-paced racing game that truly tests your skill. In Impulse GP, you will drive lightning fast bikes and race against opponents on challenging island circuits in a futuristic world.
Innovative Boost Mechanic. Hold the Play/Pause button, while driving through green sections. Release before you exit the green section to get a boost.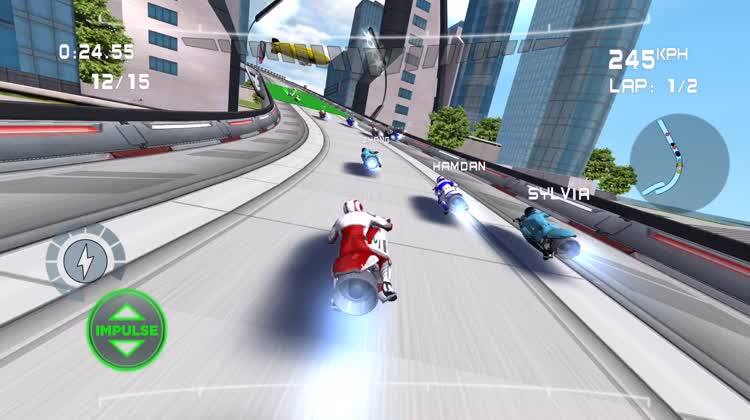 Futuristic Race Tracks. Speed along futuristic tracks that defy gravity including loops and upward curves.
Drag Racing. You can play a head to head drag racing challenge with the innovative boosts system.
What is it about?
Impulse GP is a racing game that depends on the player's skill and precision in order to be successful. The game takes place in a near futuristic world with super fast bikes and challenging circuits with opposing racers. You'll have to be accurate and timely in order to shave seconds off your previous times and beat the opposition.
For those who...
Love the speed and excitement of a challenging racers
Enjoy racers with new mechanics
Like futuristic style
Not for those who...
Prefer puzzle games
Avoid fast paced action
Why we love it
If you enjoy motor racing, you will love this game. Unlike other games that focus on action and power-ups, this game is all about racing and skill. It's challenging, innovative, and fun to play.
Impulse GP is FREE but there are more add-ons
$2.99

Game Card

$4.99

Package of 250,000

$1.99

Package of 80,000

$0.99

Package of 40,000

$19.99

Package of 2,000,000

$14.99

Package of 800,000

$8.99

Package of 400,000
App Store Description
On the App Store's Top Thrilling Racing Games!
--Single In App Purch. in the whole game, pay once and play-
Imagine trying to make lightning-quick maneuvers while upside down on a rollercoaster, jetting through gravity-defying tracks filled with massive loops and impossible banks.

________________________

ACCOLADES AND REVIEWS

* On Apple App Store's Best of 2015 list.

* TouchArcade - 4.5/5 stars
"Tons of speed, great visuals, and a few clever new tricks to set it apart from the pack."

* Macworld - Best iPad & iPhone games
"It gets things right where it matters: speed, track design, and feeling like you're hanging on by your fingernails"

* TapSmart - 4.5/5.0
"One of the most exciting racing games to land on iOS in a long time… A superb racer with unimaginable speed and fluid gameplay."

* Pocket Gamer
"A flipping fast futuristic racer"

* Apple'n Apps
"Players that want to test their mettle by memorizing tracks and chasing faster lap times will find a lot to be happy with in Impulse GP."

* App Advice - Games to Get Your Adrenaline Pumping
"A super smooth and fast-paced motorcycle racing game"

________________________

PURE RACING – NO ADS!
- Race to be the best of 15 riders with perfectly timed boosts
- Sharpen your skills in Time Trials, Drag Challenges, Races, and the impossibly fast Pro Race level
- *New* Championship mode is the Ultimate Challenge! A championship for pro racers.

CONSOLE-QUALITY BIKE RACING
- Innovative drift steering gives the precision control of a console analog stick
- MFi game controller support and 3D Touch steering
- Super fluid driving at silky smooth 60 frames-per-second

ION-THRUST FUTURISTIC BIKES
- Choose from 9 originally designed, cutting-edge bikes powered by advanced ion thrust and electromagnetic technology
- Endless combinations to customize your bike and racing suit's livery colors, pattern, and paint finish (metallic, gloss, frozen, etc.)

EXCITING AND CHALLENGING TRACKS
- Navigate through a series of futuristic tracks full of insane rollercoaster-like corkscrews, hills, switchbacks, jumps, twists, tunnels, and turns

GLOBAL LEADERBOARDS AND GAME CENTER
- Compare track times on the leaderboards with friends and racers around the world
- Earn and share your racing achievements

STELLAR ELECTRONIC MUSIC TO GET YOU IN THE ZONE
- Choose from a selection of edgy electronic mixes by audio master Allan Levy that make the game's adrenaline pumping speed feel that much faster

________________________

MORE ABOUT IMPULSE GP
Facebook: http://www.facebook.com/ImpulseGP
Twitter: http://www.twitter.com/ImpulseGP
YouTube: http://www.youtube.com/c/impulsegp
Web: http://impulseGP.com