ChAIR's blockbuster mobile game is now FREE for a limited time

Infinity Blade III
by Epic Games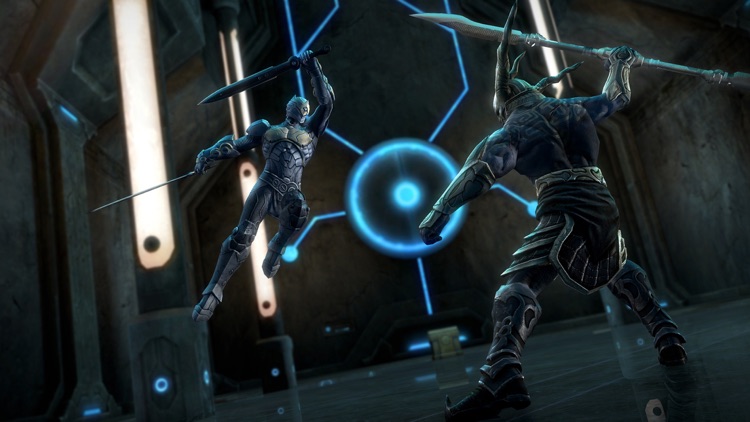 What is it about?
ChAIR's blockbuster mobile game is now FREE for a limited time!
For those who...
It's for fans of combat games.
Not for those who...
If you have an older iDevice, you may want to skip this one. It has some steep requirements thanks to its advanced graphics.
Why we love it
Infinity Blade III was designed with mobile in mind. The controls are perfectly suited for anyone who enjoys a good combat game.
Infinity Blade III is $6.99 but there are more add-ons
$4.99

Stack of Gold

$0.99

Bag of Gold

$19.99

Pile of Gold

$4.99

Set of Chips

$9.99

Box of Chips

$19.99

Case of Chips

$49.99

Trove of Gold

$99.99

Chest of Gold

$49.99

Trunk of Chips

$99.99

Crate of Chips
App Store Description
ChAIR's blockbuster mobile game is now FREE for a limited time!
For the first time ever, download the award-winning Infinity Blade III for free today!

What the press is saying about Infinity Blade III:

**USA TODAY: 4 out of 4 - "Another fantastic epic!"
**TOUCH ARCADE: 5 out of 5 - "ChAIR raises graphical bar to low earth orbit"
**IGN: "A gorgeous, intense, and rewarding adventure!"
**MODOJO: "The big, beautiful sequel we've been waiting for"
**KOTAKU: "More powerful than ever"
**AppSpy – 5 out of 5 – "A platform-defining series"

The award-winning Infinity Blade video game trilogy reaches its epic conclusion!

Created by ChAIR Entertainment, the original iOS blockbuster returns with adrenaline-fueled sword-fighting action, gorgeous visuals, and a thrilling story of love, betrayal, and redemption.

Siris and Isa have joined with the God-King Raidriar in a desperate attempt to destroy the Worker of Secrets and his army of Deathless titans. Uncover new mysteries to wield the power of the Infinity Blade in this timeless adventure of champions and villains.

RESPONSIVE AND INTUITIVE TOUCH CONTROLS 


Attack, dodge, block, and cast devastating spells - all with the simple swipe of a finger. 



SIMPLE NAVIGATION 

Easy to use, tap-to-move controls enable players to effortlessly navigate and explore while searching for collectible items such as treasure, swords, shields, armor and other magical rewards.

DYNAMIC 3D WORLD
Explore larger, beautiful and immersive environments that dynamically change as you choose multiple gameplay paths, new quests, side missions, and ClashMob engagements with the new in-game World Map interface.

TWO PLAYABLE CHARACTERS
Battle all-new enemies as both the legendary hero Siris, and the stealthy female warrior-thief, Isa, each with three unique combat styles and hundreds of fantastic weapons and items.

THE HIDEOUT
Discover and unlock allies to join your cause at your all-new base of operations. Here, you'll encounter the Gemcutter, Potionmaster, Blacksmith, and Merchant, who will help you unlock incredible new strength and skills.

GLOBAL CLASHMOB CHALLENGES
Three new modes! Team up with players from around the globe for unique "massively social," group-based challenges to defeat new enemies, unlock rare treasures and earn exclusive items.

NEW ACHIEVEMENTS
All-new Goals feature takes achievements to the next level, allowing players to earn valuable Chips that they can spend on keys, treasure maps, prize wheels, and other rare in-game items.

NEW iOS FEATURES POWERED BY UNREAL ENGINE TECHNOLOGY
Epic Games' Unreal Engine technology powers the definitive visual experience in mobile gaming, complete with cloud saves and HDMI output.

BONUS FEATURES
- The most detailed story scenes ever shown on a mobile device, featuring the voice talents of fan-favorites John Noble and Troy Baker.
- Animated "Infinity Blade: Origins" short film by acclaimed director Ben Hibon.
- The in-game debut of "Monster," an original new song from internationally acclaimed rock band Imagine Dragons.

UNIVERSAL APP
Play across all supported devices - iPhone 4, iPhone 4s, iPhone 5, iPhone 5s, iPhone 5c, iPhone 6, iPhone 6+, iPad 2, iPad 3, iPad 4, iPad Air, iPad Air 2, iPad Mini, iPad Mini 2, iPad Mini 3, iPod Touch 5, or iPod Touch 6 for a single low price.

NOTES:
- IMPORTANT: It is highly recommended that you upgrade your device to the latest iOS version before purchasing or updating Infinity Blade III.
- PARENTS: you can turn off In-App purchasing in the iOS settings.

Follow @Infinityblade on Twitter