Be Enlightened or Resist a higher power
Ingress
by Niantic, Inc.
watch trailer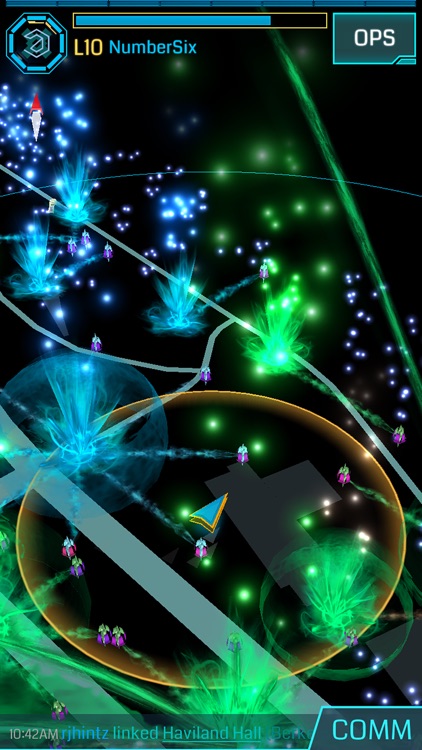 FREE

in the App Store
Ingress is the first augmented reality game from Nantic where players choose a faction, deploy tech to control territories for their faction, and compete against other players in the real world. It's also a great source for finding spawn points and portals in Pokémon Go.
What is it about?
Ingress is an augmented reality game from Niantic that is about a mysterious energy that is influencing the way we all think -- in the end, it will either control us or we must control it. Players choose between the Enlightened (embrace the mysterious energy) or Resistance (fight against it) factions, and then compete against each other in the real world for territories and points. However, it's been discovered recently that the XM (cellular energy points) in Ingress can also be a good spawn point for rare Pokémon in Pokémon Go, so it's recommended to give this game a download as well if you play Pokémon.
For those who...
Like augmented reality games
Enjoy sci-fi themes
Want more reference tools for their Pokémon Go hunting
Not for those who...
Don't like augmented reality games
Are not competitive
Don't like to get out to play games
Why we love it
Ingress has an interesting plot that is rather captivating, and it serves up useful and valuable information for Pokémon Go players too.
Ingress is FREE but there are more add-ons
$9.99

15,000 CMU Pack

$1.99

2,500 CMU Pack

$4.99

7,000 CMU Pack

$19.99

32,000 CMU Pack

$49.99

90,000 CMU Pack

$99.99

200,000 CMU Pack
App Store Description
Ingress transforms the real world into the landscape for a global game of mystery, intrigue, and competition.

Our future is at stake. You must choose a side.

A mysterious energy has been unearthed by a team of scientists in Europe. The origin and purpose of this force is unknown, but some researchers believe it is influencing the way we think. We must control it or it will control us.

"The Enlightened" seek to embrace the power that this energy may bestow upon us. "The Resistance" struggle to defend, and protect what's left of our humanity.

Install Ingress and transform your world.

The World is the Game
Move through the real world using your iOS device and the Ingress app to discover and tap sources of this mysterious energy. Acquire objects to aid in your quest, deploy tech to capture territory, and ally with other players to advance the cause of the Enlightened or the Resistance.

Strategy
The struggle is being played out globally. Track the progress of players around the world, plan your next steps, and communicate with others using an Intelligence map.

Form Alliances
The struggle to save the planet spans the entire world. Groups of people acting together can be more effective than individuals acting alone. Cooperation across neighborhoods, cities, and countries will be needed to achieve the ultimate victory.

Note: Continued use of GPS running in the background can dramatically decrease battery life.

Join the investigation
http://investigate.ingress.com
G+: http://www.google.com/+Ingress
Twitter: http://www.twitter.com/Ingress
Facebook: http://www.facebook.com/Ingress
Help Center: http://ingresshelp.zendesk.com