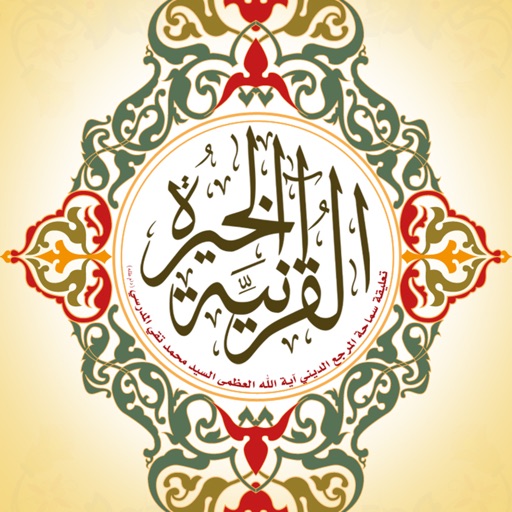 برنامج الخيرة القرآنية بتوجيه من سماحة المرجع الديني آية الله العظمى السيد محمد تقي المدرسي (دام ظله) أصدرت ممثلية سماحته هذا البرنامج في خدمة المؤمنين ومن خلاله يمكن الاستفادة كالتالي:

Kheera Quran HD
by LuLu Apps
What is it about?
برنامج الخيرة القرآنية بتوجيه من سماحة المرجع الديني آية الله العظمى السيد محمد تقي المدرسي (دام ظله) أصدرت ممثلية سماحته هذا البرنامج في خدمة المؤمنين ومن خلاله يمكن الاستفادة كالتالي:
App Store Description
برنامج الخيرة القرآنية بتوجيه من سماحة المرجع الديني آية الله العظمى السيد محمد تقي المدرسي (دام ظله) أصدرت ممثلية سماحته هذا البرنامج في خدمة المؤمنين ومن خلاله يمكن الاستفادة كالتالي:
١- الاستخارة الكاملة والمباشرة:
حيث يقوم البرنامج بفتح صفحة عشوائية من القرآن الكريم مع ذكر نتيجة الخيرة.
٢- البحث عن نتيجة الاستخارة:
يمكن للمستخدم الاستخارة بالقرآن الكريم ومن ثم البحث عن نتيجة الاستخارة باستخدام البرنامج من خلال كتابة رقم الصفحة أو البحث عن اسم السورة والآية أو البحث عن الكلمة.
٣- مشاركة نتيجة الاستخارة بسهولة على تويتر أو الفيسبوك أو ارسالها كرسالة نصية

ونسأل الله العلي القدير أن ينفع بهذا العمل المؤمنين ويوفقنا للمزيد ببركة نبينا محمد وآل بيته الطاهرين.
يمكنكم الإستفسار عن طريق:
موقع سماحة السيد:
http://www.almodarresi.com
البريد الإلكتروني:
[email protected]

------------------

"Quraan Kheera HD" is the first of its kind for iPhone and iPad. This application helps the users to get the Istikhara in two ways:
1- Get Istikhara directly and completely through the application.
2- Get Istikhara from Quraan then search for the result in the application to get the description and comments. The "Search" feature includes:
- Search for a Quraan page number.
- Search for a word in Quraan (in pages with odd numbers).
- Select verses in Quraan.
The application also features sharing the results via the the Email and other messenger applications.
---------------------------
For queries, please contact the following:
Web : http://www.almodarresi.com
Email: [email protected]
Twitter : @almodarresibh
Disclaimer:
AppAdvice does not own this application and only provides images and links contained in the iTunes Search API, to help our users find the best apps to download. If you are the developer of this app and would like your information removed, please send a request to
[email protected]
and your information will be removed.