High-Quality Piano
KORG Module
by KORG INC.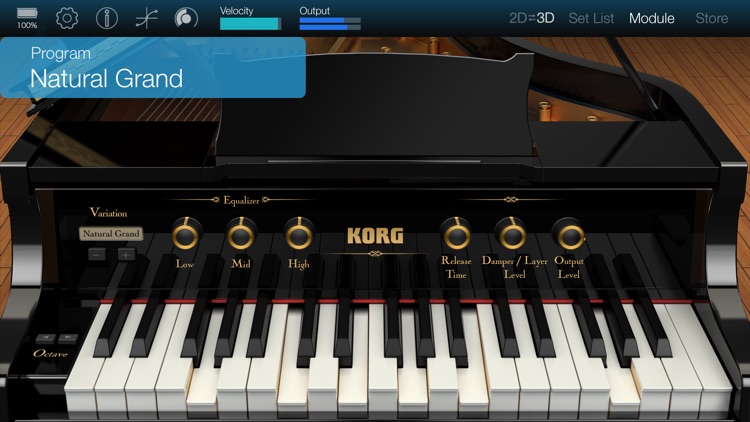 $39.99

in the App Store
If you are looking for an app with the most realistic high quality piano sounds, a full range keyboard, beautiful inviting design and ease of use, look no more.
What is it about?
KORG Module comes with five sound modules - instrument categories : Electric Piano, Clav, Organ and Multi. Expansion sound libraries are available as in-app purchases.
For those who...
Love piano and quality of sounds and visual representation is an important part of their creative composition and inspiration process. For those who would like to practice on-the-go or perform on stage and in the studio and happy to pay a high premium price for this.
Not for those who...
Not interested in fantastic quality piano sounds and happy to perform and practice with any piano app. Inter-app audio, great design or sharing performances is not important to them, and are happy with any piano app. Those who have limited iPad or iPhone storage, as even the free KORG Module Le app requires 1.22GB of free space for installation. Owners of iPhone who would like to record audio and play MIDI files as it is available on the iPAD only.
Why we love it
For the realistic piano sounds, great, easy to navigate App design, Full- range keyboard and the vast amount of Piano Instruments to choose from.
KORG Module is $39.99 but there are more add-ons
$9.99

Mellow Tape Keyboard

$19.99

TRITON Best Selection

$9.99

Wurley Electric Piano

$29.99

Ivory Mobile Grand

$19.99

PREMIER Vintage Organ

$19.99

80's Electric Piano
App Store Description
The best sounds, available to everyone. Announcing a new high-quality mobile sound module app for iOS!

• Achieved the #1 position*on the App Store* in the Top Paid Music App category
*USA, UK, Japan, Germany, France, Italy, Canada and much more!

Ideal for performance and music production, KORG Module is a high-quality sound module app for iOS that contains a professional sound library. With just your iPad/iPhone and a MIDI keyboard such as the new microKEY, you can play studio-quality keyboard and grand piano sounds anywhere. You can also use the sounds of KORG Module for the KORG Gadget music production app. Maintaining its position at the forefront of mobile music apps, KORG now offers you a new style of performance and production with KORG Module for iOS.

FEATURE HIGHLIGHTS
● Stunningly high-quality piano and a full range of keyboard sound engines
● Five dedicated sound engines : Acoustic Piano/Electric Piano/Clav/Organ/Multi
● Ultra-low latency sound engine
● With just an iPad/iPhone and the new microKEY, you can enjoy great sound anywhere
● Mobile music production in tandem with KORG Gadget
● Convenient set list function with a PDF/image score viewer and music player
● Power-up even more with expansion sound libraries: TRITON Best Selection / Ivory Mobile Grand / PREMIER Vintage Organ
● Easily record your performances, and share song sketches on SoundCloud
● Integrating iOS technology that's indispensable for the mobile environment

*** Stunningly high-quality piano and a full range of keyboard sound engines ***
KORG Module has five dedicated sound engines, providing a number of high-quality sounds that can be played back on your iOS using the "NATIVE ENGINE". These engines feature technology that was developed for KORG's historic line of workstations and synthesizers including: Acoustic Piano, Electric Piano, Clav, Organ, and Multi. Each display has carefully selected parameters, making it convenient and easy to adjust the sounds. We've also carefully ensured ideal playability and designed the system for ultra-low latency. Once you experience the quality of the sounds being produced from the slim body of your iPad, you'll agree that Module is radically different than anything else currently on the market.

*** With just an iPad/iPhone and the new microKEY, you can enjoy great sound anywhere ***
KORG Module and the microKEY are the best possible combination for a mobile performance environment. With the new microKEY which supports a damper, or the microKEY Air which provides a wireless connection via Bluetooth MIDI, your iPad can transform into a high-quality sound module. In your room, in a practice studio, or performing on stage,, it's easy to set up and immerse yourself in a superb playing experience wherever you are. Of course you can also use any MIDI keyboard that can connect to your iPad via Apple Lightning - USB camera adapter. The velocity curve function conforms the sound to your playing dynamics, so you'll be able to perform comfortably using any MIDI keyboard. Even if you don't have a MIDI keyboard, you can use the apps on-screen keyboard, phrase function, or MIDI player to play the sounds. The MIDI player can load and play standard MIDI files for your listening enjoyment.

*** Mobile music production in tandem with KORG Gadget ***
You can also use the high-quality KORG Module sounds inside KORG Gadget, the mobile music production app. If you have Module and Gadget, the five tools Salzburg, Montreal, Alexandria, Firenze, and Glasgow are added inside, allowing access the same way as Gadget. These five powerful gadgets will add even more variety to your music productions, raising your music to the next level. Whether for performance or for production, both of these apps deliver ultimate sound.

More info at korg.com