Over 16 million players have experienced the thrill of Lane Splitter
Lane Splitter
by fractiv, LLC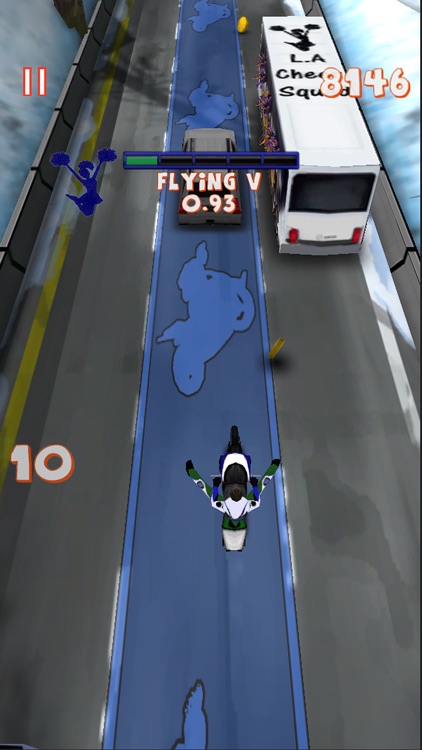 Ride your motorcycle. How to play: Tilt your phone/tablet to steer left and right. Stay away from cars, walls, and cops. Touch the screen to wheelie and perform other special abilities. Pick up coins to earn money for awesome items.
Hang on for dear life! Above all else, avoid crashing into anything including the guard rail and the police in order to survive.
What is it about?
Over 16 million players have experienced the thrill of Lane Splitter!
For those who...
It's ideal for fans of endless distance games.
Not for those who...
Tilt controls aren't for everyone, so it's a bit of a letdown that the game doesn't provide any form of on-screen buttons.
Why we love it
If you need a quick distraction today, this is your arcade game. It's best played in short spurts.
Lane Splitter is $0.99 but there are more add-ons
$0.99

5,000 Coins

$1.99

Hero Four Pack

$4.99

50,000 Coins

$9.99

125,000 Coins

$0.99

Megan

$0.99

Pocket Mike

$0.99

Jonny

$0.99

Kim

$19.99

300,000 Coins

$0.99

10 First Aid Kits
App Store Description
Over 16 million players have experienced the thrill of Lane Splitter!

"The graphics are bright and appealing, the controls are dead-on...Most importantly, once you start playing, it's hard to stop." - slidetoplay.com

Ride your motorcycle at insane speeds through ever changing traffic. Your reflexes will mean the difference between surviving or crashing in spectacular fashion. Do you have what it takes to reach TOP SPEED?


HOW TO PLAY

• Tilt your phone/tablet to steer left and right
• Stay away from cars, walls, and cops
• Touch the screen to wheelie and perform other special abilities
• Pick up coins to earn money for awesome items
• Hang on for dear life!


FEATURES

* Crazy addictive gameplay with ultra smooth tilt controls
* 10 different characters to play, each with their own unique abilities and gameplay
* Fun upgrades and items to earn
* Eye popping high definition 3D graphics
* Environments that change every day you play
* Lifelike character animations and physics
* Global leaderboards
* Facebook integration: compete with your friends for top score and post brags to your wall
* Awesome realistic sound effects recorded from real motorcycles, including a sport bike, chopper, dirt bike, and a cafe racer!


BONUS TIPS

- Pick up "Lane Splitter" bonuses by navigating your way in between cars during heavy traffic areas
- Compete for best wheelie score by holding the screen to wheelie while playing as Jake, Jonny, or Scary Harry
- If a cop is on your tail, get 500ft away to evade him, or buy some donuts to bribe him
- Buy a helmet to protect yourself from one crash