Light It up and Dance
Light DJ Pro for Hue & LIFX
by NRTHRNLIGHTS, LLC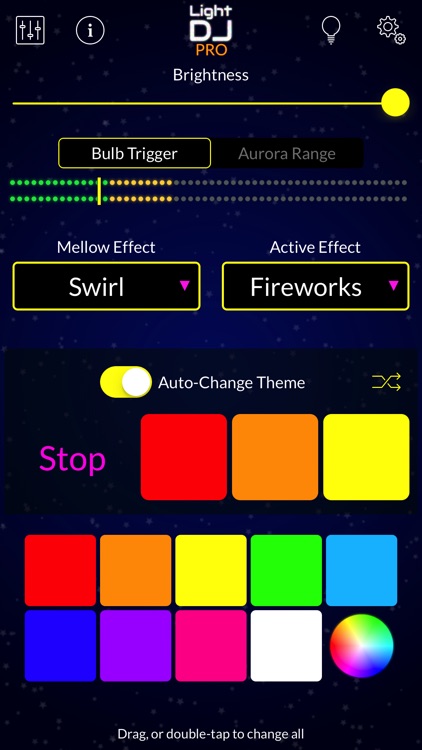 $9.99

in the App Store
With Light DJ, your party will be the hottest ticket in down. Featuring a music visualizer, strobe makers, pattern builder, and more, Light DJ is one of the bests Philips Hue apps on the App Store.
What is it about?
If you're a DJ, you need to install this app. Compatible with both Philips Hue and LIFX, Light DJ offers everything you need to create the ultimate music listening experience. Use the app as a personal music visualizer, or program the app to create your own customized light shows.
For those who...
Love combining music and lighting
Want to create an immersive experience
Not for those who...
Don't want to spend money
Are a new Philip Hue user
Why we love it
When it's time to party, it's time for Light DJ Pro
Light DJ Pro for Hue & LIFX is $9.99 but there are more add-ons
$4.99

Classic Controller Upgrade

$9.99

Pro Controller Upgrade
App Store Description
Ready to light up your night? Light DJ - the world's #1 light show app - is here to take your party to the next level. Connects to Philips Hue, LIFX, and Nanoleaf Aurora to interact with your lights in tons of different ways. Use the app as a personal music visualizer, or program the app to create your own customized light shows.

*** THIS IS THE FULLY-UNLOCKED VERSION. To try it for FREE, search for LIGHT DJ in the App Store! ***

MUSIC VISUALIZER: Create the ultimate music listening experience. The app listens to your music and changes the effects based on the mood of the song. Lights get active during intense parts of a song and flowy with softer melodies and magically change colors at just the right moment, or customize your own. (Best with 4 or more lights.)

STROBE MAKER: Strobe your lights with different types of effects with the Matrix Strobe Maker. Interact with your lights using multitouch and 3D Touch technology included on iPhone 6s and newer.

BEAT-SYNCED EFFECTS: Use the SceneMaker Effects controller to program your lights with up to 23 different effects that can be customized with your favorite colors. Just turn on your lights and let the SceneMaker run all night long.

EFFECT MAKER: Create your own looping special effects with our powerful Effects Maker. Pre-program your bulbs to make light shows that fit your play environment. (Hue & LIFX only)

SHARE EFFECTS & SHEETS: Share your custom-made effects and effect sheets with your friends using AirDrop.

IPAD VERSION: The iPad app offers a DJ Controller-inspired design for ultimate live-performance lighting control. Configurable sheets allow you to setup your effects and colors in advance, and the push-button interface lets making rapid changes easy. The iPad version is the preferred platform for home DJs around the world.

AUTOMATIC BEAT DETECTION: Sync effects to your music using your iPhone or iPad's built-in microphone.

TEMPO CONTROLS: Control the speed of your lights with precision using manual tempo controls. Easily go double-time or half-time at the press of a button.

LIGHT GROUPS & ORDERING: Your lights, your way. Include only the lights you want to use. Assign your lights an order to create lighting effects that rivals custom-built installations.

ABLETON LINK & MIDI SUPPORT: Seamlessly sync tempo with other devices using Ableton Link or MIDI Clock Sync. Control effects by sending Program Change codes over MIDI.

Don't wait any longer, download Light DJ and get blown away at what your lights can do!

--- Light DJ vs Light DJ Pro ---
Want to stay up-to-date with the newest Light DJ controllers? Light DJ Pro is the fully-unlocked app, for both iPhone and iPad. Pay once and get everything. Light DJ Pro also includes all future controllers and updates. To try the app for free, download "Light DJ" from the App Store. You can upgrade at any time with In-App Purchases.

--- Light DJ Pro vs Light DJ Studio ---
Light DJ Pro is a real-time, DJ controller-like experience that works with or without audio. If you're looking to make light shows *recordings* check out Light DJ Studio in the App Store. It's my brand new app that lets you play and record light shows to your favorite tracks. Works with your own music library or 30+ million Apple Music tracks.

Visit lightdjapp.com for support or check out video previews at instagram.com/LightDJ

This app requires hardware from one of these vendors:
-Philips Hue: meethue.com
-LIFX: lifx.com
-Nanoleaf (Aurora only): nanoleaf.me

---------------------

Hi, I'm Kevin, the creator of Light DJ. I want to make sure that everyone gets a great light show, so if you're having issues getting the app to connect, or have any suggestions, shoot me an email at [email protected] I'm dedicated to making a quality app so you can show off your new lights!