THE QUICKEST APP TO COPY TEXT MESSAGES AND PHOTOS BETWEEN YOUR PHONE AND COMPUTER
Pasteasy
by Tinker Pte. Ltd.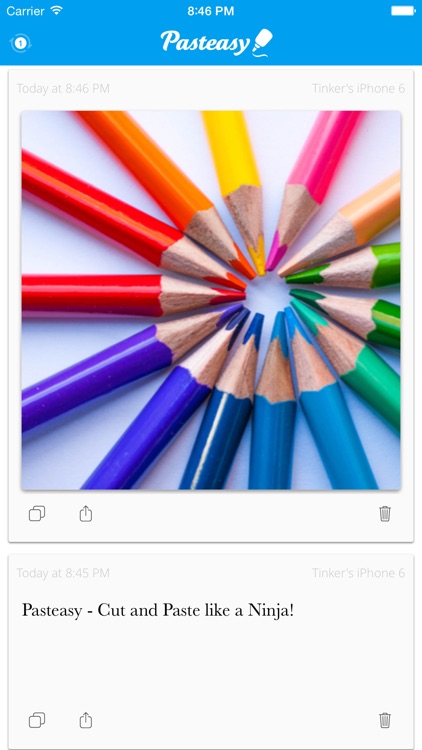 What is it about?
THE QUICKEST APP TO COPY TEXT MESSAGES AND PHOTOS BETWEEN YOUR PHONE AND COMPUTER!
For those who...
It will come in handy for those who are constantly in need of moving text and content between their iDevice and computer.
Not for those who...
It only works with iDevice's running iOS 7 or higher and Mac's running OS X 10.9 or higher.
Why we love it
Pasteasy is really designed for everyone. Just give it a try and you'll immediately see how it will change the way you get things done.
App Store Description
THE QUICKEST APP TO COPY TEXT MESSAGES AND PHOTOS BETWEEN YOUR PHONE AND COMPUTER!

Pasteasy (read: "Paste-easy") is a productivity app that simplifies and speeds up your daily workflow, saving you valuable time. It enables you to privately share the clipboard between your devices, so you can simply copy and paste to easily move content.

Use it to copy text snippets, photos, links, screenshots and files (coming soon). For example:
● Compose a message on your computer and paste it to your iPhone to send.
● Easily copy photos from the iPhone album to your computer. Transfer multiple photos in one shot.
● Take screenshots on your computer or iPhone and watch them automagically appear on the connected device.
● Take live camera shots on your iPhone and quickly preview them on the computer in real-time.
● Copy a URL on your iPhone and Pasteasy can automatically open and load the webpage on your computer.


The possibilities are endless!

Whether you are a texting enthusiast, photo lover, graphic designer, mobile developer, student, housewife, businessman, writer, life hacker, or anyone who works with more than one device, you will find Pasteasy indispensable in your daily life.

FEATURES:

● SIMPLE COPY AND PASTE
Use native copy and paste actions. Pasteasy syncs the clipboard instantaneously in the background -- no extra taps. You don't need to interact with Pasteasy other than for connecting the devices. Save valuable time.

● FAST, SECURE AND PRIVATE
Encrypted over local WiFi for speed. No more waiting. It even works without WiFi, over personal hotspot.

● FLEXIBLE SHARING
Scan barcode to connect to one or more devices, yours or friend's. You don't need an email address, a phone number, a shared link, a friend request or anything to share photos with them.

● CLIPBOARD HISTORY
Save copied items in one place. You can browse, re-copy, preview, share or delete them.

● CROSS PLATFORM
Copy across iPhone, iPad & computer.

Tip: Please enable Bluetooth on connected devices to keep Pasteasy running in the background (works when connected to Mac OS X 10.9+ or iOS 7+ devices supporting Bluetooth LE). If Bluetooth is not enabled, the app shall automatically go to sleep after 3 minutes when in background.

Pasteasy is free for computer. Download it from http://www.pasteasy.com