Put away the keyboard and take notes with your own hand-writing.
Pen and Paper
by Vivid Apps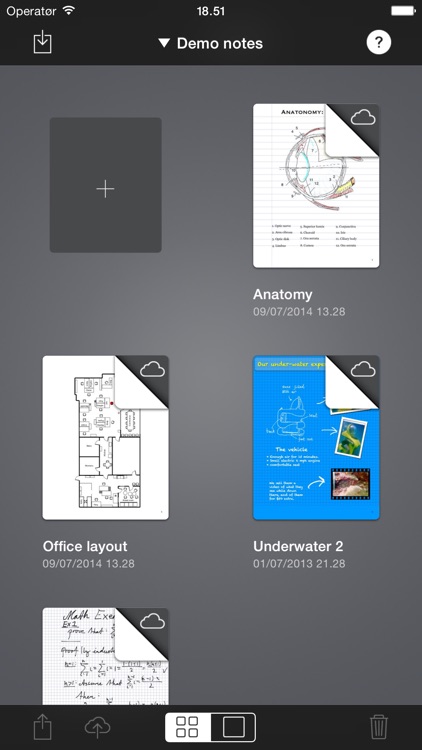 $2.99

in the App Store
Pen and Paper by Vivid Apps offers hand-writing, typed text, photo editing, PDF support, and integration with Dropbox, Box, and WebDAV. The app also provides options for shapes along with various fonts, sizes, and colors for writing or drawing.
Turn your iphone into a personal notebook. The app is an open canvas. It allows you to choose from a variety of page styles, or you can simply create your own. Then put your finger to the screen and start drawing.
Add text. You're able to add text and text boxes, shapes, and photos to pages. Your doodles, text can be resized, recolored, and moved at any time.
What is it about?
Pen and Paper by Vivid Apps is an intuitive app with great writing, drawing, and other note-capturing features. Select your page style, add, move, and rotate shapes, pick your color and brush size, and erase when needed. For sharing, you can upload or export, send to iTunes, or save to your photo album. You can also easily import files.
For those who...
Enjoy hand-writing your notes
Find shapes and doodles helpful in note-taking
Not for those who...
Have no desire to hand-write notes
Prefer their current note-taking app
Why we love it
If you like jotting down notes, drawing doodles, and want an easy app to do it, Pen and Paper by Vivid Apps is a great tool.
App Store Description
Pen and Paper is perfect for hand-written notes on your iPad or iPhone. You can even import and write on PDFs.

INK
Draw ink with your finger. Resize, recolor, and move your doodles.

TEXT
Add text and text boxes. Change alignment, fonts, color, and even install additional fonts. Perfect for adding comments to PDF.

SHAPES
Add geometric primitives, arrows, and polygons Use the built in diagram elements and arrows to create diagrams. Create clip art of portions that you wish to reuse.

PHOTOS
Include photos. You can crop and rotate photos.

SHARING
To share your notes with the world, simply email them as PDF. You can also extract individual pages as JPEG images.

DROPBOX, BOX and WEBDAV
Dropbox, Box and WebDAV integration enables you to upload/download notes to your online accounts, so you can easily continue with a note you began on your iPad on your iPhone. You can even import PDF clipart, and photos onto a page from your accounts.

PDF SUPPORT AND SLIDE NOTES
Import and annotate PDFs from Dropbox or "Open In". Use any of the built-in "Slide Note" templates to annotate presentations. When you are done export as PDF again.

PAGE STYLES
Pen and paper comes with a variety of page styles, but you can also create your own. Import a PDF of your favourite page style and store it as a "page style" in the app.

ICLOUD SUPPORT
Documents, clipart and page styles, can be synchronized via iCloud to all your iDevices.

FONTS
Are the built-in fonts not interesting enough? Install extra Truetype fonts from sites like FontSquirrel and Blambot within the app.

HIGH RESOLUTION ZOOM
Zoom more than 10 times to edit and draw even tiny details.


Features:
• iCloud support
• Smooth pan and zoom
• Pen and marker tools with color and thickness
• Multi-page notebooks
• Insert text, arrows, photos, rectangles, circles and polygons easily
• Area selection, for moving and resizing large areas of your note
• PDF import and export (email or other accounts)
• Dropbox, Box and WebDAV support
• Install additional fonts (Truetype)
• Various page styles and add your own.
• Supports iPen and iPen 2 styluses
• Fullscreen mode