**Featured in an Apple Commercial, Fast Company, LifeHacker, TheNextWeb, Engadget, and more
Quick Fit - 7 Minute Workout, Abs, and Yoga
by Jaded Labs Inc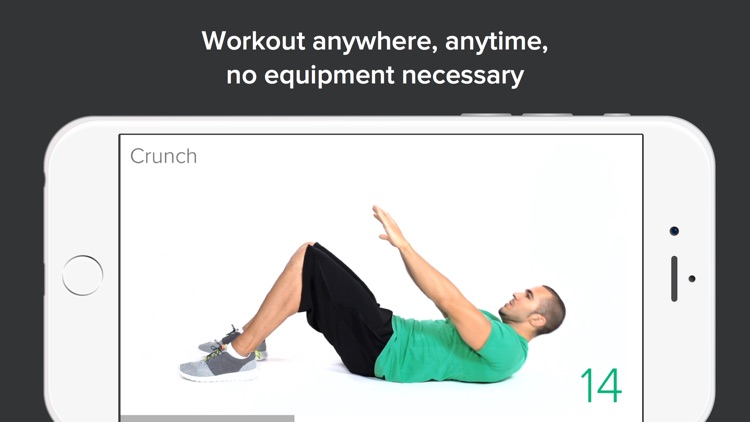 Break! 10 second break in between each exercise
Training. Get ready and start the workout
You have help. Workout with video and guided audio
What is it about?
**Featured in an Apple Commercial, Fast Company, LifeHacker, TheNextWeb, Engadget, and more!**
For those who...
Quick Fit is for anyone who doesn't have time to go to the gym.
Not for those who...
The app has a limited set of exercises since they're all meant to be performed quickly and without weights. If you're looking for a robust workout, this isn't it.
Why we love it
If you lack the time and equipment to exercise, Quick Fit is here to help. You're able to perform the exercises at home, at work, or even while traveling.
App Details
Genre
Health & Fitness
Lifestyle
Last updated
March 8, 2017
Release date
December 30, 2013
Quick Fit is FREE but there are more add-ons
Free

Quick Abs

Free

Quick Yoga

Free

Quick 4
App Store Description
**Featured in an Apple Commercial, Fast Company, LifeHacker, TheNextWeb, Engadget, and more!**

7 minutes is all it takes to get in shape with this scientifically proven, full body workout. Now on the Apple Watch!

Popularized by The NY Times - it's proven to be as effective as a trip to the gym, with no equipment needed.

It's the perfect workout routine for busy people. Perform 12 exercises for 30 seconds, with a 10 second breaks in between. Research shows that this routine is proven to boost your metabolism and increase strength!

Quick Fit leads you through the workout with HD video, audio guidance and lets you track your progress and unlock achievements as you get in shape.

---

KEY FEATURES

+ The complete, scientifically proven, 7 Minute Workout routine
+ Additional workouts, including Quick Abs and Quick Yoga [NEW]
+ HD videos with exercises performed by a certified personal trainer
+ Track your body weight and workouts to view your progress - now with HealthKit!
+ Sound and voice cues to guide you through the exercises
+ Watch videos in landscape or focused portrait view
+ Unlock achievements and stay motivated with streaks
+ Quotes to keep you inspired and help you reach your goals
+ Now perform workouts right from your Apple Watch
+ Universal app (works on iPhone and iPad)

---

USER REVIEWS

+ "I downloaded a few apps based on NYTimes 7 minute workout and this is by far the best."
+ "This app motivated me start working out again! It will motivate you too! "
+ "This is by far the fittest and quickest app. It's also a quick way to get fit. It's Quick Fit!"
+ "The guide showing you exactly how to do the workouts makes this an A+ in my book."
+ "I've never used an app that was so well designed"
+ "Gets me moving every day!!"

---

Don't have time to workout? Sorry you can't use that excuse anymore. Get in shape in less time with Quick Fit!

Quick Fit was built by an award-winning team of app developers and fitness professionals. You'll get regular updates and new workouts, and you can always contact the team for support at [email protected] or @tinyheartsapps