Relive the experience of the 1995 hit Rayman
Rayman Classic
by Ubisoft
watch trailer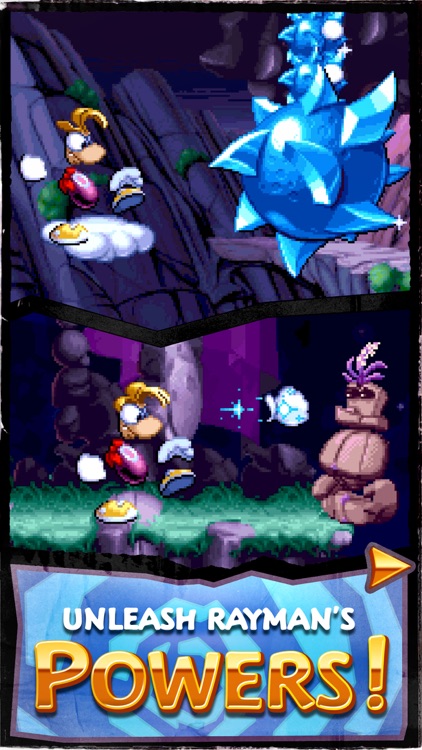 FREE

in the App Store
The evil Mr Dark has stolen the Great Protoon and captured the Electoons. Play as Rayman, the legendary limbless hero, free the Electoons, defeat Mr Dark and restore the world's harmony. The 1995 hit game Rayman is available on iOS as Rayman Classic.
Explore the classic cartoon worlds. The wonderful lands from the original Rayman game are right here in Rayman Classic, such as the Dream Forest, the Band Lands, the Blue Mountains, and the Candy Castle.
Jump, climb, and collect treasures. Rayman is mighty good at climbing and jumping, and that's a great thing with all of the treasures waiting to be found on the various platforms in the game.
Punch through enemies and cages. Rayman has a powerful punch, so use it to knock out enemies and open the cages holding the treasured Electoons captive.
What is it about?
In Rayman Classic, you help the legendary limbless hero, Rayman, climb, jump, and punch his way to helping save the world. The cartoon-style graphics are rendered just as they were in 1995, allowing you to truly relive the classic game. Make your way through each world, exploring and finding the captured Electoons and, finally, the Great Protoon.
For those who...
Love Rayman games
Miss the 1995 classic
Not for those who...
Don't like cartoon-style games
Aren't fans of animated violence against bad guys
Why we love it
Rayman Classic is a port of the original 1995 hit game. The classic graphics are gorgeously pixelated, and the soundtrack is wonderful. You'll enjoy every moment of helping Rayman save the Electoons and the Great Protoon.
Rayman Classic is FREE but there are more add-ons
App Store Description
To celebrate its 20th anniversary, the original Rayman is back… and for the 1st time on your mobile!

Embark on epic adventures with Rayman in one of the most influent platform game of all times and relive the experience of playing the original version of the 1995 hit.
"Rayman is side-scrolling, comic animation at its finest" Gamespot 1996
"Rayman ranks as one of the most visually appealing games of this or any year" Gamepro 1995
"This will probably go down in the history books as the brightest platform game ever" Playstation Magazine 1995
"One of the greatest platformers games to come out on PC" Joystick 1995
The evil Mr Dark has stolen the Great Protoon and captured the Electoons! Play as Rayman, the legendary limbless hero, free the Electoons, defeat Mr Dark and restore the world's harmony.

Features:
• EMBODY Rayman, your favorite hero born in 1995
• REDISCOVER the fantasy cartoon worlds of the original game: The Dream Forest, The Band Lands, The Blue Mountains, The Candy Castle…
• RUN, dodge, jump, punch your way through the various levels of this classic platform game.
• UNLEASH Rayman's special powers from the telescopic fist to the helicopter and defeat hostile creatures.
• SEEK OUT & FREE the Electoons to complete each level and restore the cosmic balance.
• HELP iconic and funny side characters in each world: The fairy Betilla, Tarayzan, Joe the extraterrestrial.
• DEFEAT each and every boss (Moskito, Mister Sax, Mr Dark…) in epic showdowns to free your friends.
• BEAT the Hardcore mode with one single life or choose the Casual mode for infinite tries.

Want to get the feeling of the original controls: this game supports gamepad!

You are a Rayman's fan? Go check out our other awesome Rayman games from Ubisoft: Rayman Jungle Run, Rayman Fiesta Run & Rayman Adventures!

Game available in: English, French, Italian, German, Spanish, Chinese, Japanese, Korean and Russian.

Stay on top of your game! Get the latest news, deals, and more at....
FACEBOOK: http://facebook.com/rayman
TWITTER: http://twitter.com/raymangame 
YOUTUBE: http://youtube.com/user/Ubisoft

If you have any feedback, please email us at [email protected]
***ATTENTION: this application is optimized for iPhone 4S and higher. We cannot guarantee a satisfying gaming experience on lower devices ***