A musical puzzle game that lets you connect the beats to make music.
Resynth
by Polyphonic LP Pty Ltd
watch trailer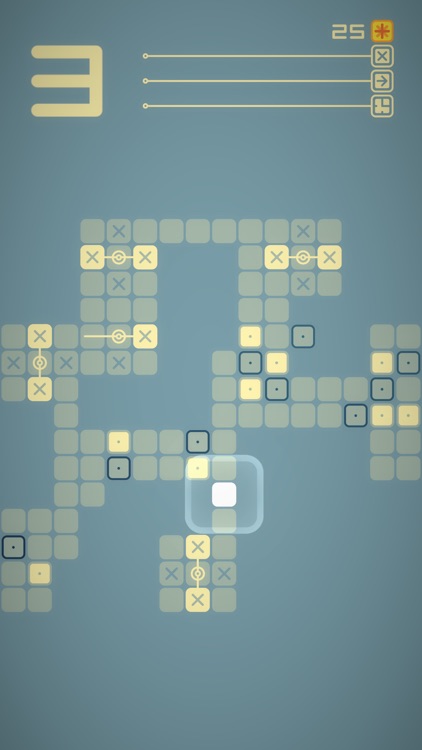 Challenging obstacles. Use your critical thinking skills to plan out your moves ahead of time. You get medals for completion, using fewer moves, and finishing quickly. If you get stuck, then you'll have to restart the level and try again.
The music and puzzles are one. Resynth is a puzzle game that is all about the music. Watch as the puzzles come alive with sound as you slide the blocks into their proper nodes. The game starts off simple but gets more complicated as you go.
Earn medals. The more objectives you manage to complete, the more stars you earn. These can be spent to unlock new color schemes that make the game look as beautiful as ever.
What is it about?
Visually, Resynth is rather impressive with a simple and clean minimalistic aesthetic. Everything is flat with uncomplicated icons that are easy to see and recognize. When you look at Resynth, it's like a combination of retro and futuristic in one, which is nice eye candy. The color palette ranges from soft pastel shades to bold and vibrant hues that all contrast nicely with the background color. The lights on the grid are noticeable from a distance and it's straightforward when it comes to what needs to be done. Animations are smooth and fluid, especially when the puzzle starts coming to life with music.
Resynth is $0.99 but there are more add-ons
App Store Description
Relax, remix and restore with Resynth, a minimal musical puzzler. Unravel the rhythms and heal the grooves to set the music free. Find your focus in the space between the sounds, and return colour and harmony to a sumptuous sonic soundscape.

Ask yourself - what does a great puzzle sound like?

FEATURES

- A synesthetic experience: Hear the puzzle, see the beats, feel your way through the soundscape.
- You make the music: Remix cascading loops of analogue synth and thumping bass.
- Play it your way: Take your time or attempt bonus challenges – the choice is yours.
- A library of music: 72 puzzling levels means 72 unique electronic grooves.
- Extend the mix: Extra level packs filled with fresh beats and new puzzles coming soon.
- Perfect sync: Synchronise progress across all of your devices using iCloud

AWARDS & RECOGNITION

- Finalist - Indie Prize Showcase Asia / Casual Connect Asia, 2017
- Finalist - Across the Ditch Award / Play by Play Festival, 2017
- Editor's Choice - Musicality Award / SlideDB App of the Year, 2016
- Finalist - Excellence in Design Award / Australian Game Developer Awards, 2016
- Finalist - Excellence in Audio Award / Australian Game Developer Awards, 2016
- Honourable Mention - Innovation Award / Australian Game Developer Awards, 2016
- Official Selection - Made With Unity Showcase / Unite Melbourne 2016