MORE THAN 120,000 DOWNLOADS
SCRIPTUS
by Paulo Freitas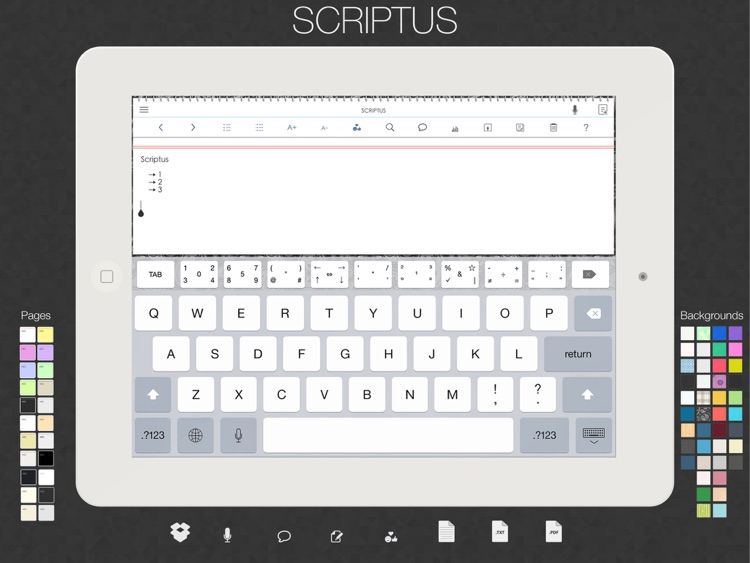 What is it about?
MORE THAN 120,000 DOWNLOADS!!
For those who...
It's suitable for people young and old who simply need a way to take notes.
Not for those who...
Really, the only bad thing about Scriptus is that it's only available for iPad. We really can't fault it for much else.
Why we love it
If you take a lot of notes, download Scriptus right now. Unlike similar apps, you don't have to go digging around to find features. They're all laid out in front of you.
App Store Description
MORE THAN 120,000 DOWNLOADS!!

'scriptus was already an extraordinary and innovative text editor app for iPad that deserves to be better-known than it is, and it's now even better... scriptus is like an iOS notepad on steroids, with a raft of cool features unmatched by many ostensibly full-featured iOS text editors. Just-released version 3.0 makes it even more extraordinary – especially for writers and others who work a lot with text'-macprices.net

'In summary, I really like scriptus, in fact I'm kinda blown away by it, and I anticipate that it's going to become one of my composition platform mainstay tools.'- technologytell.com

'Der gute alte Notizblock hat ausgedient: Die iPad-App "scriptus" lässt Sie alle Ihre Ideen bequem auf dem Apple-Tablet sammeln und festhalten - entweder in Textform oder als Audioaufnahme.' - beste-apps.chip.de

'scriptus - quick and easy note taking has some most intriguing and useful tools in a note app including an enhanced keyboard, more ways of exporting and sync files as well as a large number of fonts.' -mobilestechreview.com

'definitely an app that is suited for people of all ages, young and adults. The app is created with a good purpose, which makes it as a must-try application.
...nicely done and it deserves a chance to be stored on your device.' - Applatter.com

---------------------

Write quick and beautiful notes:

→Audio and text notes;

→Simple interface and easy to use;

→Forward delete button;

→Search text;

→Text to speech in multiple languages, rate and pitch;

→Statusbar On and Off;

→Auto-Capitalization On and Off;

→Auto-Correction On and Off;

→Several themes with different background and text color;

→Choose between all available iOS fonts to display your notes;

→Extra shortcut keys in keyboard for easy text input, as well as buttons to create enumerations;

→Emoji support;

→Saves audio even with the application in background;

→Autosave feature: no need to save your notes;

→Control the screen brightness without leaving the application;

→Undo/Redo system;

→Increase/Decrease the text;

→Two fingers to move cursor and three to select text;

→Multiple ways to export your notes ( print , copy , email, text, TXT, PDF, facebook, twitter, Weibo, 'open in', Wi-Fi, iTunes, Message, Airdrop...);

→Copy you notes to your computer via iTunes;

→Supports all orientations;

→Share notes over a local Wi-Fi HTTP server;

→Synchronize notes with Dropbox;

→22 beautiful page themes;

→42 beautiful app background themes;

→New design and interface;

→External keyboard support;

→Word and character count;

→Use the marker below cursor to quickly place the cursor in another part of the text;