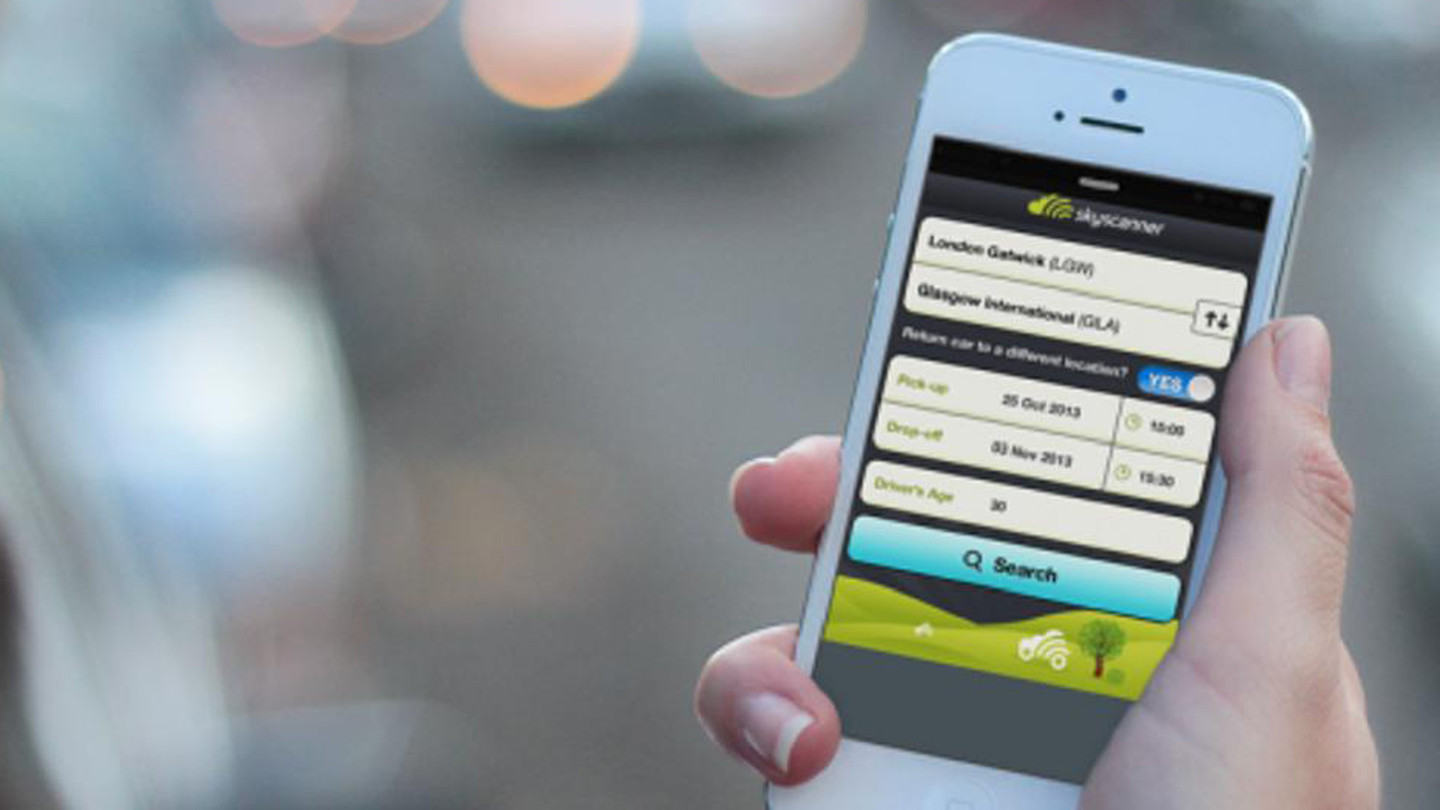 Find flights, compare fares, and get alerts for price changes.
Skyscanner Flights Hotels Cars
by Skyscanner
FREE

in the App Store
Skyscanner lets you search for flights using your travel dates, number of passengers, cabin class, roundtrip versus one-way trips. The app provides sorting and filtering options as well as alerts when fare change.
Enter your criteria. After you enter your departure and return airports, along with your travel dates, you can do a quick review or edit the details. Switch between roundtrip and one-way flights, change the trip dates, and view the cheapest price history.
Pick a flight. Once you receive the results of your search, they are automatically sorted by price, but you can add filters to narrow down the options if you like. Then pick a flight to view further details including airline, airfare, and booking information.
What is it about?
With Skyscanner, searching for and comparing flights is super simple. Enter your dates and preferences and then review the results quickly. You can sort options by price, rating, and duration as well as filter by stops, airlines, and airports. Setting up alerts for when prices change on the route you have chosen is easy and you can also enable the "no non-stop flights available" option.
For those who...
Fly regularly and want to find the cheapest flights
Have many preferences and want to view flight results accordingly
Not for those who...
Prefer your current flight search method
Prefer to book flights within an app rather than be redirected to a website
Why we love it
Skyscanner provides results for your search with prices, airlines, and all of the details you need to plan your flight. The app has a clean interface, helpful alerts, and sharing ability.
Skyscanner Flights Hotels Cars is FREE but there are more add-ons
App Store Description
Skyscanner is an all-in-one travel app with flights, hotels and car rentals, all in one place. Travel smarter with our app by instantly searching, comparing and booking cheap flights, hotels and car rentals anytime, anywhere. Independent, unbiased and completely free, we find you the best deals in seconds. Book your next trip with our award-winning, easy to use app brought to you by the world's travel search engine. Now available in over 31 languages.

*FIND CHEAP FLIGHTS
Easily find and compare the cheapest days and months to fly with our color-coded calendar and chart view.

*NO ADDED FEES
We don't charge any booking fees – so no hidden charges, just cheap flights.

*PRICE ALERTS
Never miss a deal. Get notified of any price changes for flights with automatic price alerts. Unsure of where you want to go?

*FREQUENT FLYER MILES
Earn frequent flier miles by booking via our app where applicable.

*TRAVEL INSPIRATION
Not sure where you want to go on your next trip? Get instant inspiration by selecting 'Everywhere' in the destination box and let us brighten your day with cheap flight prices to places around the world. You can also find the best deals from your nearest airport with our Top Deals feature.

*TAILOR YOUR TRIP
Narrow down your options: filter results by flight duration, airline, stops, travel class, departure and arrival times.

*SEARCH FOR HOTELS
Compare great hotel deals from hundreds of thousands of hotels, resorts, apartments and hostels. Find rooms near your current location. Even search last minute hotels for tonight. Just looking for inspiration? Search for hotels in all your top destinations and dig out some great deals.

*SEARCH FOR CAR RENTALS
Search the world's car rental companies in seconds. Choose from 30,000 airport or city locations, then filter by vehicle type, fuel type and features to find the car you want at the right price. What's more, our Fair Fuel Policy flag will make sure you don't get ripped off on fuel.

*BROWSE RECENT SEARCHES
Look at your recent flight and travel searches straight from your home screen, and quickly pick up where you left off.

*SEARCH HASSLE-FREE ACROSS DEVICES
Log in to sync your flight searches and price alerts across all your devices - phone, tablet and desktop - so you can plan your trip anytime, anywhere.

*NO ADDED FEES
No booking fees or hidden charges, just the best prices on flights, hotels and car rentals.

*AWARDS
New York Times, Travel Planning Apps Reviews
Webby Awards, Best Travel App Nominee.
Appy Awards, Best Travel App.
Refinery29, Best Hacks for Flings a Cheap Flight.
TimeOut, Best Travel Apps.
Utilities & Services: Tablet, The Lovie Awards 2012.

*Discover more travel tips, tricks and inspiration by following our blog: https://www.skyscanner.com/tips-and-inspiration