Talk with your team, share files and photos, and create custom chat channels.
Slack
by Slack Technologies, Inc.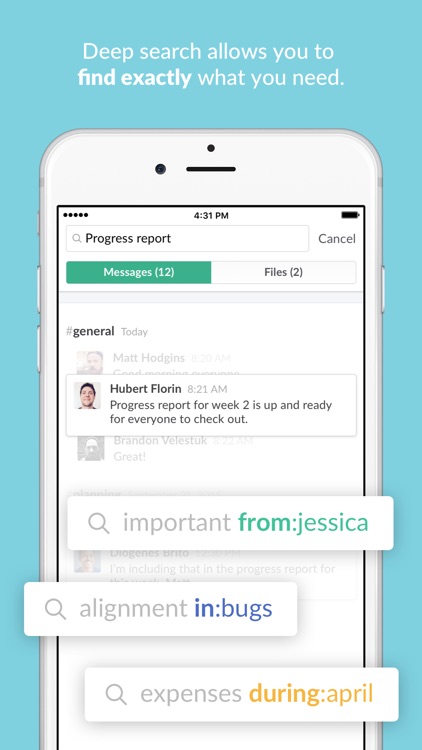 FREE

in the App Store
Slack offers a simple way to communicate with your team. The app syncs across multiple devices and the Web, offers file sharing, private and group messages, searching and archiving, and configurable notifications.
All your team's messages, files, and services in one place. All your team communication in one place. Real time messaging and file sharing for one-to-one and group conversations.
Deep search allows you to find exactly what you need. Powerful search and archiving, so you can find information easily.
What is it about?
For a great way to communicate with your team, check out Slack. With real-time messaging and file sharing, you can instantly collaborate with team members and coworkers. Slack syncs across devices and can be accessed via the Web. There are additional useful features including search and archive, integrations with Dropbox, Twitter, and Google Drive, and configurable notifications so you never miss a thing.
For those who...
Need a team communication tool
Want an app that is accessible across multiple platforms
Would like an app with file sharing
Not for those who...
Prefer their current team communication app
Do not need a multi-platform tool
Have tried Slack and disliked it
Why we love it
Slack is a vibrant team communication tool that allows for instant messaging and convenient collaboration.
App Store Description
Slack brings team communication and collaboration into one place so you can get more work done, whether you belong to a large enterprise or a small business. Check off your to-do list and move your projects forward by bringing the right people, conversations, tools, and information you need together. Slack is available on any device, so you can find and access your team and your work, whether you're at your desk or on the go.

Use Slack to:
• Communicate with your team and organize your conversations by topics, projects, or anything else that matters to your work
• Message or call any person or group within your team
• Share and edit documents and collaborate with the right people all in Slack
• Integrate into your workflow, the tools and services you already use including Google Drive, Salesforce, Dropbox, Asana, Twitter, Zendesk, and more
• Easily search a central knowledge base that automatically indexes and archives your team's past conversations and files
• Customize your notifications so you stay focused on what matters

Scientifically proven (or at least rumored) to make your working life simpler, more pleasant, and more productive. We hope you'll give Slack a try.

Stop by and learn more at: https://slack.com/