Swing around a track using slingshots to make the turns

Slingshot Rush
by BoomBit Inc.
watch trailer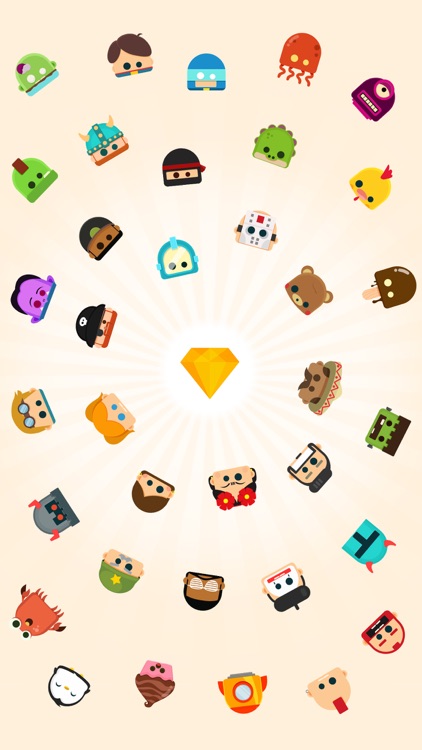 FREE

in the App Store
Swing around like a slingshot. Tap to shoot and release to let go. Travel as far as possible using simple one touch controls. Play with friends in Boombit's multiplayer mode, or by connecting iOS devices to your Apple TV for some living room fun.
Simple one-touch controls. You control your slingshotting character just by tapping, holding, and then releasing.
It's not as easy as it sounds. You get to moving pretty quickly, so you have to time your releases just right.
What is it about?
Slingshot Rush is a game that's all about making turns without crashing. You use slingshots to work your way around the track, collecting diamonds along the way. Get enough diamonds, and you can unlock cool new characters to play with.
For those who...
Like retro graphics
Have ever wanted to slingshot people around tracks
Not for those who...
Don't care for casual games
Want a deep, compelling storyline
Why we love it
This game is challenging, because your slingshotting character moves faster and faster as you progress around the track. Can you make all of the turns without crashing into the wall? The controls are simple to learn but difficult to master, making this casual game fun and challenging.
Slingshot Rush is FREE but there are more add-ons
$1.99

Remove Ads

$9.99

Unlock All

$0.99

Chilly Willy

$0.99

Quadropussy

$0.99

Sticky

$0.99

Amigo

$0.99

Devil

$0.99

Punisher

$0.99

Spyro

$0.99

Hattori
App Store Description
Swing around like a slingshot. Tap to shoot and release to let go. Travel as far as possible using simple one touch controls. Play with friends in our classic BoomBit Multiplayer.

Collect diamonds and unlock awesome characters!

How far can you go?

TURN BASED MULTIPLAYER
Multiplayer mode is where the real fun begins! Play with friends or with hundreds of thousands of players from around the world. Send them a challenge and show them who is the ultimate Champion!

LOCAL MULTIPLAYER ON APPLE TV
Connect any iOS device to your Apple TV and play with up to 8 other people on the same screen. It's insanely fun and incredibly addictive. It's an amazing party game!

REPLAY KIT
Record your legendary, record breaking high scores and share it with all your friends.

3D TOUCH
Start a Single Player, Multiplayer or Apple TV game directly from the game icon.

iCLOUD SYNC
Sync your progress to iCloud to continue your games on any iOS device.

LOCALIZATIONS
You can now play the game in 24 different languages
Arabic, Chinese (China), Chinese (Taiwan), Danish, Dutch, English, Finnish, French, German, Hindi, Indonesian, Italian, Japanese, Korean, Malay, Norwegian, Polish, Portuguese, Russian, Spanish, Swedish, Thai, Turkish and Vietnamese

Game Features:

- Online Multiplayer
- Local Multiplayer on Apple TV
- Replay Kit
- 3D Touch
- iCloud Sync
- 24 Languages available
- Simple 1 Touch Controls
- 2 Difficulty Modes – Easy & Normal
- Beautiful Minimal Art Style
- Leaderboards and Achievements