A fast-paced twitch reflex shooter.
Super Arc Light
by All 4 Games
watch trailer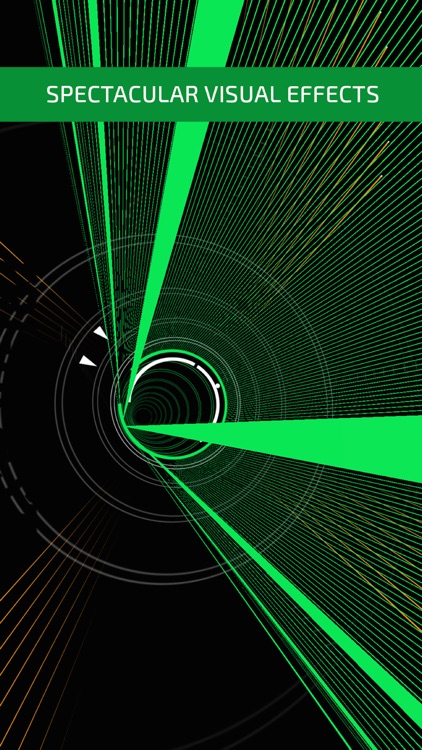 $1.99

in the App Store
In Super Arc Light, your job is to defend the base by shooting down the waves of enemy ships. The one-touch control scheme allows you to shoot and change direction along the circle. Master the simple controls to lay waste to your foes and get maximum points. Then discover and unlock power-ups to use in battle for even more points.
Defend your base. Shoot down enemy ships to defend your base. Grab power-ups for better weapons. Master the one-touch control scheme for maximum points!
Simple one-touch controls. Your ship moves automatically. Tap to shoot and then change direction. Master this simple control scheme to take out as many foes as you can and climb the global leaderboards.
Unlock power-ups. Once you unlock those power-ups, make sure to use them advantageously in battle.
What is it about?
Super Arc Light is a twitch reflex arcade shooter game that tests your skills. Defend your base by moving around the circle and shooting down incoming foes. The one-touch control scheme makes it easy to play with one hand, and you will always come back to the game to try and beat your high score. There are also many different kinds of power-ups to collect — can you find them all?
For those who...
Like twitch reflex games
Enjoy shooters
Want a challenge
Not for those who...
Get frustrated easily
Don't like a challenge
Aren't into twitch reflex or arcae shooter games
Why we love it
The one-touch control scheme means simple controls but unique and challenging gameplay mechanics. It is a true test of skill.
App Store Description
"This is Twitch gaming at its finest on a mobile device" – The Guardian

"To show off the gaming power of your new devices, one excellent option is Super Arc Light." – The New York Times

"Ever since release, it's become my go-to game." – Touch Arcade

"Space Invaders meets Super Hexagon" - Pocket Gamer

Are you ready for pure relentless survival? Super Hexagon meets Geometry Wars in this stylish arcade shooter.

Super Arc Light is a minimalistic, arcade radial shooter where you must defend your base to the death against waves of challenging enemies.

Super Arc Light features a unique one button control system, delivering a fast-paced, retro shoot-em-up gameplay experience that will leave you on the edge of your seat! Survive for as long as you can, taking down tough enemies with speed and accuracy for the ultimate high score!

With numerous weapons to unlock, each with their own spectacular visual effect – light up the skies as you destroy your foes in an epic display of space warfare.

Super Arc Light is being developed by Glasgow based No Code Studios; a team of accomplished, BAFTA award-winning developers, who've worked on high profile AAA games titles such as Alien: Isolation. They've combined their AAA games development experience and innovative game design to create original and exciting new games for mobile.

Hold on tight and get ready for pure relentless survival in Super Arc Light!

Key Features

- Fast paced, retro shoot-em-up gameplay
- Waves of challenging enemies to overcome
- Many deadly weapons to unlock
- Spectacular visual effects
- Global leaderboards