Is caffeine effective in zero gravity?
Super Barista
by Ignacio Diaz Acedo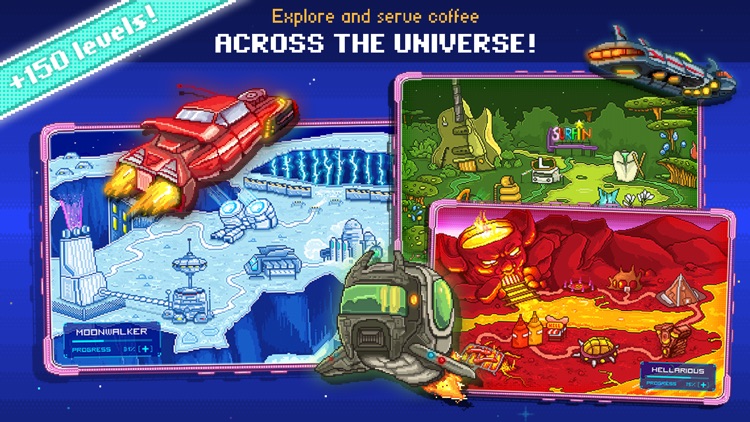 Put tables and wait the customers.
Serve coffee with the drone.
What is it about?
*** Recommended for iPhone 5 / iPod Touch 6 / iPad mini 2 / iPad 3 or later ***
For those who...
It's a caffeinated strategy game that's out of this world.
Not for those who...
If you're easily frustrated, you'll want to skip this one. Some of the levels are simply brutal.
Why we love it
If you're looking for something a little more fast-paced, look no further than Super Barista. Its unique mix of strategy elements are easy to learn but difficult to master.
Super Barista is $1.99 but there are more add-ons
$1.99

Pack 500 Coffee Beans

$2.99

Pack 1000 Coffee Beans

$0.99

Pack 250 Coffee Beans
App Store Description
*** Recommended for iPhone 5 / iPod Touch 6 / iPad mini 2 / iPad 3 or later ***

*** In-app purchases are only optional and not required to fully experience the game. You can get the exact same rewards just playing and developing your barista skills to a master level! And that is we want from you ^__^ ***

********************************
********************************

It's coffee time...IN SPACE!
Serve an inter-galactic clientele and earn your way to the top!
------------------------------------------------------------------------
NEW GENRE
Fast-paced gameplay mixing strategy and action. Easy to learn, frantic to master.

+100 LEVELS
Explore and play across 5 crazy planets with different species and venues

POWERFUL BOOSTS
Unlock powerful upgrades and hire special crew with amazing abilities to serve the toughest of clients.

QUIRKY STUFF
Serve & cater to the eclectic, space elite who need the VIP treatment, while overcoming random space events.

PIXEL ART COMMUNITY
200 collectables cards with amazing exclusive art created by epic guest artists such as eBoy, Pixels Huh, Craig Robinson, Henrik Pettersson, Thomas Frick, Dave Grey, Locomalito, Jango Snow, Joo Jae Bum, Spudonkey, Fabvalle, OLAV, Manolo Saviantoni, Adrien Soret, Ryan Hooley, SamCube, and many more! A worldwide pixel art collaboration like never before!

------------------------------------------------------------------------
This game is currently available only in English and Spanish