The award winning Super Stickman Golf series is back and better than ever
Super Stickman Golf 3
by Noodlecake Studios Inc
watch trailer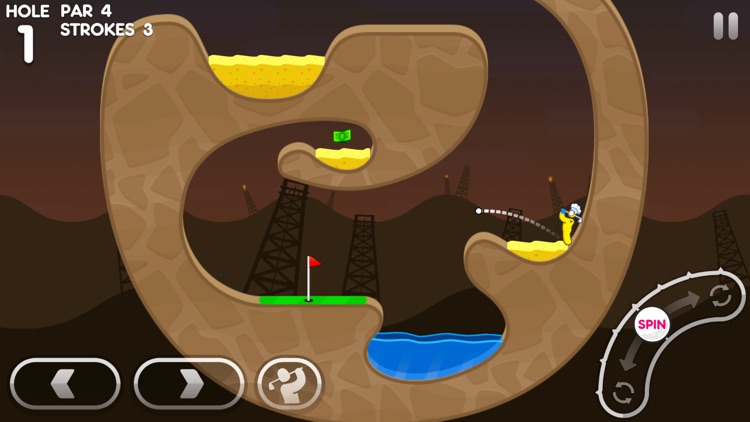 What is it about?
The third installment continues the idea of fast paced golf, crazy courses, and power-ups. There are 20 all new courses to play individually or through online multiplayer. You can now add spin to your ball as well to offer all new shot techniques. Every hole has exquisite design, and there's nothing like nailing a shot through a tiny crevice in an obstacle to see the ball roll through the environment.
Can you get a hole-in-one? Super Stickman Golf will test your golfing skills. Take on challenging courses that are filled with difficult layouts and obstacles, and try to get to the hole in as few strokes as possible.
Collectible cards. As you level up, you can earn card packs. Or collect the Golf Bux you find and spend them on card packs. These packs contain collectible cards that represent hats, golfer outfits, trails, and shows you the trophies that you can earn to get more Bux. Use these cards to your advantage, as the hats give you special bonuses during the game.
Level up and earn rewards. Super Stickman Golf 3 has a ton of different courses and modes for players to test their skills on. Try to sink your ball in the hole in as few strokes as possible. The lower your par is, the better. Earn experience depending on your performance, level up, and get packs of collectible cards that you can customize your avatar with. Make sure to take advantage of those special hat powers.
Super Stickman Golf 3 is FREE but there are more add-ons
$2.99

SSG Premium Upgrade

$0.99

50 Golf Bux

$2.99

5 Card Packs

$13.99

40 Card Packs

$1.99

Last Shot Power Indicator

$1.99

XP Doubler

$4.99

300 Golf Bux

$6.99

15 Card Packs

$9.99

800 Golf Bux

$19.99

2000 Golf Bux
App Store Description
The award winning Super Stickman Golf series is back and better than ever! Super Stickman Golf 3 is packed full of new courses, power ups, collectable cards, game modes, multiplayer madness and a ton of new surprises for you to discover. It's a new spin on a classic game!

Master the 20 new courses on your own or square off against your friends and players from all over the world in one of the many multiplayer modes. Be it turn-based play or real-time race mode, Super Stickman Golf 3 has enough content to keep you playing for years!

Collect all the cards and change the way you play. You know you are the best golfer around, so prove it by unlocking all the characters, hats, ball trails and more.

Features:
- 20 Brand New Courses & more added reguarly!
- Turn-based and real-time multiplayer modes
- Crazy New Power Ups
- Add Spin To Your Ball
- 35 Unique Characters
- Over 65 Hats That Change Gameplay
- Look Your Best With Over 40 Stylish Ball Trails
- Lots of Achievements
- More than 20 Downloadable Courses
- New Game Modes
- Daily Races and Rewards
- Flappy Golf mode!