When you need powerful photo editing and extra touches of flair
Texto - Text on Photos
by Hi Mom S.A.S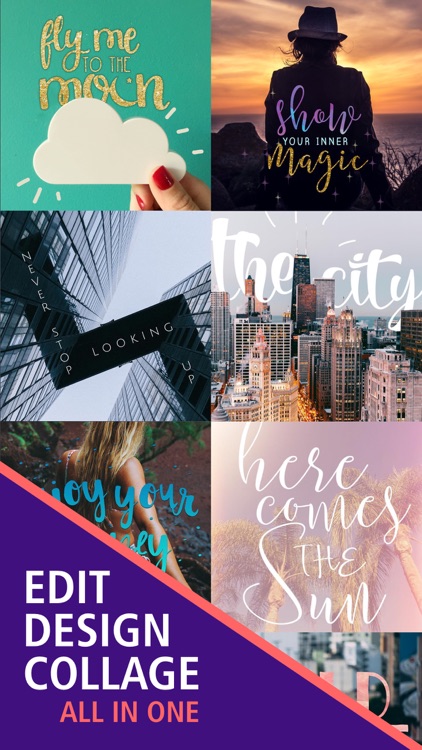 $0.99

in the App Store
File New is a powerful new photo editing app that lets you edit, throw on beautiful filters, add cute flair, and even your logo or watermark on your photographs.
Powerful features. File New is a photo editor that has plenty of powerful features. You will find basic adjustment options, fun filters, and a ton of cool and trendy typefaces and stickers. The possibilities are endless with File New.
Add fun flair. File New differentiates itself from the crowd by offering users a ton of interesting and unique typefaces and stickers. On top of that, you get cool watercolor gradients and glitter textures for use in your text and stickers. Make your photos stand out even more with these cool tools.
Make it your own. File New lets you import photos from the Camera, Photo Library, or you can use stock images to experiment. Adjust crop settings, adjustments, add filters, throw on some text and stickers, and even add up to six of your own logos to use as a watermark.
What is it about?
File New - The Ultimate Photo Editor ($3.99) by Hi Mom S.A.S is an all-in-one photo editing app for your iPhone. If you haven't yet had your fill of photo editors, or haven't been fully satisfied with what was on the market before, then File New is an app that you should consider.
For those who...
Want a complete all-in-one photo editor
Like to add text or stickers to their images for unique flair
Want to easily add different logos or watermarks to images
Not for those who...
Are already satisfied with their photo editing app
Don't like to add text or stickers
Don't need a watermark
Why we love it
File New has a nice, simple interface that is straightforward. The tools are easy to use and precise. Plus, the watermark and glitter textures for text and stickers adds a new touch of flair, and it's easy to add up to six of your own logos or watermarks.
App Store Description
(Texto - Text on Photos) is a powerful Photo Editor that allows you to:

• Add text to photos.
• Make perfect pic collage (Photo Collage Maker, Pic Grid, Pic Collage, Collageable)
• Make Quotes (Quote Maker, Quote Creator, Quote famous people, Inspirational Quotes)
• Make beautiful typographic text layouts.
• Design a greeting card.
• Make a meme.
• Inspire your fans.
• Sell stuff on craigslist.
• Market your real estate.
• Promote an event.
• Layout a business card.
• Motivate your team.
• Design posts for Instagram, Facebook, Pinterest, and all your favorite Social Media.
• Create posters and flyers.
• Create designs and logos (Logo Maker, Logo Creator).
• Enhance your photos with filters and adjustments.
• Create Instant photo mockups in a second.
• Add your logo to all of your creations!

-------------------------------------------------------------------
Full editing capability inludes features as masking, collage, add text (over 100 cool fonts), add on Graphics (over 440).
-------------------------------------------------------------------

This App includes:
No in-app purchases!

Add text to pictures:
More than 100 cool fonts with full editing features:
• Essential
• Fancy
• Trendy
• Fun

Add Graphics & Illustrations (Over 440):
• Basic
• Decorative
• Banners
• Love
• Inspiration
• Nature
• Quotes
• LifeStyle
• Social Media
• Brands
• Coffee
• Food
• Drinks
• Family
• Baby
• Seasons
• Party
• Animals
• Travel
• Fitness
• Science
• Arts
• Sports
• Christmas

Crop Options:
Crop freely or use fixed aspect ratios
• Flip
• Rotate
• Straighten

Photo Adjustments:
Edit precisely every aspect of your image:
• Exposure
• Contrast
• Temperature
• Saturation
• Highlights
• Shadows
• Vignette
• Opacity
• Sharpness

Add Filters:
The ultimate filter collection with over 70 Awesome Filters divided into cool categories:
• B&W
• Essential
• Light
• Film
• Selfie
• Magic
• Favorites

Add your logo:
Sign your creations with you company logo. Upload up to 6 different logos!

Save and Share:
Your favorite Social Media platforms to share your creations.
• Mail
• Instagram
• Facebook
• Facebook Messenger
• Twitter
• iMessage
• WhatsApp

How People Are Using (Texto - Text on Photos)

- Social media posts.
- Birthday cards.
- Event invites.
- Presentation slides.
- Logos & watermarks.
- iPhone wallpapers.

[ Add Text to Photos / Add Text to Pictures / Write on Photos / Photo Text / Caption Maker / Quote Maker / Photo Caption / Stickers / Photo Collage / Pic Collage ]