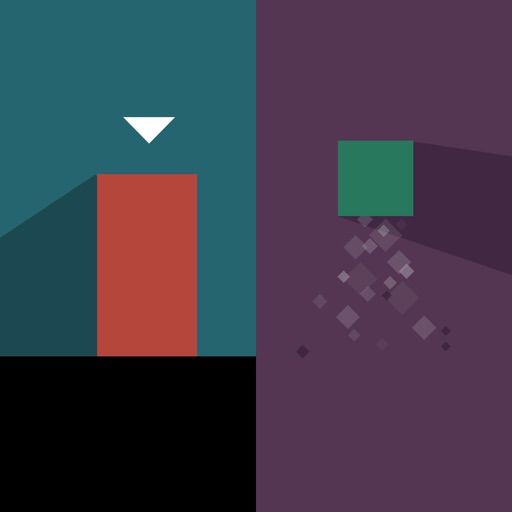 Simple Jumping at It's Most Complex

Thomas Was Alone
by Bossa Studios Ltd
What is it about?
Thomas Was Alone is a game as unassuming as its title. This simple puzzle platformer lets you take on the role of a sentient rectangle, Thomas. It rises above mediocrity with hauntingly minimalist levels made with geometric designs and dimly-cast shadows. The game combines physics-like elements with puzzles of increasing difficulty that require you to use the right character and ability to achieve your goal. The driving force of the game comes in the form of a disembodied, droll narrator, who gives life to the collection of colored pixels while weaving an intriguing tale. Along with the brilliantly scripted voice acting is a perfectly matched, moody, ethereal soundtrack by David Housden. You'll find more gameplay and story with the free expansion, 'Benjamin's Flight,' as well.
Why we love it
Thomas Was Alone has the right blend of challenge, story-telling, and artistic visuals to make it an instant classic. The simplicity of the game is felt in it's straight forward controls. Forward and backward buttons on the left and a singular jump button on the right. The main menu gives you the option to select chapters from the game to replay (only after you've unlocked it of course) so you can always go back and experience your favorite stages whenever you want.
App Store Description
- Selected in App Store Best of 2014
- BAFTA 2013 Winner: Performance (Danny Wallace as Narrator)
- BAFTA 2013 Nominee: Story
- BAFTA 2013 Nominee: Original Score

Meet Thomas, a curious rectangle, and help him unravel the mysteries of his existence in a wonderfully strange world. Experience 100 levels of award-winning platform gameplay and take part in an emotional story narrated by Danny Wallace.

"Across the game's gaps and hazards, there's a real emotional journey filled with narcissism and jealousy."
New York Times

"Sumptuous visuals and an engaging story."
The Guardian

"It proves that you don't need tens of millions of dollars and hundreds of staff to make a game story worth telling, just a good hook, an engaging vision, and a whole lot of heart."
9/10 – Destructoid

"Thomas Was Alone is a winning piece of minimalist game design that manages to do a lot with a little in an industry which far too frequently achieves the exact opposite, and it deserves much praise for that."
8/10 - Official Playstation Magazine

Key Features:
** Experience the BAFTA winning, million selling game from creator Mike Bithell, now an Universal app available for iPad (iPad 2 minimum), iPhone (iPhone 4 minimum, iPhone 4S & newer recommended) and iPod Touch (iPod Touch 5 minimum)!
** A minimalist game about friendship and jumping
** 100 levels, one immersive journey
** Award winning story narrated by Danny Wallace
** Includes FREE 'Benjamin's Flight' level pack, giving you more story and 20 additional levels to play through with young Benjamin, who goes in search of the Fountain of Wisdom aided by his father's incredible invention.