Power up Apple Shortcuts
Toolbox Pro for Shortcuts
by Alexander Hay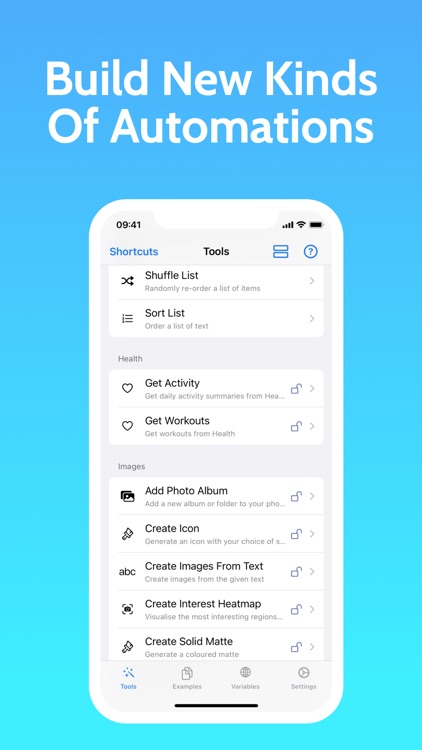 FREE

in the App Store
Toolbox Pro adds more than 50 new actions to use in Apple's Shortcuts app. Some of those include an iOS document scanner, on-device text recognition, and more.
What is it about?
Toolbox Pro gives you 110+ powerful new actions to use within Apple's Shortcuts app.
Toolbox Pro for Shortcuts supports Siri commands
Edit
Pending
Notifications
Recognise
Objects
In
Image
Set
Nested
Dictionary
Value
Add Contact Group
Add Contact
Add Music To Library
Add To List
Add Tracks To Playlist
Analyse Image
Authenticate
Average Colour
Battery Status
Bookmark File
Bookmark Folder
Check For Updates
Check GV
Check If Installed
Console
Create Calendar
Create Event
Create Icon
Create Matte
Create Menu
Create Playlist
Create Reminder
Create Reminders List
Create Text Image
Crop
Delete From Dictionary
Detect Apps
Detect Faces
Detect QRImage
Device Storage
Edit Bookmarked File
Edit Event
Edit Pending Notifications
Edit Reminder
Edit Text
Filter Image
Filter List
Find Albums
Find Artists
Find Games
Find Movies
Find Playlists
Find Songs
Format Date Extended
Generate Thumbnails
Generate UUID
Get Activity
Get Audio
Get Calendars
Get Colours
Get Detail From Text
Get Details Of Location
Get Event ID
Get From Dictionary
Get Links To Song
Get Location From Coords
Get Location From Text
Get Menu Item
Get Movie Details
Get Playlists
Get Recent Songs
Get Relative Date
Get Reminder ID
Get Reminder Lists
Get Symbol Name
Get TBPTools
Get Text From Image
Get UTI
Get Workouts
Global Variables
Haptic Feedback
Home
Image Test
Internet Connection
Is Audio Playing
Is The Sun Up
Is VPNConnected
Perform Calculation
Ping Server
Play Music
Pretty Print
Quick Look Extended
Quick Match Text
Rate Songs
Recognise Objects In Image
Recognise Speech
Remove Duplicates
Remove Emoji
Remove Items From List
Resize Image Extended
Reverse List
Scan Document
Scan NFC
Search Bookmarked Folder
Search For Emoji
Seek Playback
Show Notification
Shuffle List
Smart Crop
Smart Menu
Sort List
Switch Case
Trim Text
View Map
Add Photo Album
Calculate With Soulver
Convert Currency
Device Details
Device Language
Device Motion
Edit Contacts
Format Currency
Get Audio Outputs
Get File URL
Get Photo Albums
Is Dark Mode On
Parse Website Source
Quick Menu
Set Nested Dictionary Value
Sort Dictionaries
Split PDF
Tag Files
App Store Description
Toolbox Pro gives you 110+ powerful new actions to use within Apple's Shortcuts app.

Tools include the latest iOS technologies:

• iOS document scanner
• Lightning-fast, on-device text recognition (OCR)
• Tag files
• Manipulate reminders and calendar events with more options than Shortcuts
• Apple Music tools give you access to the whole catalogue of 60 million songs (Apple Music subscription required)
• Transcribe speech from audio files (offline)
• Add contacts and contact groups
• Get workouts and activity summaries from Health
• TouchID/FaceID authentication
• Style and render text to images
• NFC Read + Write
• Image filters
• Create photo albums
• The Preview Tool lets you present text, images, rich URLs & interactive maps with flexible layouts. Add your own buttons to create your own app-like experience
• Global variables let you store data between shortcuts and devices
• Menu creator
• Icon generator
• Recognise objects in images using machine learning
• Get current motion of device (driving, walking etc)
• Use haptic feedback in your shortcuts (on supported devices)
• Full-screen text input box
• Remove duplicates from list
• Quick-match text before, after or between words
• Device details like orientation/is dark mode on/is audio playing

And many, many more.

Get 30 tools for *FREE*, unlock everything with a single in-app purchase. More tools in development.

You can find detailed descriptions of what each tool does in the app along with *lots* of example shortcuts to get you started.

This app supports dark mode, voice control and dynamic type.

Privacy policy spoilers: I don't store any of your data or track you. (Read more: www.toolboxpro.app/privacy-policy)

Preview images created using 'Previewed' (previewed.app)
Disclaimer:
AppAdvice does not own this application and only provides images and links contained in the iTunes Search API, to help our users find the best apps to download. If you are the developer of this app and would like your information removed, please send a request to
[email protected]
and your information will be removed.