Vantage is a colorful calendar and to-do list, built to present your life with exceptional clarity through design
Vantage Calendar
by Fortyfour AB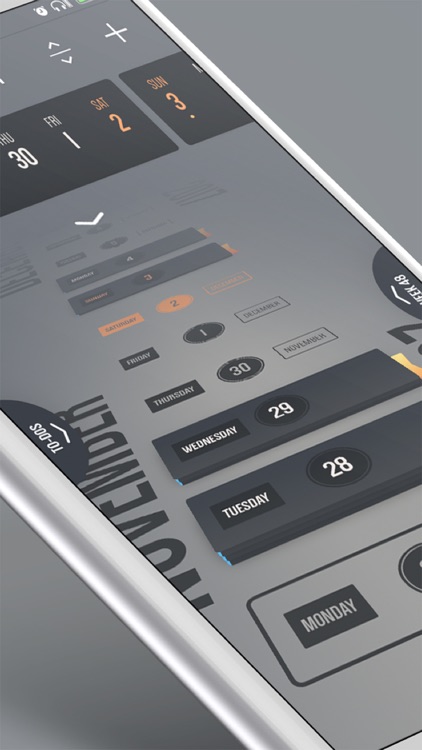 New perspective on the events. The calendar is presented as an infinitely scrollable timeline instead of one big grid. You can swipe up and down to glide right over it. Tap on an event to bring it into full view.
Create a new event easily.
What is it about?
Vantage Calendar offers a distinctive view of your events. Review your weekly schedule quickly, open an hourly summary for those busy days, and pop up the mini month option for a fast overview. The app is attractive, useful, and an enjoyable tool for visual people.
For those who...
It's great for anyone who is tired of getting lost in a mess of calendar details.
Not for those who...
If you prefer grid-based calendars, Overview Calendar isn't worth your time. It doesn't offer a secondary grid view, only list views.
Why we love it
If you love well-designed visual calendar apps that still offer the basic features you need, check out Vantage Calendar.
App Details
Last updated
February 12, 2018
Release date
December 15, 2013
Vantage Calendar is FREE but there are more add-ons
Free

Custom Repeat Rules

$1.99

Concrete and Wood color pack

$1.99

Blue Suede Color Pack
App Store Description
Vantage is a colorful calendar and to-do list, built to present your life with exceptional clarity through design. Great for organizing your daily life, school or work projects.

DESIGN YOUR LIFE
Visual cues makes a long list of stuff so much more clear to understand, so Vantage lets you design your calendar with colors, stickers and fonts to either make those special things stand out, or feel connected.

VIEW BY TIMELINE, DAILY, WEEKLY OR MONTHLY
There's views to display a full month, condensed month, summary of the week and detailed three day schedule. You won't be at a loss for options. Our high-level timeline puts your events in stacks to let you glance just how busy you're calendar is going to be.

TO-DO LISTS AND REMINDERS
A great calendar should have a good to-dos integration. With Vantage, you'll not only be able to keep your task lists right alongside your calendar events, but also create Notebooks with customized covers to separate them for different parts of your life. Simply drag and drop them in the calendar to set its due date and get a reminder.

FULLY FEATURED
Vantage comes with all of the advanced and basic features you would expect from a high-end calendar. Some of those are:

- Natural Language Input
- Custom Repeat Rules
- Custom Alerts
- Syncs with iOS Calendar, Google Calendar, Exchange, Facebook
- Use colors, stickers and fonts as search tags, super useful!
- Useful widget calendar in notification centre
- Keep To-do lists in Notebooks
- Drag and drop To-dos to due dates
- Location through Apple or Google Maps
- Inbox for event invites
- Send email reply to invites and group email all attendees
- Week numbers
- Absolutely no ads

SYNCS WITH YOUR ACCOUNT
Wether you're using an iCloud, Google or Exchange calendaring account, Vantage will sync with it.

Featured by the App Store in 'Manage Your Time', as the 'Free App of the Week' and in 'New Apps We Love'.

Pay a visit to our web, Instagram or twitter if you're curious for more.

http://twitter.com/vantage_by_44
http://instagram.com/vantage.by.44
http://vantageby44.com


"A More Visual Way To View Your Calendar"
- Lifehacker

"Vantage [...] gives you the best view of everything you've got going on"
- Gizmodo

"It breaks the mold and offers an entirely new way to organize your life. Plus, it's very easy on the eyes."
- AppAdvice


For support, get in touch at [email protected]