Alice
In
New
York:
The
Big
Apple
Goes
Through
The
Looking
Glass
March 14, 2011
Alice in New York™ ($8.99) by Atomic Antelope is the clever follow-up to App Store classic by the same developer that brought us Alice for iPad (and iPhone.)
Alice in New York is obviously not a Lewis Carroll tale, but it is an ambitious reinvention set in quasi-modern times.
This story, while clearly inspired by Through the Looking Glass and What Alice Found There is not so much a sequel to Wonderland as it is a mash-up.
Carroll's beloved cast of misanthropes are dropped into the hustle and bustle of the big city.
While the price tag is on the high side, Atomic Antelope (I love that name) once again delivers an e-book that is just plain fun.
They use the iPad's capabilities to their full advantage to bring John Tenniel's iconic illustrations to life in a whole new way.
Manhattan's grid-like layout is this e-book's contemporary equivalent of the "Looking Glass" chessboard.
In both stories Alice finds herself immersed in a fantastic environment, amidst a cast of players in an inverted world.
Most of Carroll's characters, and even some of his text are present in this reinvention.
The Tweedles, for example, drive cabs, confusingly even by New York standards. Yet they recite The Walrus and the Carpenter unaltered.
I had to chuckle to find [The Mad] Hatter behind bars and Humpty Dumpty up on a crowded construction girder.
What sets this book apart from the crowd are the ingenious ways Atomic Antelope finds to use animations to enhance the reading experience.
There are 27 pages dedicated to illustrations and interactive features, and additional animations are spread liberally through the text. Take a look here:
I enjoyed the 130+ pages of fiction, but some of the writing is stilted.
There are moments when you can feel the author straining to recapture the Victorian cadences that give Carroll's work a timeless quality, but those instances seem forced.
Otherwise the prose is amusing and the dialogue is convincing enough to allow even dedicated Carroll fans to immerse themselves comfortably.
If you read the story as an ironic modern recasting of Alice, rather than a sequel, you will be very pleased. There is a lot of humor to be found within the virtual pages.
Nothing can replace Lewis Carroll's masterworks; Alice in New York doesn't try to. Instead it pays a silly yet reverent tribute and brings readers on a journey that Carroll and his "nieces" would have thoroughly enjoyed.
Mentioned apps
$8.99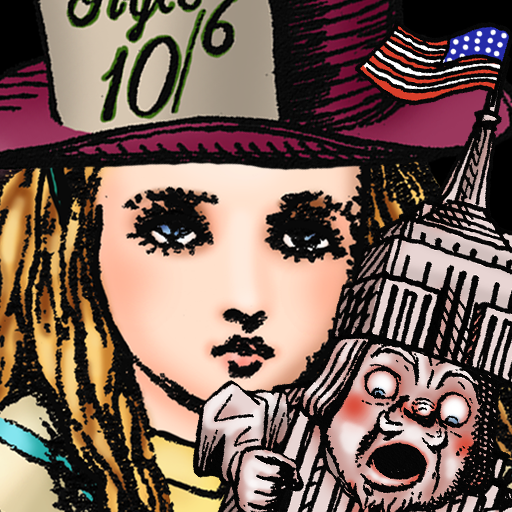 Alice in New York™
Atomic Antelope
$3.99
Alice for the iPhone
Atomic Antelope
$8.99
Alice for the iPad
Atomic Antelope
Related articles