AppAdvice
Game
Of
The
Week
For
Sept.
6,
2013
September 6, 2013
Every week, our staff will handpick a game from the past two weeks that we believe is a must-download for your iPhone or iPad. These games will always be from a wide variety of genres, but they are chosen because our own staff members love it and can't quite put it down. So here are this week's picks! Enjoy, and happy gaming!
Junk Jack X
Looking for the ultimate sandbox game for your iOS device? Then look no further than our Game of the Week, Junk Jack X! While most of us probably think of Minecraft when it comes to the sandbox games that allow users to build whatever they want while surviving through the dangers that inhabit a world, there are definitely other games out there. And this week, our favorite has been Junk Jack X, the hit sequel to the original game, Junk Jack, which came out in 2011. In JJX, players will find more of the lush and beautiful 16-bit graphics that they fell in love with from the original (or not if you're new). Everything is colorful, detailed, and the animation and frame rates are incredibly smooth throughout. The soundtrack is also retro and chiptune-like, and it is complete with quirky sound effects. All worlds are randomly generated, which means no game will ever be the same. Controls are just as great in this sequel as they were in the original. Players can control their customizable character (it's no longer just Jack) by holding down on the side of the screen they want to move in. Break blocks by tapping on them repeatedly, or just enable the tap-and-hold feature. You can change the items that show up in your toolbar on the side via the in-game menu, where you can also craft items, tools, and weapons with the simple (new in JJX) or manual crafting method. As mentioned, players are able to completely customize their character this time around, being either a male or female, and you can change the clothes they wear to hair and eye color, and even style. In addition to just one world, there are also various alien worlds to discover and explore through the new Adventure Mode. If you're feeling the creative itch, build your world exactly how you want it with the Creative Mode. JJX also introduces a fantastic new multiplayer feature, allowing up to three others to join locally, or one through Game Center. This means you can chat with your friends, trade items and resources, and just have fun exploring new worlds together. We've been loving Junk Jack X lately, as it's just a great time killer and it also allows us to go wild with our imaginations. If you are a fan of the sandbox games, then you absolutely need this one. No wonder it's our Game of the Week.
Get it in the App Store for $4.99
.
Don't miss my original review of Junk Jack X
.
Honorable Mention
Terraria
It's been a great week for fans of the sandbox games! Our Honorable Mention pick for this week is also a sandbox game, but this one is a port of an original game that was on Xbox Live Arcade, PlayStation Network, and Steam: Terraria. In Terraria, the graphics are not as sharp or crisp as our Game of the Week Junk Jack X, but it still carries the retro charm. The only minor issue was the text, as it can turn out a bit fuzzy most of the time, even on Retina devices. The soundtrack is a bit more adventure-y, but also has the vintage feel to it. Terraria may not have other worlds like JJX, but you can customize your character as well. Controls in this game are a bit different, and will take some time getting used to. You will move with the joystick in the bottom left, which can be used to go left and right, as well as up and down through platforms. The joystick on the right aims and enables your character's attack and gathering of resources. It's not as intuitive as JJX, but it suffices for the most part. You can select any tool or item from your five slots at the top, and you can tap on the "…" button to open your character's inventory and also craft items. Every world you make on Terraria is randomly generated, so it will never be the same game. Like JJX, you will gather resources and build your base to survive against the dangerous creatures at night. However, the thing that sets this apart from other games of the genre is the fact that it is also a solid RPG game, and you can actually recruit various NPCs to your base. These NPCs are important, as they can help you out by providing you with wares, for a price of course. You'll need their aid if you want to defeat the five bosses that the game has. It was definitely a close call this week with our staff between Junk Jack X and Terraria, both of which are some fine sandbox crafting games on iOS. However, most of our staff favored Junk Jack X, but Terraria definitely still deserves a mention here today.
You can get Terraria in the App Store also for $4.99
. For more information on Terraria,
make sure to check my original review of it
.
Mentioned apps
$4.99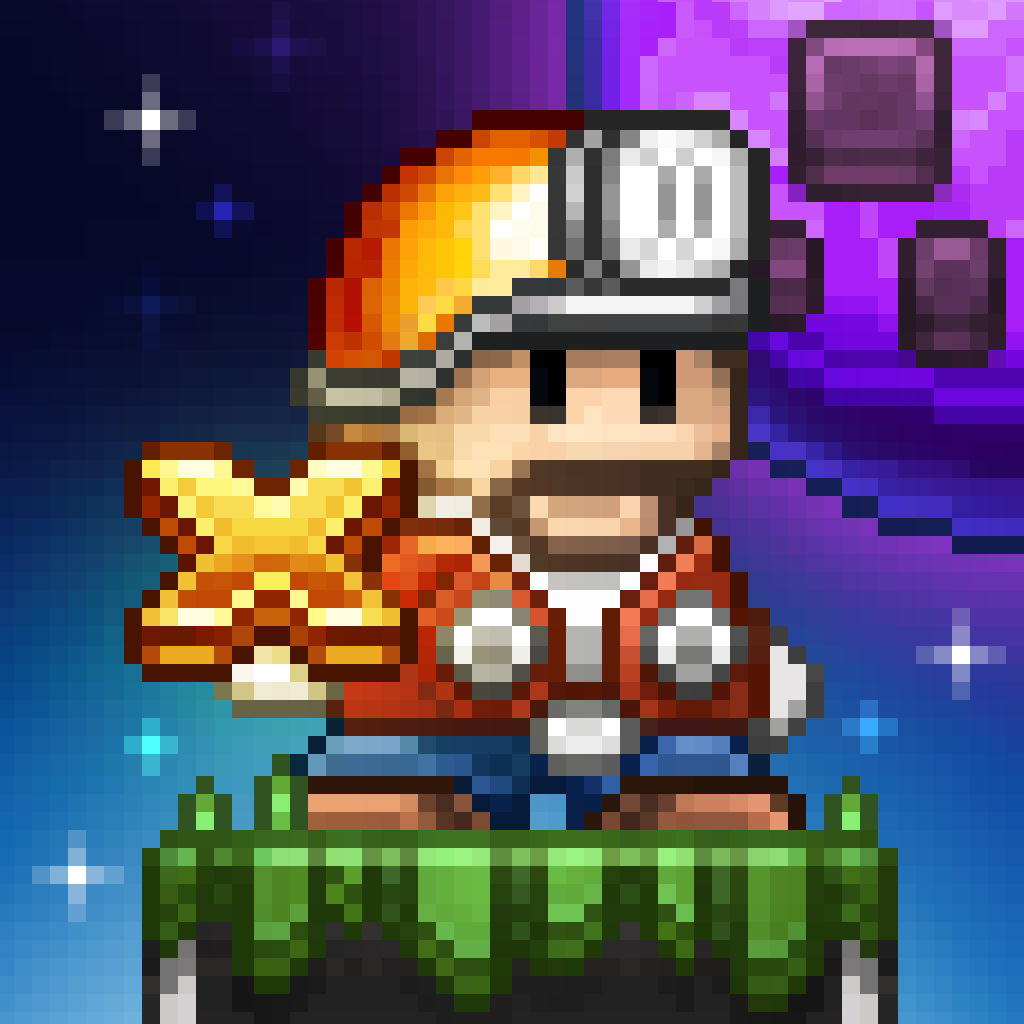 Junk Jack X
Pixbits SRL
$4.99
Terraria
505 Games
Related articles